This review is part of my coverage of the Natural Products Expo East 2015. For a overview and to enter my swag bag giveaway, click here.


Despite the fact I can eat vegan products, and incorporate many into my life, I have never been a "plant based protein" person, or much of believer in non-dairy cheeses. The high ratio of soy-based items and off tasting substitutes have made me grown weary to venture into the world of meat substitutes and vegan products.


Luckily, Expo East proved to be a mind-opening experience for me, as I found products that not only made me switch my stance on vegan proteins and cheeses, but products that are gluten, dairy, and soy free. Even days after Expo East, I have already purchased several of these products and have enjoyed incorporating them into my life.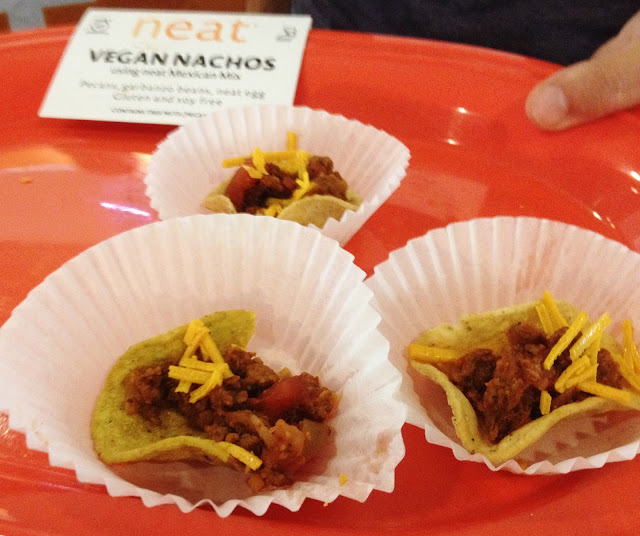 Neat Meat Substitute
When I tasted Neat's Mexican meat replacement, I lived the fiesta of flavor that greeted my tongue. Made with pecans, garbanzo beans, and cornmeal, this product is truly amazing, as replicates the taste and texture of ground chicken perfectly. The spices add flavor, but don't overwhelm, and I've already added the product to my list for my next Wegmans run. Click here to learn more about Neat Meat Replacement's full line of products.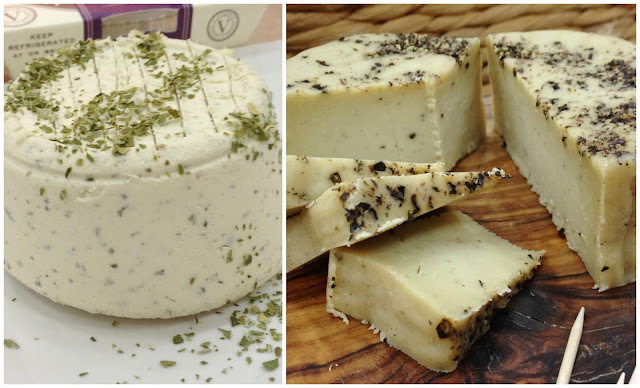 Treeline Treenut Cheese
Another nut-based option I found was Treeline's cashew nut cheeses. I sampled the hard, aged cheeses and the soft French style ones and loved the herb garlic soft cheese (pictured left) and the cracked black pepper aged cheese (pictured right). Both cheeses had the spot on texture and taste of cheese that so many others are lacking. Raw and containing probiotics, these are the real deal. Learn more about Treeline on their website.
Hilary's Eat Well Burgers and Bites
Hilary's line up of products are egg, gluten, corn, dairy, nut, and soy free. I sampled their new burger flavors (spicy thai, curry, and kimchi) and veggie bites (broccoli, Mediterranean, original, and mesquite), and fell in love with them all. I like how they can be prepared in a toaster for a quick protein fix, and can be dressed up or down depending on my appetite. Read more about Hilary's on their website.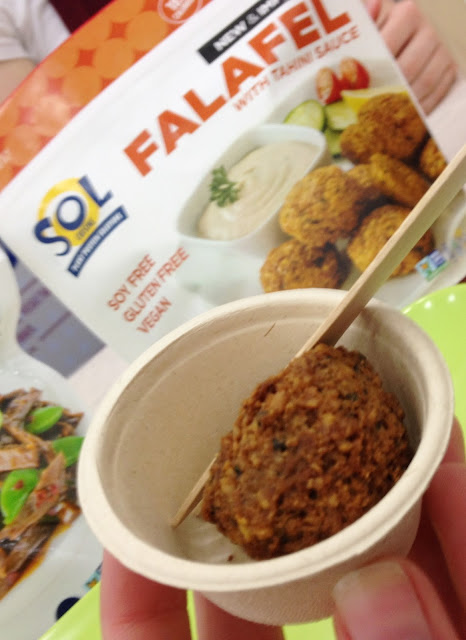 Sol Cuisine Falafel
Falafels have recently become one of my favorite foods. Unfortunately, with no falafel shops near me, I've missed the crunchy chickpea balls. Sol Cuisine's newest product is the answer to my dorm cooking dreams, as these ready-to-bake bite sized falafel are gluten-free, vegan, and soy free. I liked how simple the ingredients are, and how the balls formed a nice crunchy exterior over the softer inner dough. Read more about Sol Cuisine on their website.
Disclaimer:Ingredients and manufacturing processes can change without notice. Each product should be reviewed for individual nutritional needs. Feel free to to contact me with any questions or comments. I was free samples from each company, but my thoughts on and review of each product are reflection of my personal opinion.