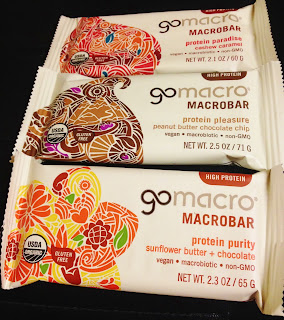 Recently, my reviews have been geared more to the product side, as my restaurant visits have been few and far between as school has started up. While I've missed getting out to explore Baltimore neighborhoods, I have found many intriguing products that have brought welcome change to my diet, forcing me to get out of my dietary comfort zone.


Go Macro's macrobars are one such product that I have discovered in my quest to find on-the-go options that will power me through the day. The thoughtfully curated ingredients used to make the bars are chosen to align with the macrobiotic diet, which in short promotes a balanced, organic, plant-based diet to achieve a balance that emphasizes focus on the food we use to fuel our bodies.

What's so cool about all of these macrobars is that they are friendly to a variety of special diets. All of the bars are:
Certified gluten-free

Certified vegan

Soy free

non-GMO

USDA Organic
For those with nut or coconut sensitivities, note that some bars contain coconut or nuts, so do read the label to see which bar would be right for you.
To analyze the five bars I tasted for my initial review, I grouped them by the primary nut ingredient: peanuts, cashews, or sunflower seeds. Starting first with the cashew-based ones, the two I picked up were the protein paradise (caramel cashew) and sweet rejuvenation (cashew butter). I really liked the the texture of both, which was soft baked, but had nice chunks of real cashew which added taste and texture. I liked the simplicity of the sweet rejuvenation- it only has four ingredients- and how the protein paradise upped the ante with notes of cinnamon and mesquite, among other flavors. While not super caramel-y in my opinion, it did provide enough complexity to complement the simplicity of the sweet rejuvenation.
The two peanut-based bars I trialed were the protein replenishment (peanut butter) and the protein pleasure (peanut butter and chocolate chips). Similarly textured to the cashew bars, I liked how these featured a smooth, soft-baked bar with chunks of peanuts interspersed. The protein pleasure boosts only five ingredients, but in my opinion the peanut-y flavor was a bit muted. Still good, just not as peanut buttery as I'd like. The protein pleasure, actually turned out to be my favorite of the bunch by far, as I loved the stronger peanut flavor and delicious fair trade chocolate chips. This one speaks to the simple indulgence of peanut butter and chocolate, and perfectly stands in for a candy bar when you're needing a mid afternoon pick-me-up.
The final bar I tried in my initial sampling was a sunflower-based bar, the protein purity (sunflower butter and chocolate). Unlike the others, it did not have nuts scattered throughout, but for this bar, I didn't mind the texture in the least. The sunflower tastes definitely overtakes the chocolate, not necessarily in a bad way, but don't buy this thinking it's a candy bar. I liked how cinnamon, vanilla, and coconut sugar are used to add complexity to the marquee ingredients.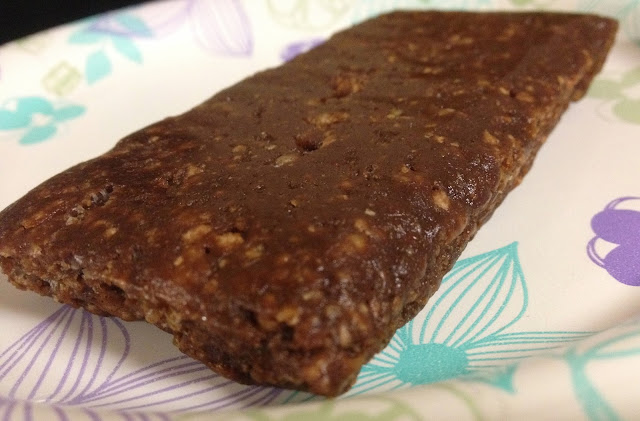 Overall, I really enjoyed every one of the bars I tried. As a reluctant cook in the morning, I like how Go Macro helps me start my mornings with a little more substance than cereal alone, and that I can feel good in indulging in these bars due to their lower levels of sodium and sugar. Getting more protein in my diet has never been easier, or more delicious, and I plan on being a customer of theirs for the long run.
I picked up the Go Macro macrobars in my review from my local Fresh Market and Mom's Organic Market. For more information about Go Macro, their bars, and the amazing work they do outside of making these bars, click here.
Update January 2017: Go Macro bars can be found at Trader Joe's now. I don't know if they are a seasonal rotation, or will be a regularity-carried product, but it's cool to see them expand their reach.
Disclaimer: This review is current to the original publication date. Updates will be noted. Ingredients and manufacturing processes can change without notice. Each product should be reviewed for individual nutritional needs. Feel free to to contact me with any questions or comments. I purchased this product independently, and the review is a reflection of my personal opinion.