My relationship with non-dairy yogurt has been rocky at best over the past several years. When I first realized that dairy products were problematic for me, yogurt was an essential part of my diet. I transitioned to lactose-free yogurt, which continued to make me sick, and later tried a variety of dairy-free varieties which were- to be perfectly honest- absolutely disgusting.


Luckily, the geniuses over at Kite Hill have endeavored to change the dairy-free status quo by engineering products that are just as good (if not better) than their dairy-laden counterparts. I've fallen in love with their incredible cream cheeses (see that review here) and was super excited to hear that their latest product is almondmilk yogurt. Thrilled by finally spotting them at the Whole Foods in Columbia, MD a question lingered in my mind: could this really be the perfect non-dairy yogurt I've been waiting for? All I can say is read on dear readers, read on.


Kite Hill's yogurts come in five flavors: plain, strawberry, peach, blueberry, and vanilla. Each single-serving cup is 5.3 ounces, which makes it perfectly portioned. The base is pure and simple almond milk and the yogurts are sweetened with cane sugar and the real, whole fruits that are indicated on the label. The only declared allergens are almonds, which make the yogurts free from gluten, egg, soy, as well as vegan. There's no high fructose corn syrup or weird blends of fruits and additives to "replicate" a fruit's taste. Just as with dairy yogurts, these yogurts are made with probiotic cultures that are aged with the milk during production. These bacteria help promote a happy stomach, as they help keep your digestive track in rhythm.


Starting first with the plain, I topped my sample off with homemade granola because it has the lowest sugar content of the flavors. I loved the "yogurt-y" flavor, which reminded me of Greek yogurt and the thick creaminess of the yogurt itself. Far from bland, the yogurt has a flavor that holds its own, but plays nicely with toppings such as fruit, nuts, or whatever your heart desires.




Taking a more fruity turn, the blueberry yogurt is sweetened with real blueberries that give the yogurt a beautiful purple hue. Although I really do not like eating blueberries, I was surprised just how much I loved this flavor. Perfect for berry smoothies or for mixing with granola, the creamy consistency renders the yogurt a downright dreamy indulgence.


Another flavor that really surprised me was the vanilla flavor, which earns its flavor from real vanilla beans- you can even spot black specks of the bean in the creamy white yogurt! I loved the rich vanilla flavor which did not taste fake at all, something that so many other yogurts fail to do. I could totally see swapping a cup of vanilla ice cream for a cup of this yogurt when I want guilt-free indulgence.





The last flavor I tried was the strawberry, which like the other fruit flavor is sweetened by actual strawberries. I don't know if it was an off day, or if I liked the other flavors a lot better, but the strawberry was my least favorite of the bunch. Don't get me wrong, it was incredibly creamy and yogurt-y, but I just did not like it as much as I liked the others because it was a little too sweet for my liking.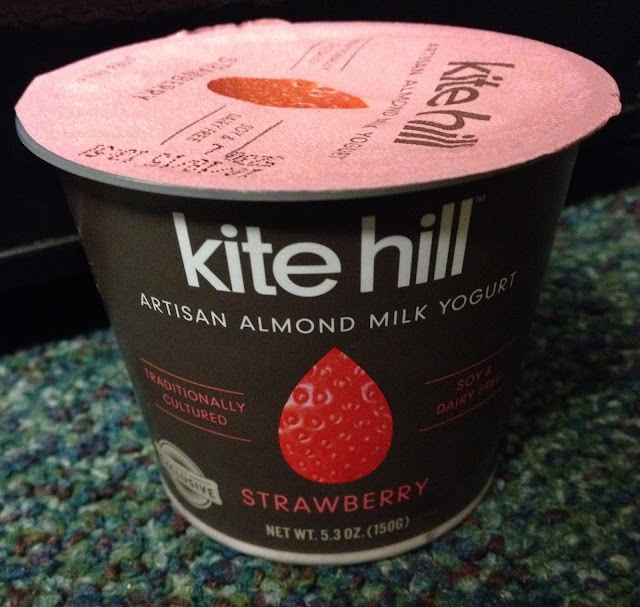 Yeah, I was a little too hungry to get a shot of the strawberry without it's lid!
Overall, Kite Hill totally knocked their almond milk yogurts out of the park. Honestly, I think I would take them over dairy yogurt if I could eat it, as they taste great and are more friendly towards the environment. It's a huge victory for use gluten-free and dairy-free folks to have a product that is soy-free, coconut-free, and yet is a solid replacement for the dairy-laden item it is replacing. In my recent quest to eat more plant-based protein products, I am so happy that Kite Hill is once again opening up the possibility for me to enjoy foods I have had to give up due to dietary restrictions.


Currently, the yogurts are a Whole Foods Market exclusive, so look for them at your nearest market.


Disclaimer: This review is current to the original publication date. Updates will be noted. Ingredients and manufacturing processes can change without notice. Each product should be reviewed for individual nutritional needs. Feel free to to contact me with any questions or comments. I purchased this product independently and the review is a reflection of my personal opinion.