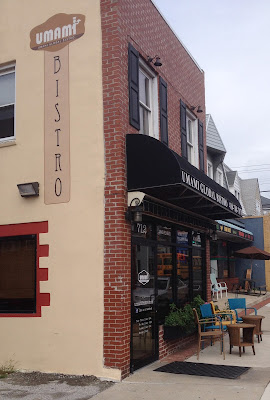 Okay, I know my recent review line up has been very product heavy. With my academic workload piling up and the massive (but amazing) ordeal of Expo East over the last few weeks, I haven't had the time to check out the restaurants on my wish list.


Luckily, my mom came to visit last week, which allowed me to enjoy 72 hours of temporary freedom, as together we crazily ran around the city to help me stock up at Costco, Whole Foods, and Wegmans, three stores that are harder to get to on my own.


Although the visit was short, I made sure to budget enough time to check out Umami Global Bistro in Catonsville, a restaurant that's been on my radar for awhile now. Drawn in by their many gluten-free and vegan offerings, I admit that I had pretty high expectations, given my previous experience with other excellent ethnic restaurants. Without giving away too many spoilers, I can confirm that Umami totally met and exceeded every one of those expectations.


Arriving for a late lunch, the restaurant was empty, but throughout my visit, several people stopped by top pick up orders to go. The space is small, but warmly intimate, and decorated beautifully. As I considered the menu, I was guided by symbols that notated gluten-free and vegan options, which made navigating what would be safe super simple. The menu offers dabbles in Middle Eastern, Mediterranean, and Indian delicacies, offering an array of options sure to please people of all ages and tastes.


After consideration, I decided to order the falafel salad for my entree and the stuffed grape leaves as a side. Both options are gluten-free and vegan (order the salad sans feta cheese).


The grape leaves came out first, accompanied by tahini sauce. I opted to eat them without the sauce, as I am not a sauce person. The leaves had a cool, oily texture, and the rice stuffed inside of them provided a nice textural contrast. With a hint of mint, the grape leaves made for an excellent appetizer because they cleansed my palate.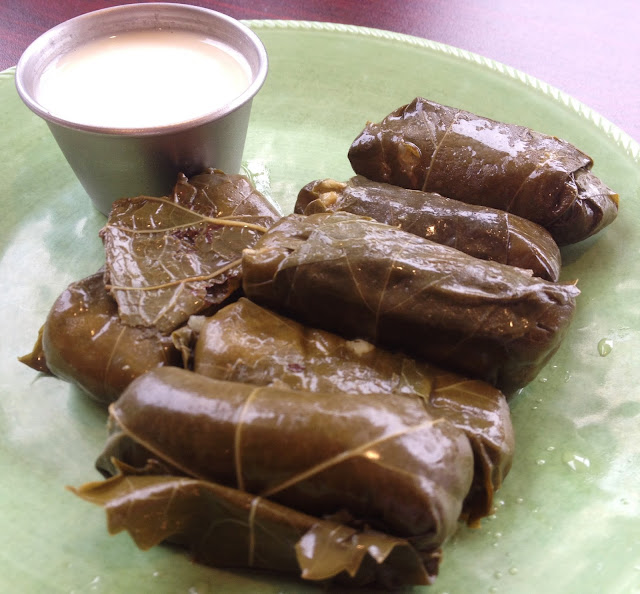 Next came out the falafel salad, impressive in its portion size and vibrant array of vegetables. Ordered without feta and olives, the salad was in no way lacking from the absence of the two ingredients. The vegetables were all fresh and flavorful (even the lettuce) and the dressing simple, but insanely good. Taking the starring role, the falafel were fried to perfection, crunchy on the outside and softer on the inside. I liked the mixture of chickpeas and herbs used to compose the balls, and the portion on the salad was perfect to satisfy my appetite without leaving me too full. Although I am not a hummus lover, my hummus-loving mom really enjoyed the hummus. Overall, the salad was the perfect lunch I needed to get plant-based protein and veggies.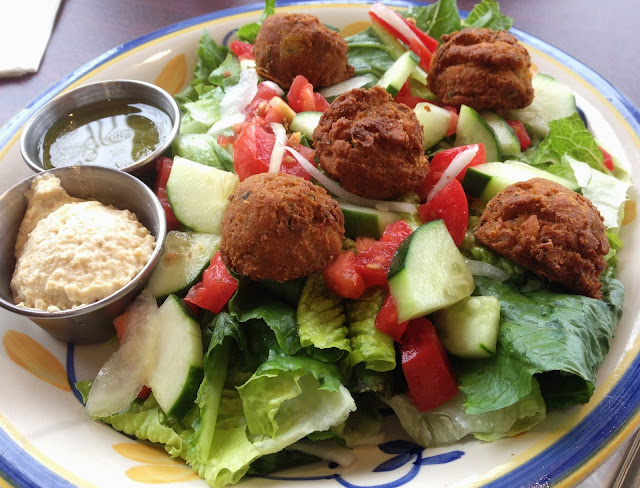 As my mom and I were wrapping up, Rehan Khan, the executive chef and owner of Umami came over and chatted with us about his philosophy. He really understands the nuances of catering to gluten-free customers, and cares that his food is comforting, authentic, and healthy. He described how he overhauled recipes to eliminate unnecessary gluten, and curated the menu to be appealing to meat eaters, vegans, and those with dietary restrictions alike. It's people like him who make going out to eat a lot less fear-inducing, and his passion for healthy living is clearly the driving motivation.


As a special surprise, he brought out a chocolate cupcake for me to enjoy, which was totally unexpected and brought a real smile to my face. This small gesture elevated my experience from amazing to truly unforgettable. The cake was gluten-free and vegan, made by a local baker, and was simply amazing. The cake, rich and moist was a chocolate-lovers dream while the icing possessed a taste and texture I had not thought was even possible for gluten-free or vegan offerings. I have tasted many a gluten-free baked good in my time as a blogger, but few (if any) were as decadent and indulgent as this offering.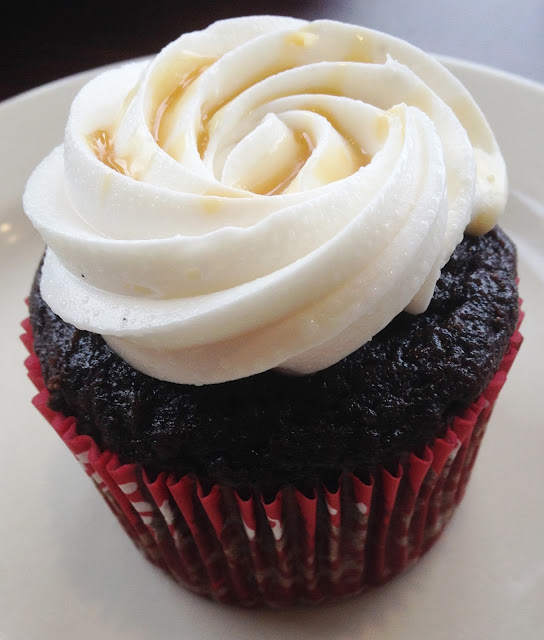 I am eagerly awaiting my next visit to Umami Global Bistro, and definitely give it two thumbs up- way up. If you're anywhere near the cute downtown Catonsville area, definitely make plans to pay Umami a visit. You certainly will not be disappointed. I am so thankful there are people like Rehan out there making the world a lot healthier and gluten-free friendly. It's places like Umami that make being a gluten-free blogger a real privilege and joy.



The Basics
Address:

712 Frederick Rd, Catonsville, MD 21228
Cuisine:
Middle Eastern, Mediterranean, Indian
Ideal For:
Lunch, Dinner.
Price:
See menu prices here.
Accessibility:
Easily wheelchair accessible
Special Feature: Catering available. Call for more information.
Disclaimer: This review is based upon the information I have at the time of the review and does not reflect changes in ingredients or availability of items. Please contact the restaurant directly for up-to-date information and feel free to contact me with any questions or comments. I was not compensated for this review and it is a reflection of my personal opinion.