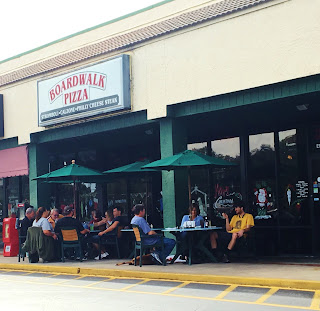 Although Orlando does have its foodie niches (food trucks, pho restaurants, theme park fare) its gluten-free pizza scene is sorely lacking. Having eaten around the region trying gluten-free pizzas of all shapes and sizes, I consider Boardwalk Pizza in Winter Park as my favorite independent pizzeria in the Orlando area because their pizzas are consistently good and the staff are knowledgable.


Although I've eaten at Boardwalk Pizza countless times over the years, I realized I had never formally written up a review on the blog. After reading my friend Alexis' review over on her blog Gluten Free in Orlando, I definitely made sure to put Boardwalk on my must-do list over winter break because I have not eaten there in over a year. Although I knew my past pizzas were excellent, I wondered how Boardwalk would compare to my new favorite pizza spots in Baltimore.


Boardwalk Pizza's gluten-free offerings are more expansive than most pizzerias in town. Besides offering gluten-free pizza, Boardwalk goes above and beyond to offer pastas, desserts (chocolate pudding- not dairy free) and beer (Redbridge and Omission). Protocols are in place to ensure pizza and pasta is not cross contaminated with their gluten-filled counterparts such as using cornmeal to stretch all pizzas to eliminate airborne flour, clean pots and water for pastas and a dedicated gluten-free pan for pizzas to protect them in a shared oven.



I ordered a gluten-free pizza with red sauce, spinach, banana peppers, and mushrooms. While there was dairy-free Daiya cheese available, I opted to ordered it sans cheese because I am not a vegan cheese. Another dairy-free caution is to make sure to specify the dairy-free red sauce because the default red sauce does contain cheese.
Boardwalk uses Senza Glutine pizza crusts (see website here). It is vegan (dairy-free and egg-free) as well as soy-free and non-GMO.
What I love about Boardwalk is that they cook their pizza to a perfect crispness without burning it. Each slice can withstand the weight of the ingredients without collapsing, an all-too common complaint I have of often undercooked pizzas. The crust is slightly sweet- not in a bad way at all, and does its job well as a crust without distracting too much from the toppings. The red sauce is well-seasoned and the vegetable toppings were fresh. Altogether the 10″ pie is a perfect portioning so that it fills me up satisfyingly but does not leave me feeling stuffed and bloated.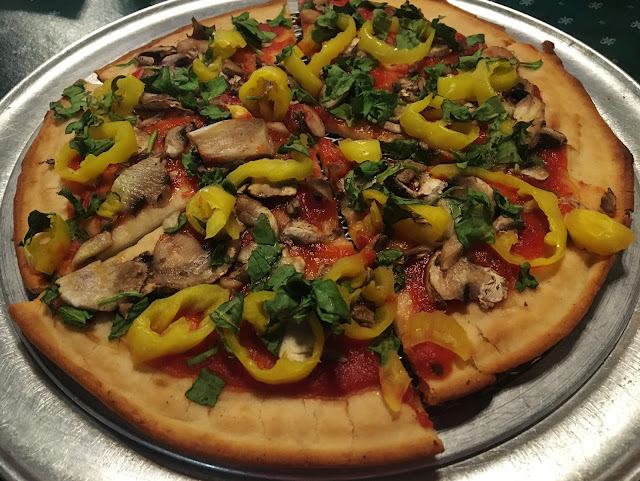 Overall Boardwalk met my expectations and definitely is the best pizza restaurant in Orlando. While it's not in the most accessible location for tourists, locals should definitely seek out Boardwalk as a hidden gem in the gluten-free Orlando world. I applaud Boardwalk for their clear commitment to serving the gluten-free community and making a safe space for gluten-free and gluten-eating diners to enjoy a meal out together.
The Basics
Address:

5419 Lake Howell Rd, Winter Park, FL 32792

Price:

Pizzas start at $7.99 with each topping $1.39 each. Ravioli and Penne are $11.99 each.

Accessibility:

Wheelchair

accessible

Special Features:

Call ahead for take out orders at 407-671-6880
Disclaimer: This review is based upon the information I have at the time of the review and does not reflect changes in ingredients or availability of items. Please contact the restaurant directly for up-to-date information and feel free to contact me with any questions or comments. I was not compensated for this review and it is a reflection of my personal opinion.