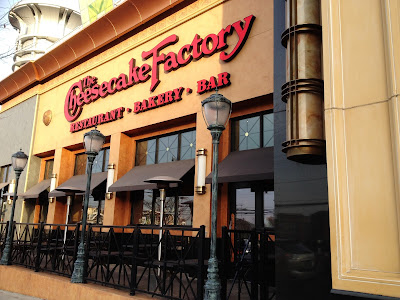 Before visiting and reviewing the Cheesecake Factory, I had a really difficult time finding out what, if any gluten-free offerings they had. The only information I could find was pretty outdated and the Cheesecake Factory's own website was decidedly unhelpful in my quest.


Luckily, the in-restaurant menu was a lot more informative with symbols to alert to guests which items are gluten-free adaptable on request. Of course it should go without saying that the Cheesecake Factory is a shared kitchen environment and not 100% gluten-free. Make sure when you order that you specify your specific dietary needs with the staff, and ask questions about shared fryers, clean pasta water, and other little things that make big difference in keeping gluten-free food actually gluten-free.


The below listed menu items are noted to be gluten-free optional. This list does not cover other allergens such as dairy or soy. For a full description of menu items, click here to see The Cheesecake Factory's full menu with pictures.


When my full review of The Cheesecake Factory is complete, to read my full review click here.



Small Plates & Snacks
Appetizers
Appetizer Salads
Glamburgers (w/ GF Bun)
Specialties
Lemon-Herb Roasted Chicken
Pasta (w/ GF Pasta)
Farfalle w/ Chicken and Roasted Garlic
Fish and Seafood
Steaks and Chops
Chargrilled Coulotte Steak
Side Dishes
Salads
Cheesecake
Godiva Chocolate Cheesecake
Specialty Desserts
Bowl of Fresh Strawberries
Ice Cream Delights
Skinnylicious Small Plates and Appetizers
Mexican Chicken Lettuce Wrap
Skinnylicious Salads
Skinnylicious Caesar Salad
Disclaimer: The information presented is current to the post's publication date and does not reflect changes in ingredients or availability of items. Any updates will be noted. Please contact the restaurant directly for up-to-date information and feel free to contact me with any questions or comments.