As Januarys go, 2016's was definitely an unforgettable one. I began the month in Orlando, soaking up the sun and my last taste of the city for awhile. Midway through the month, I returned North to Baltimore where I promptly met Jonas, the record breaking nor'easter that dumped 30 inches of snow in record-setting blizzard fashion. I am definitely happy to be back to my usual routine on campus, and cannot wait to see what adventures I get into during the spring semester.

Gelato Fiasco Dark Chocolate Noir Sorbetto
I have often seen Gelato Fiasco's sorbettos and gelatos on local grocery store shelves, but finally made my purchase when I spotted the dark chocolate noir sorbetto at my local Fresh Market. This water-based dessert has an intense chocolate flavor and luxuriously creamy texture. With a BPA-free container and nearly a cup of cocoa in each pint, I enjoyed the sorbetto one decadent spoonful at a time.
Read more about Gelato Fiasco on their website. Read their special diet disclaimers here.
Saffron Road Manchurian Dumplings
Saffron Road is increasingly making inroads in local stores near me. I decided to try their Manchurian dumplings because they are gluten-free and vegan, providing plant-based protein in a convenient microwavable format. I loved the spicy (but not hot) sauce and veggie-packed dumplings made without soy protein. The accompanying rice cooked up nicely and wasn't too dry at all.
I bought the dumplings at Safeway. Click here to read more about them.
I have previously reviewed and liked Foster Farms' gluten-free chicken corn dogs, but was really intrigued when I spotted certified gluten-free chicken breast strips that were new to me. These are hands down my favorite gluten-free chicken nuggets I have tasted, because they are clearly chicken breasts (not mystery lumps of meat), have a perfect coating, and enough spice to give them character. Microwave-friendly, these certainly will be a welcome addition to my dorm kitchen.
Read more about Foster Farms here. I bought these at Safeway.
Califia Farms Mocha Mexica Cold Brew Coffee
I am not really a coffee person, but was won over by Califia Farms' mocha Mexica almondmilk-infused cold brew coffee drink. I love the bold spicy blend of cinnamon and cayenne pepper with a hint of cocoa. The drink is a perfect pep talk for a busy day, and is perfectly portioned and conveniently packaged. Look out for this fiesta in a bottle at your local Target.
Read more about Califia Farms, click here.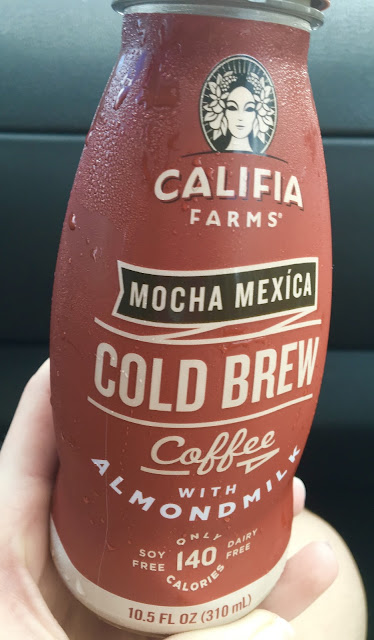 Disclaimer: This review is current to the original publication date. Updates will be noted. Ingredients and manufacturing processes can change without notice. Each product should be reviewed for individual nutritional needs. Feel free to to contact me with any questions or comments. I purchased all of the items featured in this post independently and it is a reflection of my personal opinion.