Every month I love making little discoveries of new-to-me products from brands both familiar and new. This month's batch of favorite finds includes four products I am really excited about, and while definitely purchase again and again. From simple snacks such as pretzels to innovative products such as single serve guac, definitely don't miss these three products.



Utz Gluten Free Pretzel Rings
Although the gluten-free pretzel variety has gotten much better over the years, I don't really consider myself much of a pretzel fan. However, upon discovering Utz gluten-free pretzel rings at my local Weis Market, I finally feel like I found a pretzel that checks all the boxes for me. I love the crunch of these pretzels and delicious saltiness, which satisfies. These pretzels are certified gluten-free, dairy-free, and egg-free. Additionally, they are Kosher and preservative-free. I paired these rings with guac (see below) and the pairing definitely rocked my taste buds.
So Delicious Unsweetened Almondmilk
I am super
picky
about almond milk, preferring only a select few brands. My favorite choices are expanded though, now that So Delicious has reformulated their unsweetened almond milk to render it soy, dairy, gluten, and carrageenan free. Incredibly smooth and creamy without being chalky, this almond milk is delicious on its own as well as paired with cereal or oatmeal. With no added sugar, this almond milk is not only satisfying but good for you as well.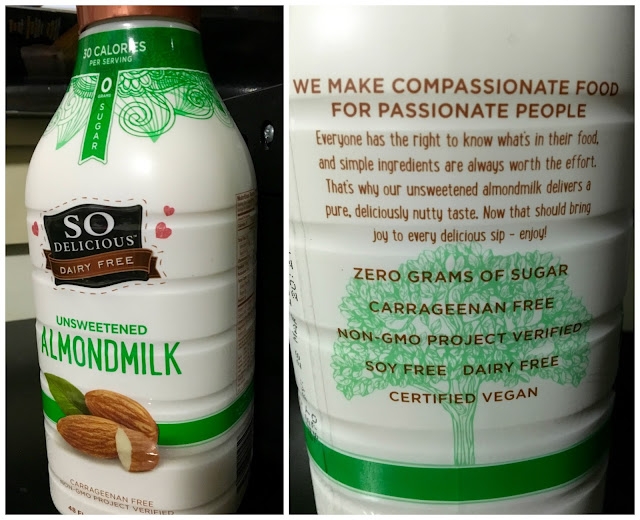 Calavo Single Serve Guacamole
Living on my own, I often face a simple problem. I love guac but hate how it turns brown after a few days after opening a container. Luckily, Calavo has a simple solution: single serve guac. With only five ingredients: avocados, onion, sea salt, garlic, and cilantro, this guac is perfect for adding to sandwiches, pairing with chips, or serving it as a dip with veggies, this guac is wonderfully versatile and effortlessly adaptable.
Disclaimer: This review is current to the original publication date. Updates will be noted. Ingredients and manufacturing processes can change without notice. Each product should be reviewed for individual nutritional needs. Feel free to to contact me with any questions or comments. I purchased all of the items featured in this post independently and it is a reflection of my personal opinion.