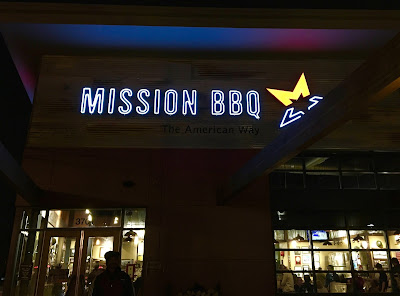 Although I have been taking advantage of every opportunity to get out and about to check out restaurants this semester. A demanding course load and two part time jobs have really absorbed most of my free time. Despite my tighter schedule, I have been able to sneak in restaurant excursions here and there- especially when they are tied into social outings.


Such is the case for my recent visit to Mission BBQ in the Canton neighborhood. A Baltimore-based group of friends I am a part of decided to reconnect for dinner at the all-American restaurant, which proved to be the perfect opportunity to check it out. With a good gluten-free rating on Find Me Gluten Free and a full menu of gluten-free friendly eats, I couldn't wait to give Mission BBQ my full consideration.

Before heading out to Mission BBQ, I was already armed with advance knowledge of what to order because they have both a gluten-free menu and allergen chart on their website. Even when ordering at the restaurant and I knew what I wanted to order, I still asked for a gluten-free menu from the cashier, and the staff happily gave me a copy of it. When I told them I was dairy-free, they guided me and confirmed my selected choices were safe.


All of the meats are gluten-free, just avoid the jalapeño and cheese sausage if you are dairy-free. For sides, all but the macaroni and cheese and cornbread are both dairy- and gluten-free. Some of the sauces are gluten-free and dairy-free (check the allergen menu for full detail), but the fact that they are processed with wheat-containing soy sauce, I chose to steer clear.


For my dinner, I chose the pulled chicken with two sides: french fries and coleslaw. The fries are the only items fried in the fryer, so they are truly celiac-safe.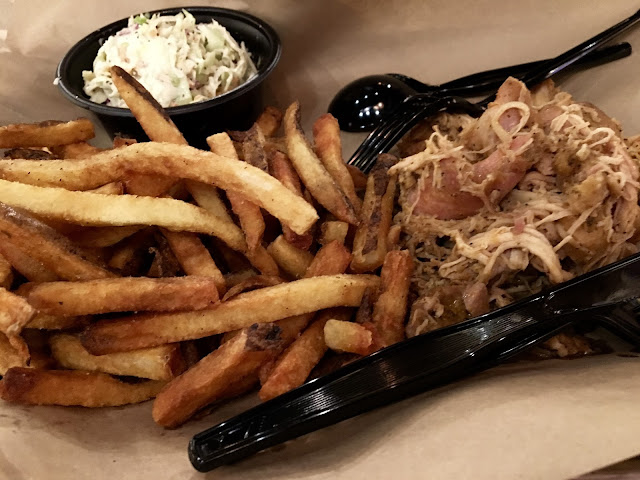 First off, the portioning of the food is generous, and you definitely will not leave hungry. The pulled chicken is incredibly tender and juicy. The flavor is delicious, and the meat really does not need additional sauces or seasoning to dress it up. The fries, cut and prepared in-house, are truly a cut above other restaurant's and not too greasy. The coleslaw, cool and creamy, is a perfect accomplice to meat and fries. Overall, I was satisfied with my meal and didn't feel bloated or weighed down by the fare- a real accomplishment with barbecue.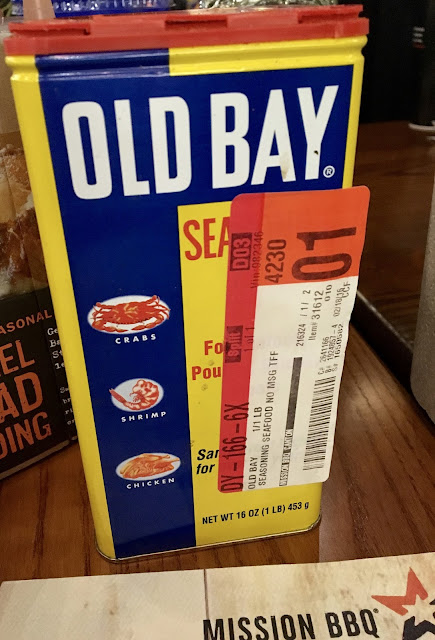 Of course as a true Baltimorean, I couldn't pass up sprinkling Old Bay on all three parts of my meal to jazz them up. Baltimore's signature seasoning is gluten and dairy-free.


Besides the high quality of the food, I loved Mission BBQ's abundance of patriotism and proud support of the military and police. With patches, bumper stickers, and other memorabilia in abundance around the restaurant, it's clear that Mission BBQ wears its heart on its sleeve and really does support those who serve their communities and the country.



The Basics
Address: 3701 Boston St, Baltimore, MD 21224

Price: See menu prices here

Accessibility:

Wheelchair

accessible


Disclaimer: This review is based upon the information I have at the time of the review and does not reflect changes in ingredients or availability of items. Please contact the restaurant directly for up-to-date information and feel free to contact me with any questions or comments. I was not compensated for this review and it is a reflection of my personal opinion.