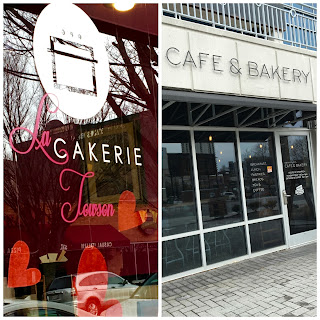 Although I love exploring the Baltimore area, this semester has been the busiest one yet, which has limited my opportunities to get out and about. Luckily, a foodie friend invited me to adventure around uptown Towson, which offered a nice array of shops and restaurants to explore.


During our stroll, we stopped by La Cakerie and Cunningham's Cafe and Bakery, two restaurants that I knew had gluten-free options, but had never stopped by to check in to them. While I couldn't actually eat at the former (due to dairy) and only stopped for a hot drink at the latter, I figured I would write a post featuring them to alert fellow Baltimoreans that these two bakery cafes might be ones to check out if you are in the area. Especially with the chill in the air, nothing is more delicious than a fresh-made pastry or giant mug of something warm and filling than a bakery and cafe with gluten and dairy-free options.



La Cakerie
La Cakerie earned their stripes competing on a variety of baking reality shows (notably Cupcake Wars, Cutthroat Kitchen, and Cake Wars). While their bakery is chock full of gluten-full sweets and treats, they do have a daily selection of gluten-free cupcakes and vegan cupcakes on hand. Do note though that the gluten-free contain milk and egg while the vegan do contain wheat. I inquired if they could make a gluten and dairy-free version but alas that not within the realm of possibility.
The cupcakes are baked in the shared kitchen, but kept separate from the others. A gluten-free friend who accompanied me bought one and said it was quite moist and not crumbly at all- high praise for a gluten-free baked good. I suggest calling ahead to verify offerings of the day.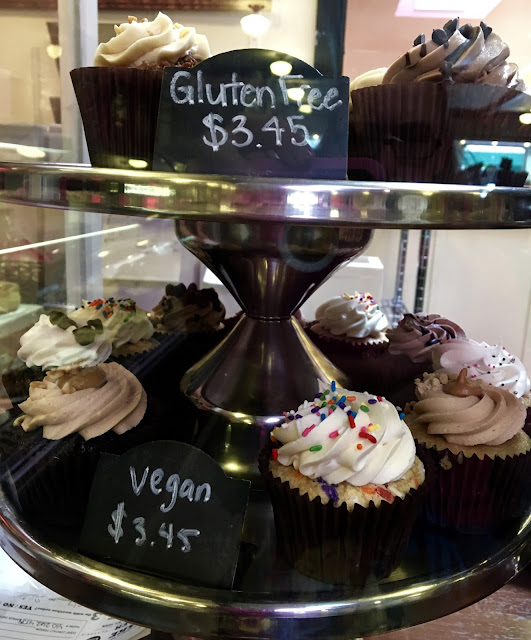 Cunningham's Bakery and Cafe
Cunningham's Cafe and Bakery is a member of the Bagby Restaurant family, which operates several renowned restaurants in the Baltimore area. After visiting La Cakerie and leaving empty handed, I ventured in to the cafe in search of a warm drink. I was intrigued by the lengthy list of drink options, which are gluten-free friendly and made dairy-free by subbing soy or almond milk in place of regular milk.
Although I thought about cider, I opted for the jalapeño hot chocolate, which was a daring choice that merged sweet and spicy. I loved the luxurious thickness of the brew, and perfect touch of heat from the jalapeño. While expensive for a drink, it was nice to indulge and catch up with my friend over hot drinks in the cozy space.
While there, I noticed their menu was labeled to identify gluten-free, vegetarian, vegan, and other dietary restrictions. The staff were helpful and knowledgeable, pointing out that I should not try a macaron because they were in the same case and made in the same bakery as wheat-containing products. I look forward to the occasional treat here and having a favorite coffee shop in town.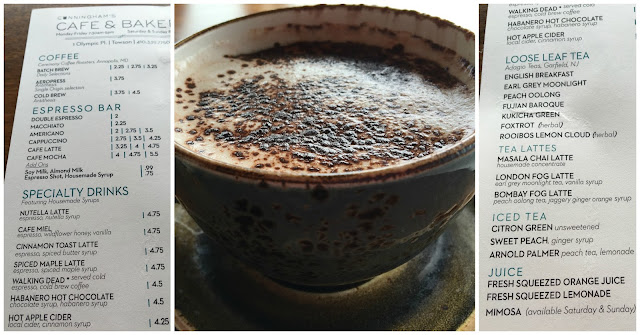 The Basics: La Cakerie
Address:

11 Allegheny Ave, Towson, MD 21204

Cuisine:

Cupcakes, Savory Baked Goods, Coffee

Ideal For:

Breakfast, Brunch, Dessert

Accessibility:

Wheelchair

accessible

Special Features:

Order them via Order Up Towson!

The Basics: Cunningham's Bakery and Cafe
Address:

1 Olympic Place, Towson, MD 21204

Cuisine:

Coffee, Breakfast, Soups, Small Plates

Ideal For:

Breakfast, Brunch, Lunch

Price:

See menu prices above

Accessibility:

Wheelchair

accessible

Special Features:

Order them via

Order Up Towson

!
Disclaimer: This review is based upon the information I have at the time of the review and does not reflect changes in ingredients or availability of items. Please contact the restaurant directly for up-to-date information and feel free to contact me with any questions or comments. I was not compensated for this review and it is a reflection of my personal opinion.