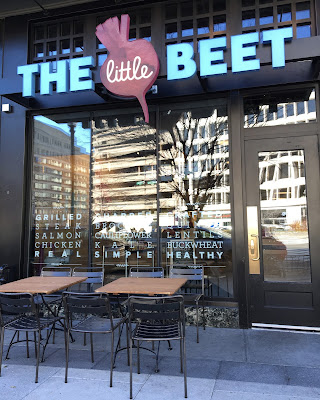 This review has been updated (click here), since this post was published the menu has changed and The Little Beet no longer serves breakfast.


When it came to planning a weekend excursion into DC, topping the list of places to visit was The Little Beet, a 100% gluten-free export from New York City. With locally-sourced menu items, a full menu of possibilities, and philosophy that aspires for food that is as nutritious as it is delicious, it's easy to see why it's become a serious hot spot on the DC food scene.


During my last visit to DC in November, I had hoped to be one of the first customers to give The Little Beet a try because I visited around the time of their grand opening. However, between their irregular soft opening hours and my limited schedule, I was not able to give them a try.


What's great about The Little Beet is its optimal location. Nestled in the heart of downtown near Dupont Circle, the restaurant is easy enough to get to on foot and by Metro from any part of the city. After taking the MARC train in from Baltimore in the morning, I made a bee line to the restaurant determined to make it my first "sightseeing" stop before I visited anywhere else. With many recommendations from friends and fellow bloggers, I could not wait to see if The Little Beet was worth the hype.


A slight warning before I continue: lunch time in DC is a serious affair. Around midday staffers and workers flood the streets and lines frequently extend out of restaurants and cafes. I'm not saying it's a bad time to go, just be warned that lines can be long. Arriving the The Little Beet around 1pm, I didn't mind the lines at all because it gave me ample time to scour the menu.


Another warning: The Little Beet's location is prime, but it is also pretty cramped.


For the basics on The Little Beet's menu, check it out here online. All menu items (including breads and baked goods) are gluten-free so there is no need to worry about cross contamination. For those of you- like me- who are dairy-free or have other allergy concerns, click here, to see their allergen menu.


Food is prepared in assembly-line fashion with each dish looking better than the next. It was cool to see delicate dance the staff were doing to get orders assembled and out all while continuing to cook and prepare more of the delicious food. I was fascinated to see a giant tray of cake go into the oven to roast.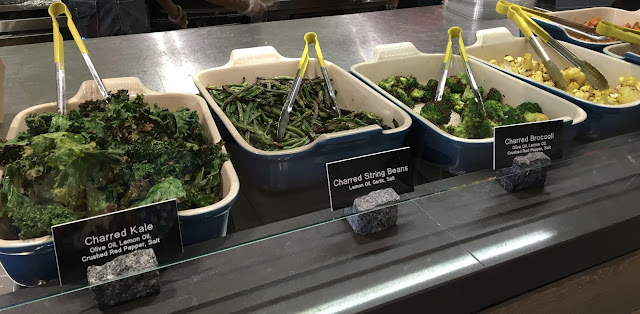 Gluten-free baked goods were available, but because of the lengthy line I was not able t inquire if they contained dairy.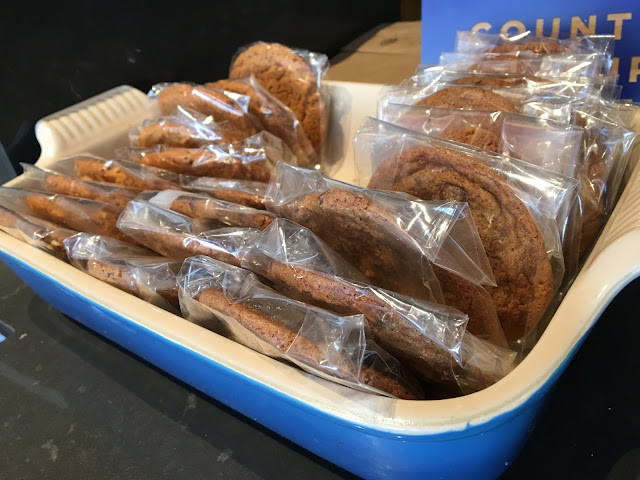 I ended up ordering the chicken bahn mi beet roll with a side of carrot ginger soup. Because seating is really limited, I ended up eating both on a bench near the back of the restaurant where fellow patrons were waiting for their orders to be called. While it was cramped for space, I didn't have anywhere else to go to sit down and enjoy my meal.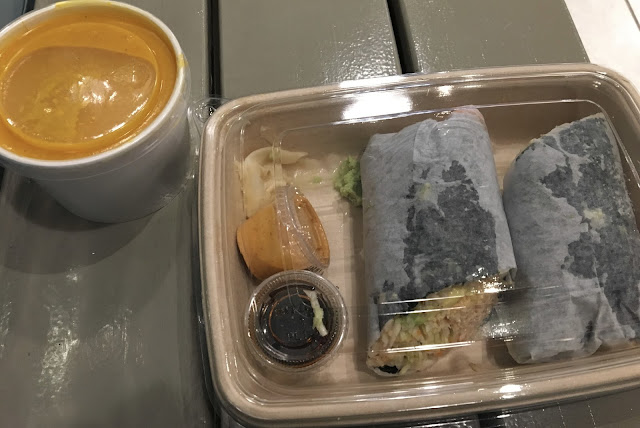 The beet roles are basically a burrito-sized uncut sushi roll. I liked how easy they were to eat, and how they were practically mess-free thanks to the wax paper wrapping. Specifically, the bahn mi beet roll consisted of brown rice, shredded chicken, scallions, avocado, cilantro, and asian slaw all wrapped in nori. The combo is texturally diverse and taste-wise really satisfying without being heavy at all. I loved the freshness of all of the ingredients and that they played perfectly together without one standing out over the others.


The beet roll came with a chipotle aioli and ponzu sauce, but I did not try either because I wanted to reduce the possibility of making a mess and also am not a sauce person.





The vegan carrot ginger soup is a pureed blend of carrots, onion, garlic, and ginger. I loved the velvety thickness of the soup and it's warmth and flavor was oh, so satisfying on a blustery, chilly DC day. I loved the subtlety of the spices and sweetness of the carrot. I loved the soup, and definitely would love to see it stick around as a more permanent menu item. If you can make it to The Little Beet during the remainder of the winter menu, make sure to not pass this soup up!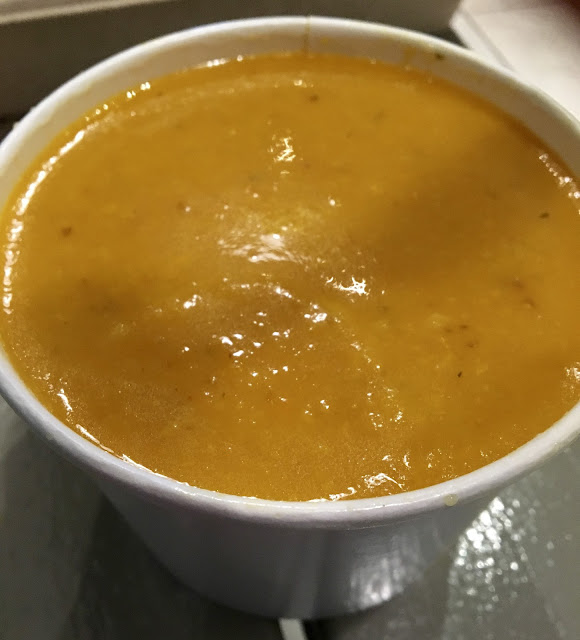 Overall, The Little Beet definitely impressed me. I love how the whole menu is gluten-free and that the items I ordered were fresh and flavorful. My only complaint is the the meal was a bit pricey at ($15 without a drink), but that complaint is definitely is a small one because I am willing to pay more for the safety of knowing that there is no chance of cross contamination.


Besides lunch and dinner, The Little Beet serves up breakfast Monday through Friday. When I make it back to DC for breakfast, definitely check back for a full review. For more information about their menu, locations (DC and New York), click here to visit their website.



The Basics
Address:

1212 18th Street NW, Washington D.C, 20036 (Connecticut Ave is the cross street)
Cuisine:
Farm-to-Table, Vegetarian
Ideal For:
Breakfast, Lunch
Price:
See Washington D.C. menu prices, click here.
Accessibility:
Wheelchair accessible, seating/tables are limited on ground level
Special Feature: Order online here

Disclaimer: This review is based upon the information I have at the time of the review and does not reflect changes in ingredients or availability of items. Please contact the restaurant directly for up-to-date information and feel free to contact me with any questions or comments. I was not compensated for this review and it is a reflection of my personal opinion.