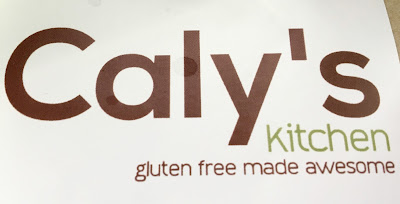 To access part 1 of my Caly's Kitchen review, click here.


In my previous review of Caly's Kitchen, I reviewed the amazing banana bread and divine vanilla cake mixes from this allergen-conscious company. In this review, I'm diving in to their cookie mix line up with a review of three selections: chocolate chip, oatmeal chocolate chip, and snickerdoodle.


What's really cool about Caly's Kitchen is that is was born out of a real family's struggle to find delicious baked goods that satisfied gluten and non-gluten eaters alike. The mixes are also allergen friendly, making it easy for those with multiple allergies or intolerances to join in on the fun.


I was sent three mixes to review, but because I am quickly running out of time in baking month and my semester is quickly coming to an end, I have reviewed two of the three, and will add the third as soon as I can catch up with my backlog of new posts.


Chocolate Chip Cookies
The first of the cookie mixes I reviewed was Caly's take on a classic chocolate chip cookie. As I prepared the mix, I realized midway through that I was woefully unprepared in the ingredient department, as I had run out of butter and milk earlier that week. As a quick substitute, I used canola oil in place of butter and water in place of milk. The dough was a but crumby and difficult to get to stick together, but with the help of a cookie scoop I was able to dole out about 20 cookies.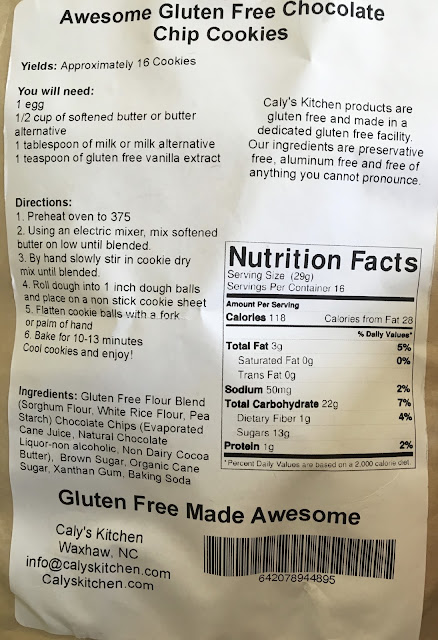 When they emerged from the oven the cookies were practically begging to be sampled while still warm. I've tried many a chocolate chip cookie in the years I've had dietary restrictions but this one had me at first bite. I loved the classic notes of brown sugar that shone through and that the cookies were slightly overbaked which made them crunchy on the bottom and soft on top. Bite sized and delicious, they quickly disappeared as few of my friends realized that they cookies they were snacking on were actually gluten and dairy-free- the ultimate seal of approval for any baking mix.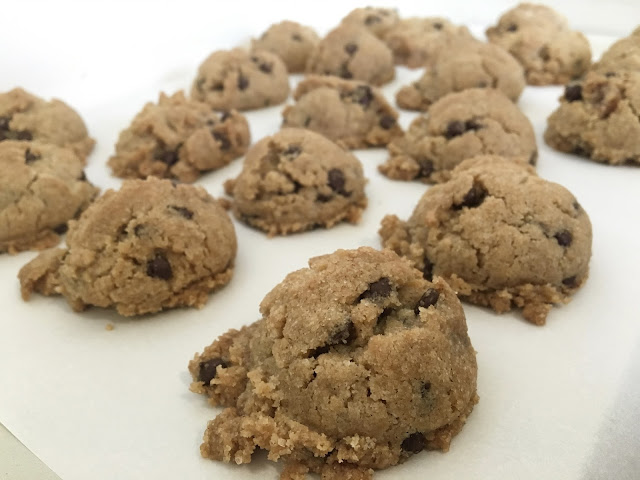 Oatmeal Chocolate Chip Cookies
While seemingly similar to the chocolate chip cookies, adding oatmeal to the mix definitely changes the game. As with the previous batch, my lack of butter and milk were a challenge, but I compensated with water and oil.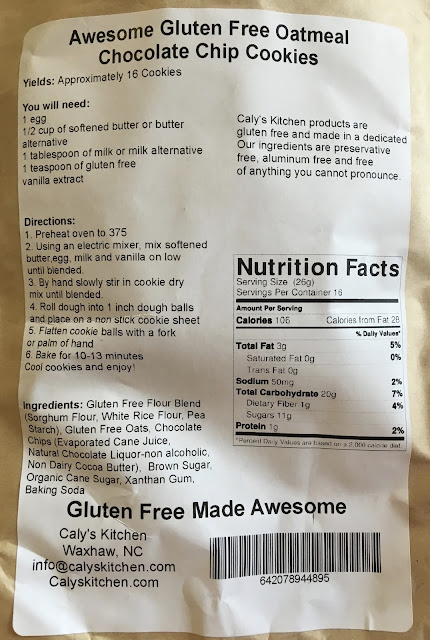 Once baked, the oatmeal cookies were almost identical to the chocolate chip, but had a different flavor profile. The nuttiness of the oats enhanced the classic chocolate chip cookie profile, raising the level of sophistication of the cookie. I'm a girl who detests oatmeal raisin cookies so this was definitely a cookie after my own heart. The crisp bottom of the cookie was crunchy while the interior was softer, which provided textural contrast that really satisfied.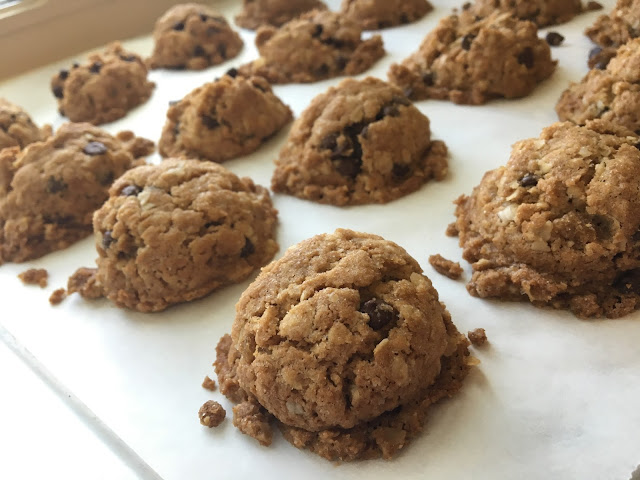 Despite my ingredient shortcoming in both cases, the cookies were still knock-it-out-of-the-park fabulous and totally won me over. After so many trials of gluten-free cookies it's easy to believe that there could be no new surprises for me, but here Caly's Kitchen totally impressed me and definitely has earned a spot on my list of brands I rely on.


Stay tuned for the third cookie mix review which will cover the Snickerdoodle mix. It will be added to this post.


For more information about Caly's Kitchen, click here to learn more and order mixes online.
Disclaimer: This review is current to the original publication date. Updates will be noted. Ingredients and manufacturing processes can change without notice. Each product should be reviewed for individual nutritional needs. Feel free to to contact me with any questions or comments. Caly's Kitchen sent me samples free of charge for review purposes, but the review is a reflection of my personal opinion.