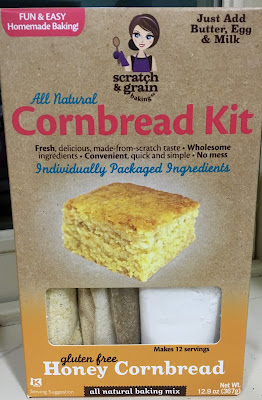 As much as I love discovering new baking mixes out on the market, I really love when brands I already know and love expand their gluten-free offerings. Such is the case with Scratch and Grain Baking Company.


I previously have reviewed their gluten-free cookie mixes (link here) and really loved their novel approach to baking. With all the convenience of a prepackaged mix but the step-by-step methodology of from-scratch baking, Scratch and Grain definitely inhabits a unique niche of baking products.


As a relatively new converted cornbread enthusiast, I have sampled only a handful of gluten-free cornbread preparations. I like to always have cornbread muffins on hand in my freezer because they are always a quick fix for breakfast or dinner.


What's so cool about Scratch and Grain's mixes is that each ingredient is individually packaged and portioned so that you as a home baker can customize your creation. Want to cut down on sugar? Only add half of the allotted amount. Need to bake a vegan cornbread? That's okay, alternate directions are included. Want to jazz up the cornbread to wow your dinner party guests? Add creamed corn, jalapeño, cheese, or bacon to give the cornbread more subsistence. The choice is yours.


To make the mix, additional ingredients are required: an egg, unsalted butter, and milk. To see my tips for dairy-free substitutions, click here. Preparing the cornbread requires more steps than your average mix, but the end result delivers a homemade quality that is just not found in all boxed mixes. Get your kids, friends, roommates, or other baking partners involved to make the whisking, mixing, and blending process more fun for everyone.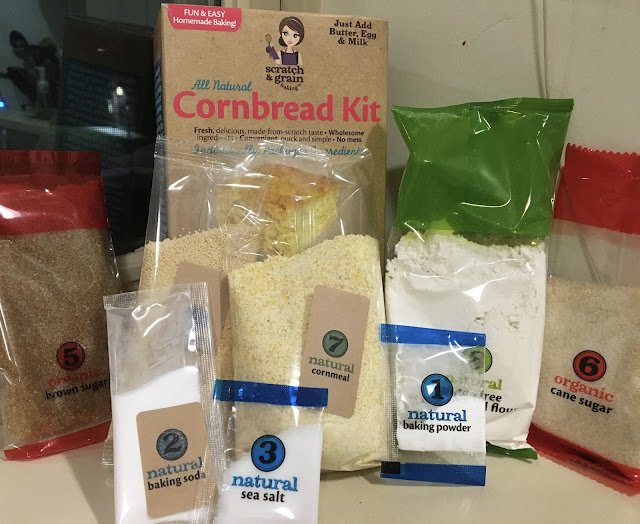 For testing purposes, I prepared the cornbread with Califia unsweetened almond milk, an egg, and canola oil. I added all of the ingredients as portioned, to see how the muffins would fare without any alteration. The mix rendered a dozen standard-sized muffins perfectly.


Because my dorm oven is a bit unreliable, cook times are always longer than the package instructions for me. I kept my eye on the muffins and pulled them out when they were golden brown and a toothpick emerged clean. Once cooled, I took a bite and melted into the sweet corny flavor of the muffins. I loved the moistness and spot-on texture of the muffins. The honey granules, brown sugar and cane sugar definitely add a sweetness that is perfect for the cornbread: not too sweet, not too savory.




Although the newest Scratch and Grain mix to the line up, this cornbread mix is hands down my favorite. The muffins were definitely they best I have tasted- both homemade and from a restaurant. Pair these irresistible beauties with soups, barbecue, or even pop one for breakfast. A warning though, one is never enough.


I kept the uneaten muffins in an airtight container for a few days post-baking. They kept their taste, texture, and moistness wonderfully, and you really couldn't tell that they were not fresh-baked.


I have found Scratch and Grain products in the Maryland area at Wegmans. In Florida, I found them at DeLand Bakery. For more information about Scratch and Grain, including a product finder, online ordering, and full ingredient lists, click here.


Disclaimer: This review is current to the original publication date. Updates will be noted. Ingredients and manufacturing processes can change without notice. Each product should be reviewed for individual nutritional needs. Feel free to to contact me with any questions or comments. I purchased this product independently and the review is a reflection of my personal opinion.