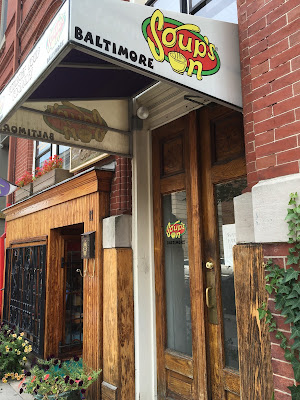 When it comes to summertime cuisine, soup definitely does not come to mind as seasonally appropriate fare. However, when I realized I forgot to pack lunch after heading to work in downtown Baltimore, I turned to Find Me Gluten-Free to source out nearby options to grab a safe gluten-free meal during my lunch break.


Topping the list both in both proximity and ratings was Soup's On, a small dedicated cafe in midtown that has a daily rotating menu of soups- clearly labeled as vegan and gluten-free when applicable. Although their summertime hours are limited, I was able to swing by and pick up a safe meal, and a new favorite go-to lunch spot along the way.


Thanks to a commitment to making soup that showcases the season's freshest flavor, Soup's On not only has gluten-free and vegan options, but uses real, fresh ingredients to make soups from scratch each and every day. They do not use canned ingredients, nor do they allow artificial additives or preservatives into their homemade recipes. Soups are designed as low sodium, and are seasoned using fresh spices.


The day I visited, the two vegan soup options were both gluten-free: a Yucatan black bean soup and carrot ginger. Indecisive about which to try, I bought a cup of each to try. In the bag of both soups, I was provided packets of sea salt to season the soups accordingly.


The black bean soup was hearty and packed plant-based protein. It was thinner than the Cuban black bean soups I am used to, but I liked the thick, flavorful broth. I sorely wished I had a slice of gluten-free sourdough to enjoy with the soup, and definitely will plan ahead on my next Soup's On visit.


The carrot ginger soup was the showstopper between the two. Pureed and thick, the soup was velvety flavorful, with the sweetness of the carrot and the distinct ginger flavor shining through in perfect proportion. I added a bit of sea salt to this soup, which only enhanced the flavor, adding just a tad bit of saltiness to balance the sweetness. I relished every spoonful, and dreamt about the soup for the rest of the afternoon.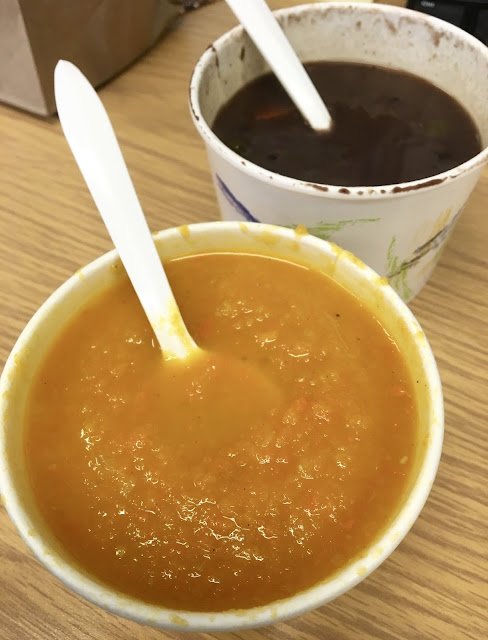 I definitely look forward to frequenting Soup's On as summer gives way to fall and winter. I might "forget" to pack lunch more often as an excuse to check out what seasonal delicacies are gracing the menu board. The soups were outstanding, but the service too is worth noting, as the owner was really knowledgable about ingredients and willing to go above and beyond to assist me with my order.



The Basics
Address:

11 W Preston St, Baltimore, MD 21201

Cuisine:

Vegan, Soups, Salads

Ideal For:

Lunch, Dinner, Snack

Price:

$4/cup, $5/bowl, $6/pint

Accessibility:

Not wheelchair accessible

Special Feature: Check the daily soup options online here.
Disclaimer: This review is based upon the information I have at the time of the review and does not reflect changes in ingredients or availability of items. Please contact the restaurant directly for up-to-date information and feel free to contact me with any questions or comments. I was not compensated for this review and it is a reflection of my personal opinion.