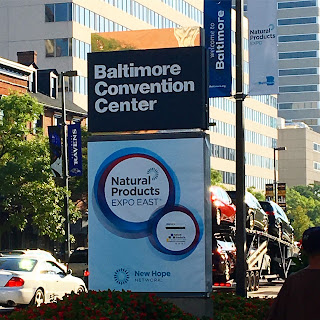 Every year the Natural Products Expo East comes to Baltimore and for three straight days I partake in a treasure hunt for the best gluten and dairy-free products of the show.


From the numerous samples of sweets, snacks, meals, and drinks I tried over the course of my Expo-ing, it was fun to be surprised by brands who were new-to-me or new products from some of my favorite brands.


This post serves as your guide to my Expo East reviews, as I tend to break them up into subcategories culminating in my top five products from the show. Bookmark this page to have easy access to my reviews as they are published.



I always like to share some few non-food adventures. Always a favorite on the show floor, Bob (of Bob's Red Mill fame) and his merry band always bring smiles at the start of every day with their brass band.





Also, I got to run into some of my blogger friends such as Pam from www.imaceliac.com, Erica from celiacandthebeast.com and Andrea (@BaltGF on Twitter).


— Pam Jordan (@ImaCeliac) September 23, 2016
— Amanda (@GFDF_Reviews) September 24, 2016
My recaps will be posted below as they are published- stay tuned!


Expo East Recap: Sweets

Expo East Recap: Meals & Beverages
Expo East Recap: Snacks, Breads, and Baking


But wait… there's more! Enter to win a box of swag (samples and coupons) from the Expo East show floor. Note: samples are gluten-free but some contain dairy and other allergens.



a Rafflecopter giveaway