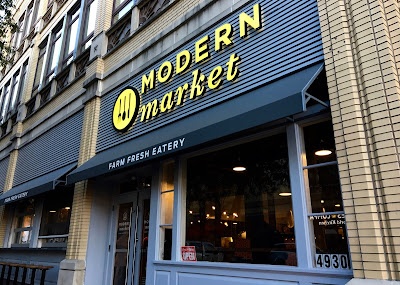 While passing through Washington DC last weekend, I decided to take the red line Metro up to Bethesda to check out a restaurant that had piqued my interest: Modern Market. Located in the Bethesda Row shopping center, I was lured in with the promise of menu that had


Modern Market is the rare hybrid of a lot of hot restaurant trends popping up these days that actually works. Their food is homemade from scratch and presented beautifully, and all items are farm-sourced to make good, clean, food. These days it's easy to find cafe-style and farm-to-table restaurants, but it's difficult to find establishments that can do both, and are also unpretentious and affordable.


Although I hate to draw comparisons, Modern Market's menu is rather similar to bakery-cafe giant Panera. That is, if Panara had gluten-free, vegan, and paleo options. With options including soups, homestyle plates, pizzas, and sandwiches (not to mention breakfast options). The menu is labeled by diet, which makes perusing it stress-free. As I was debating what to order, I spoke with the employee who was helping me, and he assured me that they have cross-contamination measures in place to protect customers with dietary needs.


Gluten-free options are plentiful, and there's gluten-free bread and pizza crusts on hand to substitute for their gluten-counterparts.



I decided to start my meal with a bowl of their green chicken chili, it was a chilly November evening, and the soup was absolutely perfect for the dark evening. From first taste, you can immediately tell it is homemade. The broth is complex and smooth, with the mild spice of green chilis adding flavor but not heat. Tender chicken, potatoes, celery and onion are added in proportion so that there is a nice flavor and texture balance added to the broth.


I'm a believer in food's ability to heal, and totally believe that this soup has healing properties. It's comfort food at its best, and earned an enthusiastic two thumbs up from me.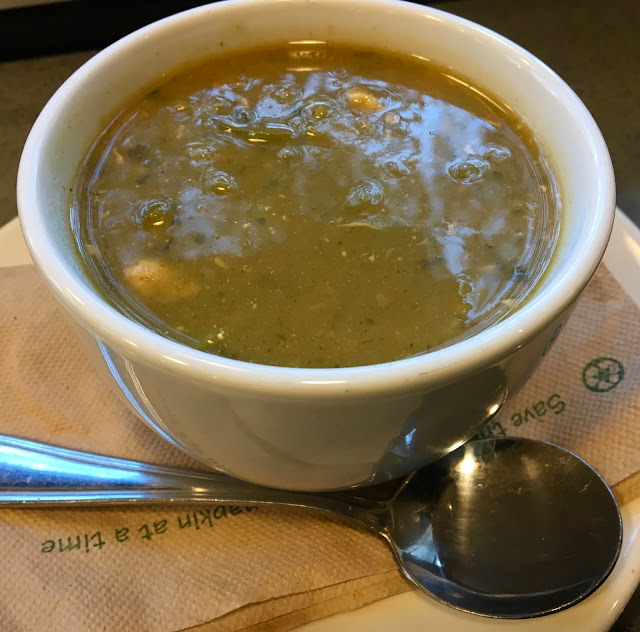 As the main course, I decided upon the crimini kale pizza, which is naturally vegan, on the gluten-free crust. I ordered a whole version of the pizza (you can order a half as well), which is 12″. The staff use clean utensils to prepare the pizza but do bake it in a shared brick fire oven on aluminum foil to avoid cross contamination. The pizza came topped with crimini mushrooms, kale, red onion, and red sauce.


After having some truly amazing gluten-free vegan pizzas in recent years, my bar for pizza has gotten pretty darn high. This pizza however met the challenge easily, and surpassed my now sky-high standards. Ingredients were clearly fresh and vibrant, and had nice textural contrast from the crunchiness of the kale to the chewiness of the mushrooms. The sauce was robust and portioned enough to provide flavor but not result in a soggy pizza. Sealing the deal was the incredible crust, which was sturdy enough to support the toppings, but also had a nice chewiness. It had the customary burn spots of a wood fired oven, and had rich flavoring from the scaled areas. Not too thin and not too thick, it was absolutely Goldilocks-like for me.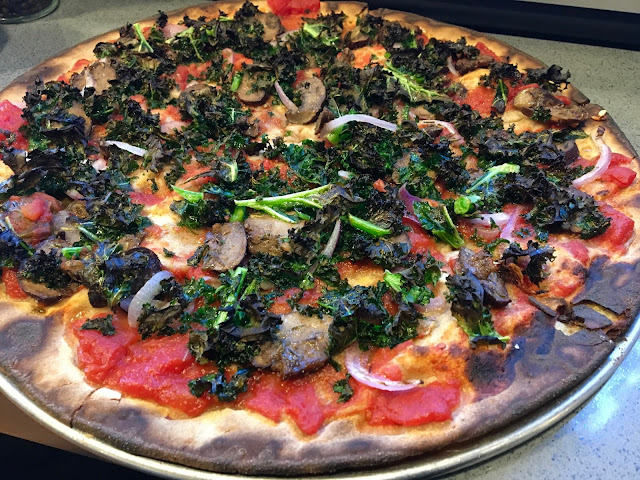 I had decent expectations going in to my Modern Market dining experience but left completely blown away by the service and quality of food. It was a total treat to enjoy delicious fare and not have to spend a fortune for it. With menu versatility and clear knowledge of special diet considerations, Modern Market stands among my favorite fast casual restaurants.


I sincerely hope they expand up towards Baltimore soon, but in the meantime I eagerly await my next visit in Bethesda (or their soon-to-be DC location).


Update: On a recent visit (January 2017) I branched beyond pizza and ordered a homestyle plate with chicken, mashed rosemary sweet potatoes, and ginger maple vegetables. I loved the tenderness of the chicken, was was delightfully drizzled with a flavorful salsa verde. This "salsa" tasted more like chimichurri sauce, but I didn't mind because it was bursting with flavor in every bite. The sweet potatoes were smoothly mashed- with flecks of skin still visible, and perfectly navigated the flavor profile of sweet and savory with flecks of rosemary. The ginger maple veggies were more maple-y than ginger-y but I liked how they were roasted to a perfect point where they were neither crunchy nor mushy.


The plate was supremely comforting, and sustaining on a cold, raw day. I liked how the entire meal was grain-free, and packed with tons of nutrients from all the vibrantly-hued vegetables.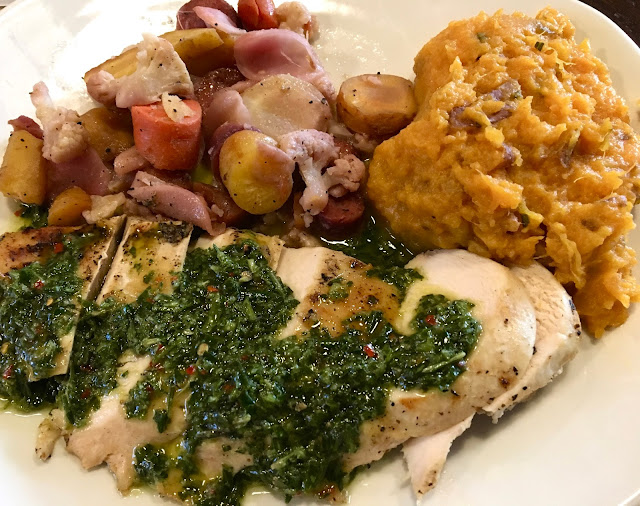 To celebrate Modern Market's recent expansion to Washington D.C., I'm hosting a giveaway of four $25 gift cards to the restaurant. The giveaway closes February 27, 2017 at 12:00am (midnight).



a Rafflecopter giveaway


The Basics
Cuisine:

Breakfast, soup, salad, sandwiches, pizza

Ideal For:

Breakfast, lunch, dinner, snack, dessert

Accessibility:

Wheelchair accessible

Special Feature:

Order online right here
Disclaimer: This review is based upon the information I have at the time of the review and does not reflect changes in ingredients or availability of items. Please contact the restaurant directly for up-to-date information and feel free to contact me with any questions or comments. I was not compensated for this review and it is a reflection of my personal opinion.