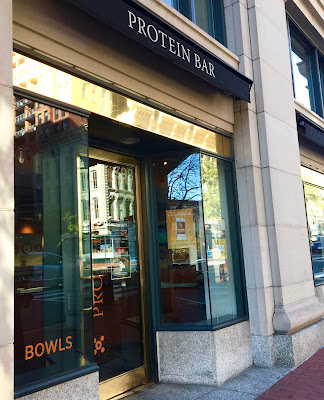 I've been to Washington D.C. enough times now that I now have to debate whether to visit beloved restaurants I have already been to or check out new ones. On my latest excursion, I decided to do the latter and check out as many new places as I could in my short time in the city.
Making the list for places I wanted to check out was The Protein Bar, which offers an fare for any time of day- breakfast, lunch, and dinner. I decided to stop by for a late lunch, and was lured in by a menu marked with various dietary considerations.
The Protein Bar stands among the many new (and not-so-new) fast casual eateries in the city that offers fresh fare that's both quick to order and made with health-conscious restaurants. While the Protein Bar is not dedicated gluten-free or plant-based as others I have visited are, they are conscious of gluten-free and vegan eaters.
When I visited, the restaurant was rarely slow with traffic, which made me comfortable because I could explain my dietary restrictions to the staff. The menu is labeled to indicate gluten-free and vegan offerings, which made deciding what (and what not) to order fairly easy. Gluten-free eats are restricted to salads, bowls (breakfast bowls and protein bowls), and chili. Steer clear of their oatmeals and wraps, as they contain gluten. When I ordered, the staff changed their gloves and used fresh supplies of the ingredients to minimize cross contamination.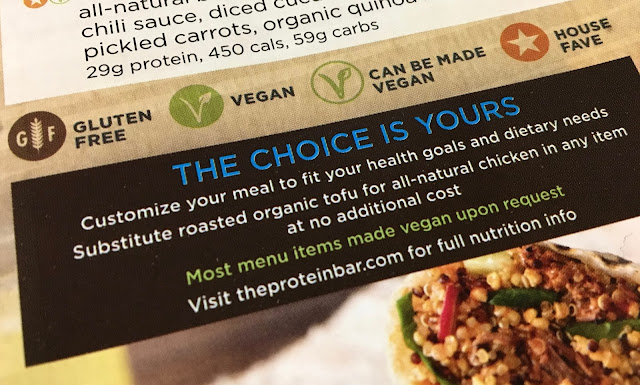 I ordered the black bean bowl, which features Protein Bar's quinoa blend, black beans, chicken, pico de gallo salsa, and a dollop of guac (in lieu of cheese). The quinoa blend contains organic quinoa, millet, and amaranth, for grainy mixture that has varying textures and is far more intricate than just quinoa or brown rice. The chicken and beans were okay, not overly flavorful though, and were pretty blaze. The salsa and guac were both decent, but not the best versions of either that I tried.


The bowl was ample in portioning and hearty in substance, with lots of fiber and protein to create a bowl that definitely could hold it's own, if not completely impress me. It was a solid meal, but not one that made a huge impression.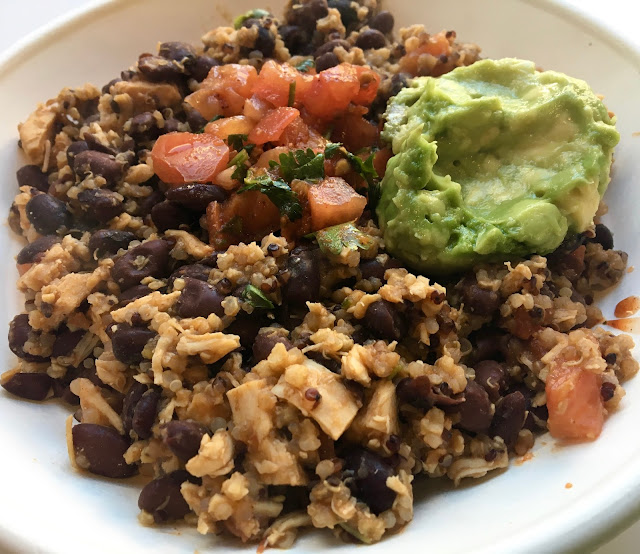 Overall I liked the concept of The Protein Bar, if not the execution. The labeling and staff awareness were good, but my bowl was a little underwhelming. Don't get me wrong- my meal was satisfying, but in a city with such high foodie standards, my meal was rather forgettable.


The Penn Quarter location is nearby the National Mall and is convenient to several Metro stops.
The Basics
Cuisine:

Bowls, soups, salads, smoothies

Ideal For:

Breakfast, lunch, dinner, snack, dessert

Accessibility:

Wheelchair accessible
Disclaimer: This review is based upon the information I have at the time of the review and does not reflect changes in ingredients or availability of items. Please contact the restaurant directly for up-to-date information and feel free to contact me with any questions or comments. I was not compensated for this review and it is a reflection of my personal opinion.