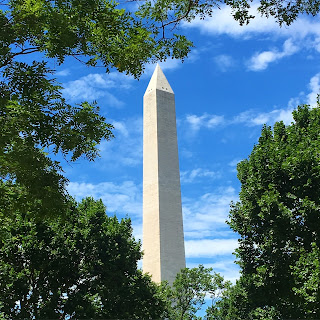 Although Baltimore is technically my home, I've spent far more time in Washington D.C. this year exploring the foodie scene. From food trucks to sit down restaurants, I've visited restaurants that have run the gamut in cuisine.


Narrowing down my top ten favorite restaurants of 2016 was quite the challenge, so I want to clarify the criteria used for the ten that have earned a spot on my annual round-up of best restaurants.


The following restaurants were newly reviewed in this calendar year, and are not national chains (some are regional chains with a few locations- coming soon is my chain restaurant best-of list). Because the District is quite small, geographically speaking, I have included my finds from bordering areas in Maryland and Virginia. That being said, all of the featured restaurants can be accessed quite easily via public transit or a quick drive. With those stipulations set, I'm proud to promote my top 10 gluten-free finds in Washington D.C. for this year.



Honorable Mention: Busboys and Poets (Full Blog Post)
Of course, by including an honorable mention, I am cheating a bit, stretching the 10 restaurant limit I set for myself. However, I couldn't click "publish" on this post without including this restaurant because they are such an incredible part of the D.C. restaurant scene. With good food, good books, and good conversation, eating at Busboys and Poets was a highlight of my year because they have a vibe that helps them stand apart from touristy restaurants most visitors flock to.
2016 is the year I discovered that sorbet doesn't have to be a boring pint of mono-flavor sugary sweetness that most grocery store brands offer as a non-dairy alternative to gelato. Dolcezza views sorbet as a flavor playground, artfully crafting complex flavors that are just divine. The sorbet is impossibly smooth and totally refreshing on a hot summer day. An added bonus? You can buy pints to-go at their shops and at local Whole Foods Markets.
Rise is first dedicated gluten-free artisanal bakery in D.C. and earns points for delicious baked goods that are always marked to indicate other allergens. While their famed croissants are not dairy-free, I have indulged in other dairy-free offerings like their flourless chocolate cake and ridiculously incredible double crust apple pie. They're safe, they take special orders, and they're located in Adams Morgan, a great neighborhood to wander about in and enjoy the quite, tree-lined streets and beautiful homes.
8. Lilit Cafe
Lilit is one that is technically not in D.C. proper, but is located off the red line metro stop in Bethesda- so I'm including it on this list. Part gluten-free convenience store, part-restaurant, part-reseller of local gluten-free bakeries, this is truly a one-stop-shop that would please even the pickiest eaters in your family. While the food was really good, it is the passion and generosity of the staff that has stuck with me. They do gluten-free because they care, not because it's a trend to follow.
Here's another not-exactly-in-D.C. pick, but one well worth the short drive to Virginia. The Happy Tart is an artisan bakery that produces French-style pastries and breads using all traditional ingredients- except gluten. The cupcakes I enjoyed here were decadent and the bread a slice above any frozen brand out there. While dairy-free options are limited, they do have a nice selection and also take special orders.
I have to admit that dosa is a new food for me this year. If there's any place to try it, it's DC Dosa in Union Market, where all dosas are 100% gluten-free and vegan. Think of mega-sized crepes that are made with lentil batters and are stuffed with curry vegetables and topped with chutneys; that's what dosas are, and DC dosa's are reliably delicious every time.
5. O Earth Creamery and Bakehouse (Full Blog Post)
O Earth Creamery and Bakehouse was a bakery I found completely by happenstance this year, as I randomly wandered into the Dupont Circle Farmer's Market one Sunday. This bakery is 100% gluten-free and about half of their offerings are vegan too. Their scones are second to none, boldly flavored and dusted with a tantalizing layer of course sugar crystals. From orange/blueberry to chocolate/ginger, the flavor combinations are playful and defy scone stereotypes.
While most restaurants have gluten-filled offerings and have to indicate the few gluten-free items on menus, Rasoi is the opposite. Most of their menu is gluten-free with very few gluten-containing items. I am a budding Indian food lover, and Rasoi's menu has plenty of options for those who are both new and veterans to the cuisine. While I go for their spicy chicken entrees, I can never go without getting an order of their crispy papadum.
Mainstream smoothie places have fallen out of favor for me in recent years because of their sugar-pumped blends and lack of whole fruit nutritional value. Fruitive is different because they are 100% plant based and nutrient dense. I love their bowls, which are decorated with upmost care and have a nice taste and textural contrast to turn breakfast into something to linger over and savor. They earned bonus points for their seasonal pumpkin smoothie bowl that I still dream of today.
On several occasions, I have declared 2016 as the year of the taco, because I have found several amazing taco joints in the past 12 months. Chaia stands alone because they are 100% dedicated gluten-free and feature and entirely plant-based menu that features the freshest of ingredients from local farms. A piece of advice? Go for the tacos, but don't miss the amazing hibiscus tea they sell that's just divine.
Taking top honors in this year's list is The Corn Factory, a 100% gluten-free food truck that serves up Mexican eats, including tamales, arepas, and tacos. It took me awhile to rendezvous with this food truck, which is in different locations every day, but it was well worth the wait to finally try them. I tried tacos and arepas, and the latter totally stole the show.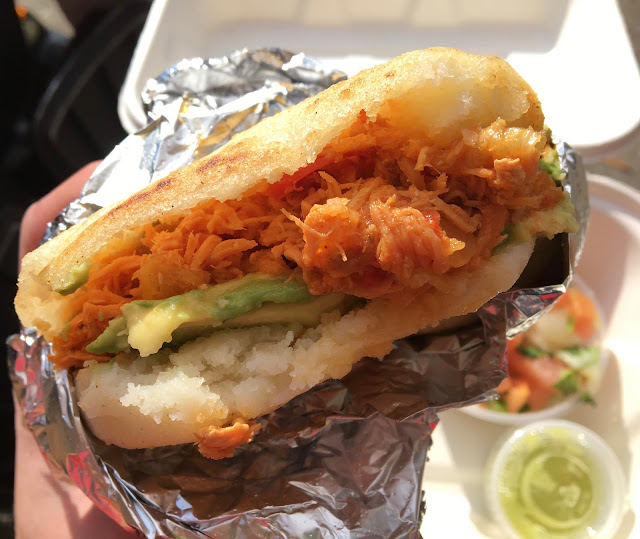 Have recommendations for restaurants for me to check out in 2017? Comment below!
To see all of my restaurant reviews of D.C. area restaurants, click here.