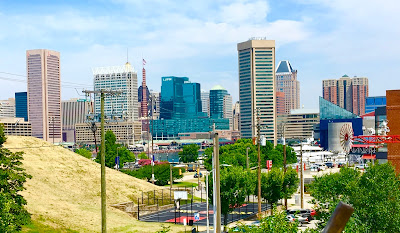 To see my 2015 Best Gluten-Free in Baltimore list, click here. To see the 2014 list, click here.


As 2016 is quickly coming to a close, I have to do the difficult task of determining the highlights of my favorite gluten-free eats I've had this year. This year I'm spotlighting my top favorite foodie finds of 2016 in both Baltimore and D.C., the locales I've covered most this year.


Because I want to focus on the best of the best from the blog, I have narrowed this best-of list of Baltimore to five restaurants. Criteria for making this list is that the review include that the review needed to be newly posted this year, the restaurants were in the Baltimore metro area and that the restaurants are not chains.



Birroteca is a late addition to the race for best restaurant, as I ate there only a few weeks ago. Gluten-free pizza has become something that rarely excites me, as so many of them are so sorely lacking in taste and texture. Birroteca's is solid in both regards, but the real MVP of my meal was the fried brussels sprouts recommended by a waiter. With a hip atmosphere and gluten-free know-how, this Hamden restaurant is worth a visit.
Alexander's Tavern sports the most extensive gluten-free menu on this list, and has a dedicated fryer so you can enjoy all the fries and tater tots your heart desires. Located in historic Fell's Point, Alexander's has options ranging from pizza to sandwiches, salads to appetizers, which means every in your party can find something to love here.
Smoothie bowls are so cliche, but Pure Raw Juice's are crafted with care with real plant-based ingredients. In addition to blended beverages, they have kombucha on tap and health-promoting juices to make healthy eating fun. To make their smoothie bowls gluten-free, just be sure to ask for gluten-free granola.
Naked Lunch is located in the Mom's Organic Market in Baltimore's Hamden neighborhood. It's 100% plant-based menu is perfect for vegans, vegetarians, and those with allergies alike, and most of their offerings are naturally gluten-free. As much as I love trying new things, I order the same thing every time- cauliflower steak- and love the fresh flavors and nutritional density of the meal.
Another amazing plant-based restaurant in town, and the best restaurant I discovered this year, is Encantada, which is located in the quirky American Visionary Art Museum in Federal Hill. Encantada is not 100% meat free, but here the veggie based dishes take center stage, with most being vegan and gluten-free friendly. I went for Baltimore Restaurant Week and liked the three course feast prix fixe menu that let me try a starter, entree, and dessert.


To see all my Maryland reviews, click here.


Have any suggestions as to where I should eat in 2017? Comment below, I'm all ears!