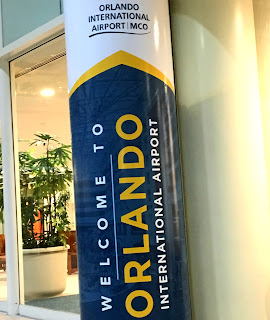 I am a frequent traveller, and pass through the Orlando airport several times a year, as my family lives in Central Florida. Although I rarely stop to take stock of dining options in the airport and bring my own stash of food instead, it is helpful to know what's at the airport so in the event of flight delays or other circumstances (forgetting your safe food- I've done that several times) you know where you can go to get gluten and dairy-free food.

I did a post covering gluten-free and dairy-free options at Orlando International Airport (MCO) back in 2014 but much as changed at the airport since I first looked in to safe options.



In writing this, I have to put out a disclaimer that options might change without notice, as MCO is always changing up food and retail options. I will do my best to update accordingly, and will note when locations close or new ones open. To see MCO's full retail and eatery directory as well as hours for each store, click here.

Main Terminal
Carvel (Food Court)- Many of Carvel's ice creams are gluten-free, you can find a list of safe ingredients on their website. All of their ice creams contain dairy.
Chick-fil-a (Food Court)- Use this PDF to see allergen information for all menu items.


Terminal 1
Terminal 2
Bananas– GF options are not marked, but frosties (made with fruit and ice) are marked dairy-free.
Pinkberry– This frozen yogurt stand has the best frozen yogurt I've ever had (before I went dairy-free). Pinkberry now offers dairy-free concoctions in addition to their traditional yogurts. Click here to see allergen info.
Terminal 3
Camden Food Co.
– a natural food focused quick serve restaurant, Camden Food Co. has options for those looking for "organic, non-GMO, kosher, vegan, dairy-free, gluten-free, low fat, and antioxidant rich fare."
Freshens– All smoothies are 100% gluten-free (but might contain dairy). Check out the smoothie menu on their website.
Nature's Table
– offering healthy fare, Nature's Table has gluten-free offerings that can be seen
on their website
.
Qdoba– an allergen menu for the tex-mex restaurant can be found here. Options include tacos, salads, and burrito bowls.
Ruby Tuesday– Ruby Tuesday offers salads, entrees, and burgers. Click here to use their allergen guide, which screens for the top 8 allergens and vegetarian/vegan options.
Wendy's– The popular fast food chain does have gluten-free options and items for those with other allergies. Click here to see gluten-free items, and click here to see a menu with more allergens noted.
Terminal 4
Cibo Express– Find quick grab-n-go options here such as bottled beverages, chips, fruit, etc.
Outback– Outback offers entrees such as steak, chicken, and fish, with other menu offerings such as salads and appetizers. Click here to read my Outback review.
Pinkberry- See Terminal 2 information above.
Starbucks- See Main Terminal for information.


Have tips to share about how to make traveling with food allergies and dietary restrictions easier? I'm all ears. Comment below.