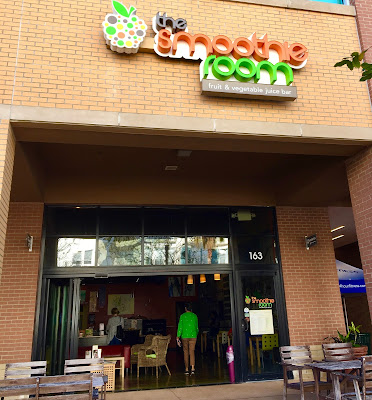 I have been on a smoothie kick of late, as I have visited many new-to-me smoothie shops in recent weeks. Although it's currently winter, I don't really let cold temperatures deter me from seeking these nutrient-dense blended beverages.


While in visiting Orlando I made a point to check out The Smoothie Room because unlike major chains, they do not add sweeteners, syrups, or sugars to their smoothies. While smoothies are high in sugar as a basic fact, I like mine sweetened naturally by whole, real fruits.


The Smoothie Room is located in the bustling SoDo shopping center (South of Downtown), and the day I visited, they were definitely embracing the nice temperatures by opening up their front door to bring in sunlight and air.


The smoothie room's menu is split into two sections: smoothies and juices. I definitely fall in the smoothie camp, and their menu offers a nice array of flavors and ingredients to give you lots of options. All the ingredients are dairy-free, but they do have whey protein on hand as an add in. I did not order a granola-containing smoothie, but their granola is gluten-free.


I ordered the berry dose smoothie in the small (14oz) portion, which features apple, blueberry, strawberry, blackberry, raspberry, and banana. To give it a boost, I also added cinnamon and bee pollen from the extras menu. I loved this sweet tanginess of the smoothie, which was given an extra dimension from the cinnamon. The blend was smooth with no outlier chunks that are common when smoothie places use ice as a filler. The bee pollen added a honey-like tone to brighten the intensity of the berries.
I really liked the smoothie, it was refreshing and a nice pick-me-up in the afternoon. My only complaint- albeit a small one- is that I'm not a huge fan of apple as an ingredient in smoothies. To me, it sticks out as an anomaly in the blend and just doesn't fit in to the flavor profile. Nevertheless, in this smoothie, it wasn't as protruding as I've had in other smoothies.





The Smoothie Room is a great pick for healthy snacks or a meal replacement beverage. They keep the focus on healthy eating, and the staff working the day I went were friendly and helpful with suggesting smoothies. Overall, I definitely would stop here to eat local, and support this small, local business.



The Basics
Cuisine:

Smoothies and Juices

Ideal For:

Breakfast, Snack

Accessibility:

Wheelch

air accessible

Special Features:

They have a punch card loyalty program in which you earn a free smoothie after 10 purchases.
Disclaimer: This review is based upon the information I have at the time of the review and does not reflect changes in ingredients or availability of items. Please contact the restaurant directly for up-to-date information and feel free to contact me with any questions or comments. I was not compensated for this review and it is a reflection of my personal opinion.