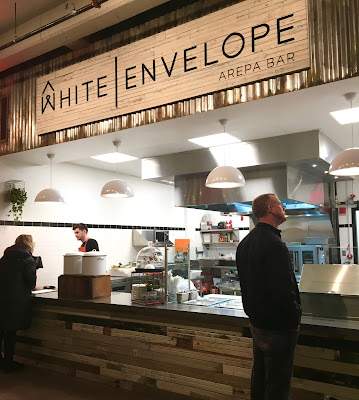 After a month away on winter break from school, I am excited to be back in Baltimore and tuned in to the latest and greatest on the gluten-free food beat in Charm City.


After landing at BWI, I had my sights set on R. House, a new food concept launch pad in the Remington neighborhood of the city. Part concept incubator, part urban market, this old warehouse space brings together ten food and drink stalls from local chefs who promise to pioneer the next generation of eats.


What initially drew me to R. House in the first place was White Envelope Arepa Bar, a 100% gluten-free stall in the market, which features arepas- a South American signature dish that's a favorite of mine.


Arepas feature toppings such as shredded meats and vegetables sandwiched between grilled mesa patties, and are naturally gluten-free (in most cases) the good news for Baltimore arepa lovers is that White Envelope's are all 100% gluten-free.


While all the arepas are gluten-free, not all are dairy-free, so I inquired which arepas were safe. I was told the following arepas on their menu are dairy-free (or can be made so with modification):
Venezuela Does Vegan

The Literal Pig

Mattress Breaker

Curried Skate

Street Food Grill (request oil in lieu of butter)
If you have other food allergies or senstivities, let the staff know so they can guide you to the arepa that would be safe for you.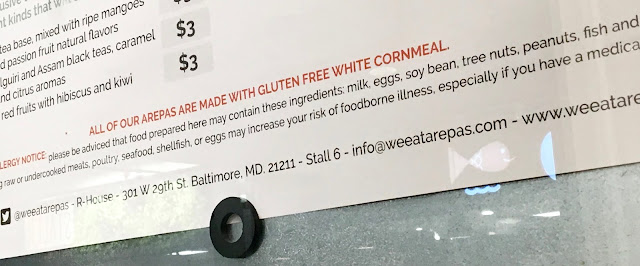 I ordered the Venezuela Does Vegan arepa, which features beans croquette, spicy butternut squash puree, and watercress between an beet arepa dough mesa. I loved the vibrant coloring of the arepa which was distinctive and quite beautiful. The arepa itself had a nice juxtaposition of flavors and textures, from the crunchiness of the croquette to the spicy creaminess of the puree. The fresh flavor and coolness of the watercress was a nice way to balance out the boldness of the other flavors. The arepa definitely kicked it up in the spice level and had my tongue dancing, but I loved every bite of it.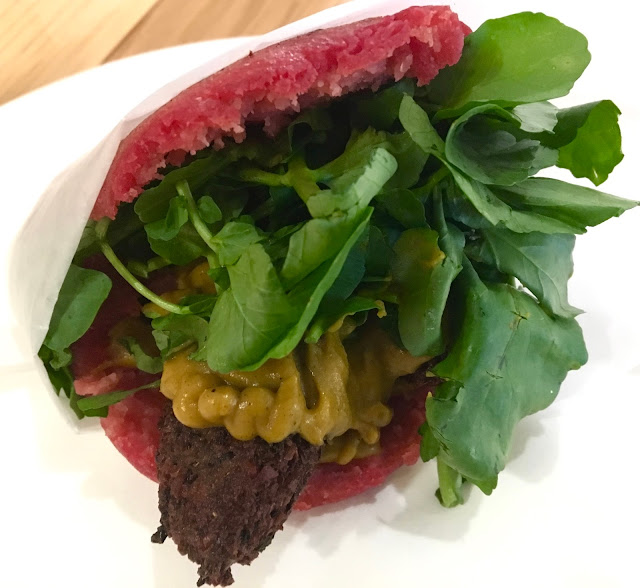 The sandwich was top notch- and markedly different from other arepas I have had in the past. It was creative, it was quirky, it danced to a beat of its own. Packed with plant-based protein and firecracker flavor, it was satisfying, and left me excited to taste around the menu on future visits.


As with any 100% gluten-free restaurant, what is incredible about eating at White Envelope Arepa Bar is that you can dine stress-free and focus on the flavors, not the potential of cross contamination. Located in an hip modern market filled with new foodie concepts, I will cheer White Envelope Arepa Bar on as they hopefully continue to grow and prosper here in Charm City.



The Basics
Price:

Arepas run between $8 to $9 each

Accessibility:

Wheelch

air accessible
Disclaimer: This review is based upon the information I have at the time of the review and does not reflect changes in ingredients or availability of items. Please contact the restaurant directly for up-to-date information and feel free to contact me with any questions or comments. I was not compensated for this review and it is a reflection of my personal opinion.