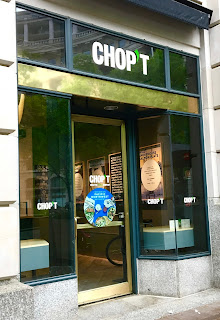 One of my favorite restaurant trends in recent years has been the abundance of fast-casual lunch places that offer affordable, healthy food that can be customized to dietary restrictions and preferences. The latest of these type of restaurants on my radar is Chopt, a salad-focused eatery that promises "farm-to-fast food" eats that are anything but boring.


Chopt utilizes farm-fresh ingredients that are locally sourced, which means that their food packs a nutritional punch. Additionally, they craft their menu with an eye on seasonal flavors so that they are taking advantage of the season's freshest flavors.


What makes Chopt unique is their one-of-a-kind method of making salads. Once a customer selects their ingredient blend, staff slice all the ingredients together on a chopping board using a giant knife. The ingredients are then tossed together with dressing, which ensures there is everything is mixed well. This slices and dices the concept of "tossed" salad!


I looked at Chopt's allergy-free menu right here before visiting to make sure I knew what I wanted to order. Because of the shared chopping board used for salads, I also made sure that I arrived right when the restaurant opened so that my salad was made on a clean surface with fresh ingredients. Chopt is not 100% gluten-free, so I definitely raise a red flag about visiting during busy hours or midway through the day. The staff member who helped me was knowledgable about ingredients, confirming my choice as safe and offering to change his gloves before preparing my salad.


I ordered the Mexicali vegan salad, which featured black beans, tomatoes, jalapeños, hearts of palm, grape tomatoes, avocado, tortilla chips, spinach and romaine. The whole salad was topped with Mexican goddess dressing. The portioning was very generous– definitely fulfilling several servings of vegetables in one sitting. As-in, the salad is:
Guten-free

Dairy-free

Egg-free

Fish/shellfish-free

Peanut/tree nut-free

Sesame-free

Soy-free

Onion-free
However, it does contain garlic.


I loved the freshness and vibrancy of the flavors. The salad was definitely lettuce-heavy. I would have appreciated more of the black beans, avocado, and tomatoes. Tortilla chips gave the blend a nice crunchiness that was a textural contrast. The dressing was bright and tangy, pulling all the ingredients together with pizzazz. The dressing plus the jalapeños do pack some serious spiciness, but I like a little heat so I didn't mind. Just be prepared with a beverage near by to tame the burn.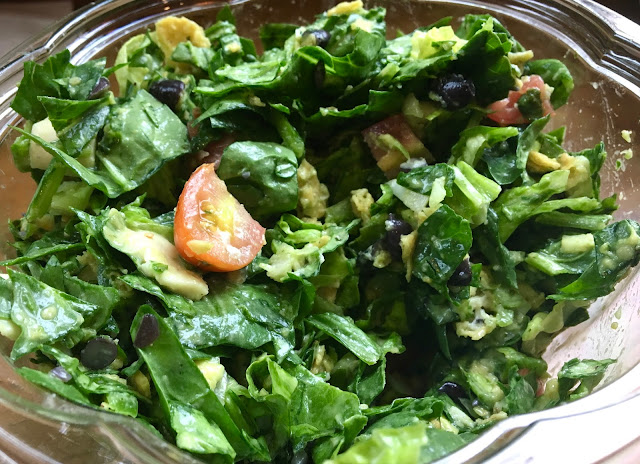 I really like Chopt, but in my opinion it can get lost in the crowd of DIY salad places popping up these days. The slice-and-dice preparation is unique, but a danger zone for cross contamination so be sure to ask questions and let the staff know your dietary needs. Next time I will probably order a custom salad versus their suggested blends, but it was nice to have a vegan option that I could request without being perceived as "picky."



The Basics
Address:

801 Pennsylvania Ave NW, Washington D.C. 20004

Website: choptsalad.com

Cuisine:

Salads, Grain Bowls, Soup

Accessibility:

Wheelchair accessible

Disclaimer: This review is based upon the information I have at the time of the review and does not reflect changes in ingredients or availability of items. Please contact the restaurant directly for up-to-date information and feel free to contact me with any questions or comments. I was not compensated for this review and it is a reflection of my personal opinion.