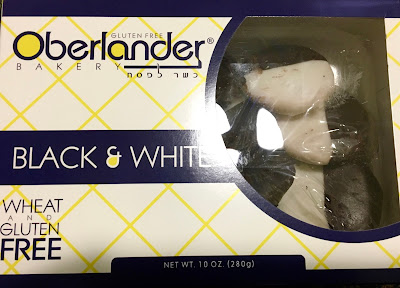 I've discovered that Passover ushers in a gluten-free treasure hunt at local grocery stores as gluten-free versions of Kosher foods are stocked for the holiday.


In a recent post-Passover run I saw a new-to-me brand that made a product I have never seen gluten and dairy-free: black and white cookies! I've seen gluten-free verisions of the striking cookies before but never a dairy-free version so I bought two boxes on the spot to try.


Oberlander Bakery is New Jersey-based bakery that's part of the Orthodox Baking Co., which makes several gluten-free treats for passover including a cookie assortment that features a colorful array of macron-like cookies. In this review however, the black and white cookies will take center stage.


These cookies are certified Kosher for Passover, and the only allergen they contain is eggs. However, they are made in a facility that process tree nuts. Looking at the nutrition facts, the serving size roughly correlates to a cookie, so for only about 2g of sugar per cookie that's absolutely incredible. The box I purchased had 11 cookies in it.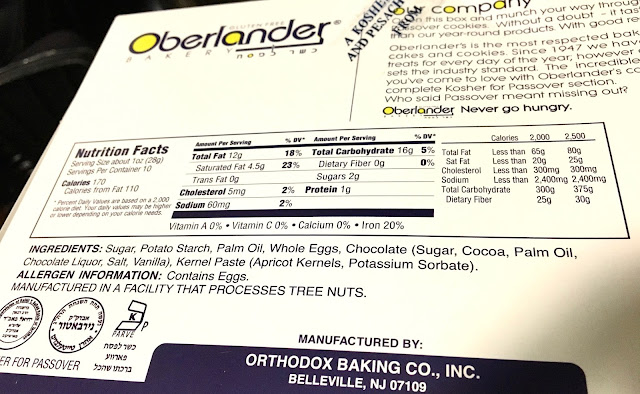 The cookies themselves are absolutely adorable, with a clean separation between the chocolate and vanilla frostings. The layers of frosting are thick and fondant-like, completely enveloping the cookie in a sweet outer layer. To me, both flavors of frosting were a bit muted, but you could get notes of chocolate and vanilla from each side. The cookies themselves remind me of shortbread, and were a bit crumbly. They were sweet and had a nice crunch, which contrasted well with the thick frosting. Overall the cookies were sweet but not sickeningly so. They satisfied my afternoon sweet tooth without giving me a sugar crash after enjoying one or two.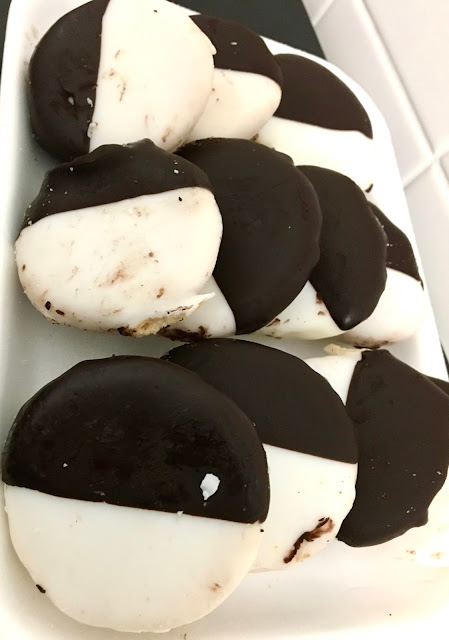 Oberlander's cookies are sure to please kids and adults alike. It's such a treat to be able to enjoy safe cookies that look and taste like the gluten and dairy-full versions I have seen at non-gluten-free bakeries. It may seem small, but it's a big deal to be able to purchase bakery-style treats in the grocery store.


The cookies are stocked seasonally for Passover but you can find more information about them year-round online right here.


Disclaimer: This review is current to the original publication date. Updates will be noted. Ingredients and manufacturing processes can change without notice. Each product should be reviewed for individual nutritional needs. Feel free to to contact me with any questions or comments. I purchased the above products independently and I was not compensated from my review.