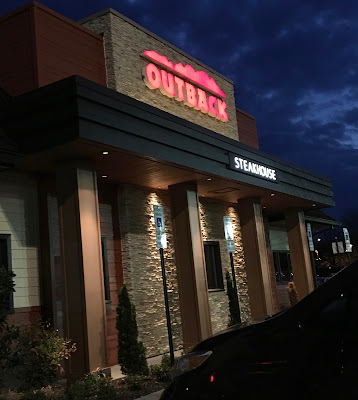 Of the big chain restaurants out there, Outback Steakhouse has earned a rap as a reliable place to find gluten-free eats. Serving up gluten-free eats for over a decade now, the restaurant has partnered with registered dietitians to curate a menu of safe eats.


Offering everything from steak to seafood, loaded potatoes to a loaded brownie sundae, their gluten-free menu is certainly versatile. With locations around the country, they're a great place to keep in mind when traveling.


My recent visit to Outback marked the first time I have eaten at the restaurant since going gluten-free. A cousin of Carrabba's, which is one of my favorite chain restaurants (my review here), I entered my experience expecting the same level of gluten-awareness and variety of options.



Clearly Outback is not a 100% gluten-free restaurant, but they do take steps to ensure meals are prepared thoughtfully to prevent cross contamination. From their website these protocols are taken:
Outback provides gluten-free education to all of its employees and has a protocol for each time a gluten-free menu item is ordered. This includes: hand washing, glove changing, using clean cooking equipment and utensils, and special ordering instructions for our chefs.
Outback prints its gluten-free menu separate from the main menu, and when you order you should inform the wait staff of the severity of your gluten-sensitivity. The menu is not marked for other allergens.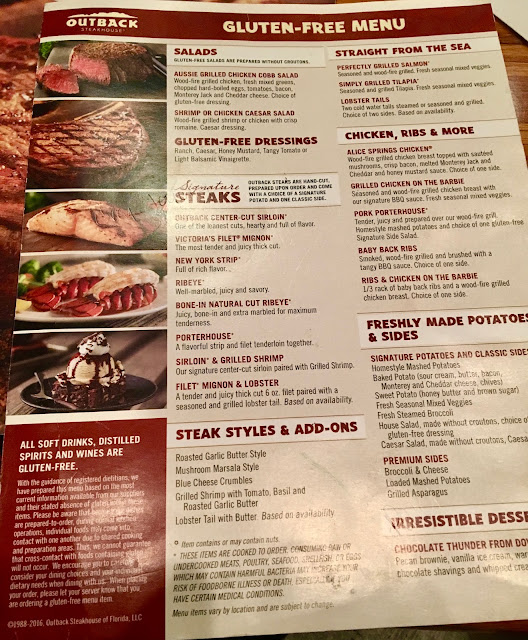 I ordered the perfectly grilled salmon, which is dairy-free. I love anything that is wood-fired, and here the flavor perfectly complements the tender, juicy salmon. The 7 oz portion was enough to satisfy me (there is also a 10 oz portion offered). The accompanying vegetables were a little underwhelming, bland and uninspired flavor wise. A squeeze of lemon brightened them up, and the texture was pretty good.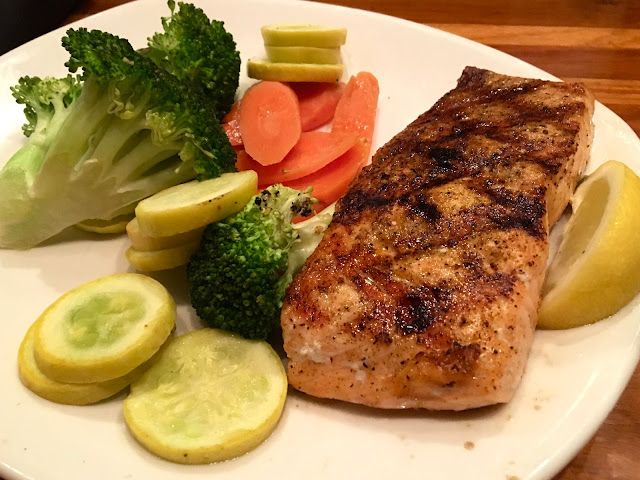 Overall my meal was okay, nothing overly special, but it was nice to have several options to choose from and know that the staff understood what gluten-free meant. While it's not the first place I would choose to eat, it's nice to know its an option- I've seen Outbacks in airports and they are a reliable find when traveling. For those who can have dairy, I will point out that Outback makes a gluten-free version of their Chocolate Thunder from Down Under dessert, which features brownies, ice cream, chocolate sauce and whipped cream. That alone is worth trying Outback out, but I was bummed there was no dairy-free option.


The Basics
Accessibility:

Wheelchair accessible




Disclaimer: This review is based upon the information I have at the time of the review and does not reflect changes in ingredients or availability of items. Please contact the restaurant directly for up-to-date information and feel free to contact me with any questions or comments. I was not compensated for this review and it is a reflection of my personal opinion.