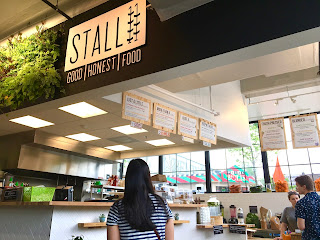 Baltimore is a nice playground for gluten-free foodies, with plenty of great options around town. One of my favorite new foodie hot spots in the city is R. House, which is home to ten up and coming food concepts from local chefs. I have been once before, but have been woefully negligent in my food blogger duties by not return to seek out more gluten-free options at the food hall.


For my second visit, I decided to set my sights on Stall 11, which is a plant-based, farm-to-table focused stand that has tons of great whole food-based options on hand. From smoothies to creative bowls, prepackage food options, and juices, there's plenty of clean eats to go around any time of day.


What's really cool about Stall 11 is that they are serious about providing healthy, fresh, local fare. Much of the menu comes from Baltimore urban farms, which adds a new dimension of awesomeness to this venture. As soon as I walked into the stall, I knew I was in for a treat.


Since I visited on a Saturday a little before noon, I decided to take advantage of their weekend brunch offerings, which are a weekend exclusive. I knew it meant passing up on the chance to try a juice, smoothie, or bowl, but I had a sneaking suspicion that I would be coming back soon. Both the egg option and the johnny cakes were gluten-free the day I visited, but only the latter was vegan. I debated ordering a smoothie or juice on the side, but figured I shouldn't let my brain overestimate my stomach's capacity.


When I ordered I let the staff know that I was a gluten allergy, and they assured me they would sterilize the grill area and use clean utensils to prepare my food. They definitely set me at ease, because they "got it" when I said I needed these accommodations.




The johnny cakes were absolutely beautiful and had a lovely array of toppings on top. The cakes themselves were made with quinoa flour, and had a nice whole grain flavor. They were thin, but perfectly cooked. Topping them was a creamy coconut yogurt (that wasn't coconut-y at all), pumpkin seeds, blueberries, and sweet coconut flakes. A banana and drizzle of lemon agave syrup rounded out the perfect plate. I loved the contrast of textures and flavors that simply delighted me with every forkful. The overall combination was really sweet so I had to drink an ample amount of water too, but that's not necessarily a bad thing.
I have to admit that I hate the flavor of coconut but completely did not mind at all the use of flakes and yogurt in this dish. Normally I cannot stomach even the smell of coconut, but happily ate up every last flake and drop of yogurt. Maybe it was Stall 11 magic…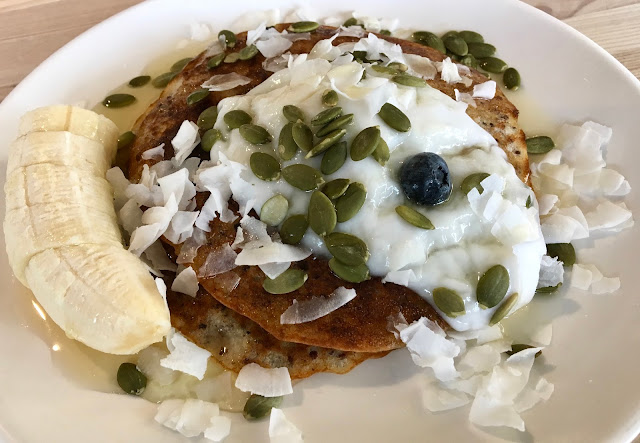 I had high expectations going in, but Stall 11 nevertheless impressed me. I left full and happy, excited that I found another safe breakfast spot in town. For some reason it's hard to find gluten-free places with exciting breakfast options, but Stall 11 proves it can be done. I know their small stall prevents the development of a larger menu, but I would like to see more breakfast options offered.
I will most definitely be a return customer, and look forward to trying their non-breakfast options like their noodle bowls and smoothies. Plus, with a whole fridge of goodies such as farm-fresh tomato sauce and homemade guac, I know I can bring the deliciousness home with me too.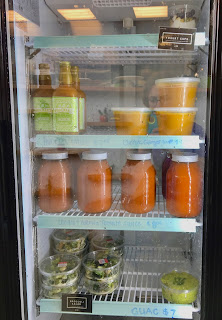 To-go items incl. guac, tomato sauce, and soup.
The Basics
Address:

301 W 29th St, Baltimore, MD 21211 (Inside R House, 1st Floor)

Cuisine:

Juice, Smoothies, Raw Food, Farm-To-Table

Ideal For:

Brunch (Weekends), Lunch, Dinner

Price:

My breakfast was $11, other menu items range from $7-$15 range

Accessibility:

Wheelch

air accessible
Disclaimer: This review is based upon the information I have at the time of the review and does not reflect changes in ingredients or availability of items. Please contact the restaurant directly for up-to-date information and feel free to contact me with any questions or comments. I was not compensated for this review and it is a reflection of my personal opinion.