Over the long Memorial Day weekend, I moved from Baltimore to Washington D.C. for the summer, which means that there's a whole lot of D.C. reviews coming soon to the blog. After a long day of packing and moving, I decided to venture over to Georgetown to walk around and get fresh air.


To decide where to find dinner, I consulted my Find Me Gluten-Free app, and after reading reviews decided to give El Centro D.F. a try.


With a menu featuring authentic Mexican eats, El Centro D.F. has a lot to offer for gluten-free eaters. From tacos to fajitas, enchiladas to salad, corn-based tortillas make most of the menu gluten-free.


El Centro D.F. is one in a few restaurants operated by Mexican-born chef Richard Sandoval. Inspired by the flavors of Mexico City, dining at El Centro D.F. promises to capture the essence and authenticity of meals he enjoyed with his family growing up.


While most of the menu is gluten-free, there are gluten danger zones that you have to beware of. Items are marked to indicate the presence of gluten, but the menu does not mark items made in a shared fryer as gluten-containing. When I let the waitress know that I was gluten-free, her first question was "preference or allergy?" That question let me know she was aware of the intricacies of gluten-free food prep, and she assured me that she'd let the kitchen know so that they could take extra precaution with my order.





All tables receive complementary chips and salsa, but since the fryer is shared with gluten-containing items, I could not partake in the chips. To compensate, I requested warm tortillas for dipping, and spooned out a portion of the smoky salsa onto a side plate to prevent cross contamination. The warm tortillas do come with an additional charge ($3), but to me, it was worth it for dipping in salsa and guacamole.





To share with my dad, I also ordered the traditional guacamole, which is prepared table-side. It's a chunky guacamole loaded with tomato, onion, cilantro, and chile serrano. I was given the choice to spiciness- mild, medium, or hot- and chose medium. I liked the flavor balance of the guacamole, which was creamy and fresh. I scooped big dollops onto my tortillas, and loved the combination of soft tortillas with the spread.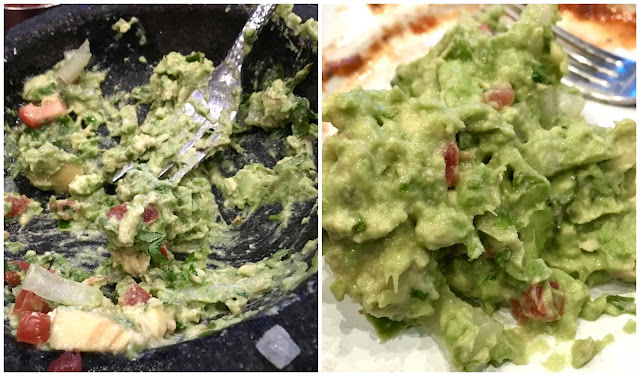 I was so hungry I forgot to snap a picture when it was made table-side! Here's a close up and the empty bowl.


For my entree, I chose the chicken fajitas, which come with rice, beans, fajita vegetables, guacamole, pico de gallo, sour cram, and guacamole. The dish took a bit longer than usual to come out because the staff completely cleaned the grill to prepare my meal. Although I mentioned that I was dairy-free too, I think it got overshadowed by the gluten-free protocols. I didn't ask for the staff to remake my meal though, and decided to pass up on eating the beans and sour cream.


The real star of the show of this dish was the cast iron-grilled chicken and vegetables. Perfectly tender and seasoned beautifully, the flavor of the grill shines through and was absolutely delicious. I enjoyed wrapping them up in the provided tortillas with a dollop of guacamole to add creaminess to the dish. I did not try the beans or the sour cream, and ate only a forkful of rice because I was so stuffed- it was dry and uninspired. The generous portioning of the dish totally filled me up, and I left with my stomach hurting from the amount of food I ate- not because of glutening.




I was won over by El Centro D.F., despite a minor mishap with dairy. I think my brain overestimated the amount of food I could eat, because I was stuffed without finishing the beans and rice. The fajita chicken and veggies are laudable, as is the guacamole. While not being able to have chips is a bummer, don't let that stop you from giving this taqueria a try. The staff know their stuff when it comes to gluten-free accommodation, and there's plenty to enjoy on El Centro D.F.'s menu.



The Basics
Address:

1218 Wisconsin Ave NW, Washington, D.C. 20007

Ideal For:

Weekend Brunch, Lunch, Dinner, Late Night

Accessibility:

Wheelch

air accessible

Special Feature:

Get El Centro delivered via Caviar (click here)
Disclaimer: This review is based upon the information I have at the time of the review and does not reflect changes in ingredients or availability of items. Please contact the restaurant directly for up-to-date information and feel free to contact me with any questions or comments. I was not compensated for this review and it is a reflection of my personal opinion.