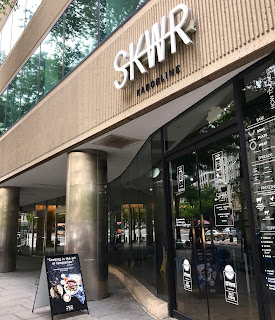 If there's one restaurant trend I can wholeheartedly get behind, it's the proliferation of fast casual "make your own bowl" restaurants that have popped up in and around Washington D.C. They make grabbing an affordable, healthy lunch easy, and coming many culinary varieties- Mediterranean, Indian, Korean, and more.


The latest of these type of restaurants I visited is SKWR Kabobline in downtown D.C. Offering a gourmet take on a street vendor staple- kabobs- SKWR has a menu that features naturally gluten-free and dairy-free options.


SKWR's food is made in-house, and merges traditional and modern influences. Named for the traditional way of cooking meat- slow roasting over an open flame, SKWR makes ancient eastern eating approachable and fun.

SKWR's menu is marked to indicate gluten-free, vegan, and vegetarian options. All of their meat is halal, antibiotic-free, and hormone-free. Gluten-containing items are scarce, but I asked that the staff change their gloves before preparing my bowl to prevent cross contamination. Each ingredient is scooped with their own scoop, so that also helps cut cross contamination. However, in the toppings section, I did see some cross-pollination of ingredients, so chose toppings that were far from the gluten-containing ingredients.


I chose a bowl with brown rice and spring mix as my base. You get a choice of three sauces, but I chose one scoop of hummus and two scoops of cilantro and jalapeño chutney. My protein was chicken, and my vegetable toppings were cabbage, chick peas, salata, mint leaves, and zucchini and lemon. To top it all off, I selected the gluten-free, vegan pesto sauce as a final flourish.


The bowl is generously portioned- there's a lot of food packed in to enjoy. My favorite parts of the bowl were the fresh mint, flavorful cabbage, and tender, marinated chicken. The rice and spring mix were a good base as well. I definitely did not like the zucchini and lemon- both for taste and texture reasons. The pesto sauce and cilantro and jalapeño chutney competed a bit, both with strong flavors and the latter packing she serious heat.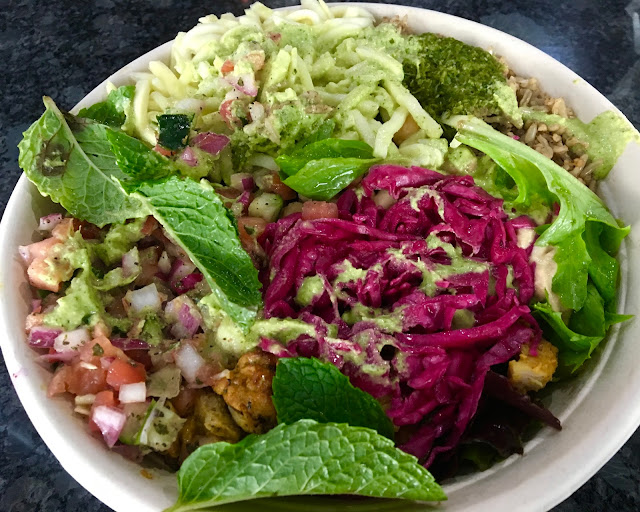 My bowl was good, but I by no means blew me away. In a competitive restaurant category, SKWR holds its own, but was not novel or trailblazing in comparison to other similar restaurants I have tried. Maybe some of my mediocre reception was selecting too many competing flavors, so I will have to stop by another time to give them another try. I do appreciate that they have many gluten-free, halal, vegetarian, and vegan options, so it's a good option when juggling multiple dietary considerations.



The Basics
Address:

1400 K St NW, Washington D.C. 20005

Cuisine:

Mediterranean/Middle Eastern

Ideal For:

Lunch, Dinner, Late Night (Open 'til 4am)

Price:

Build-you-own bowls start at $9.35

Accessibility:

Wheelch

air accessible

Special Feature:

Download their app to access their loyalty program.
Disclaimer: This review is based upon the information I have at the time of the review and does not reflect changes in ingredients or availability of items. Please contact the restaurant directly for up-to-date information and feel free to contact me with any questions or comments. I was not compensated for this review and it is a reflection of my personal opinion.