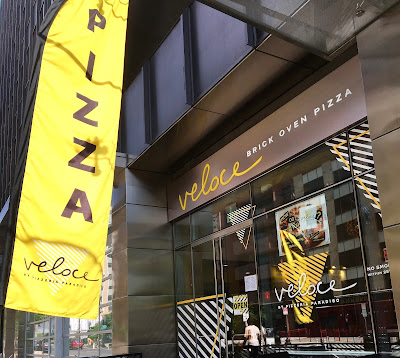 As of December 15, 2017, Veloce has closed its doors. I'm sad to see this GF neighborhood mainstay go away.
Gluten-free pizza gets a bad rap, and I think that reputation is partially justified. Most pizzerias that serve up gluten-free pizzas serve up soggy or cardboard-like facsimiles of the real deal and charge twice the price. After finding really good pizzas at a few pizzerias, I have shied away from rushing out to try every gluten-free pizza out there.
When a strong craving for pizza struck this weekend, I researched neighborhood pizza options and stumbled across Veloce, the fast casual cousin of Pizzeria Paradiso, a popular D.C. pizza restaurant. Promising quick-cooking pizzas that don't compromise on gourmet ingredients, I decided to pay them a visit. If it went well, I would have a reliable pizza chain, if not, I was prepared to walk away so as to not risk getting glutened.
It goes without saying for any non-100% gluten-free restaurant, but whenever there's gluten in a restaurant's kitchen, there's always a chance for cross-contamination. To their credit, Veloce not only acknowledges this, but works to make their pizzas as safe as possible given the challenges of a bustling pizza kitchen. Here's a breakdown of their pizza prep process:
The ingredients are mixed with a thoroughly cleaned mixer to create a dough.

The dough is shaped on a clean prep table.

The formed crusts are baked in a traditional oven that was cleaned beforehand.

The crusts are wrapped and frozen and are ready to make.
From there, Veloce's staff prepare the pizza. I was informed that they used clean utensils to dress the pizza, and a dedicated slicer once it is fully baked. That being said, there is only one oven in the restaurant, so both gluten-full and gluten-free pizzas have to share space. Gluten-free pizzas are baked on aluminum foil to further prevent cross contamination.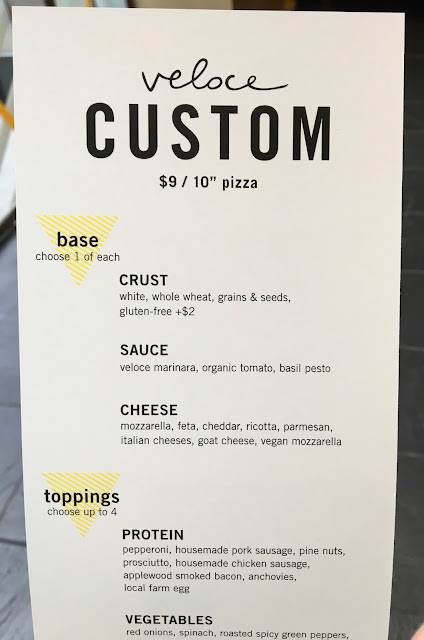 As with any restaurant I review, here's where I caution you to make your own decisions about how much of a risk to take when choosing a restaurant with moderate cross contamination. I felt comfortable with the staff's awareness and the protocol, but the decision is yours. While taking extra precautions, Veloce makes no claim to be 100% gluten-free, and I respect their awareness of the spectrum of gluten-sensitivities.


The dough is dairy-free, but not egg-free so it is not considered vegan. However, if you want vegan cheese that is available on the toppings menu. I am not a fan of vegan cheese, so I skipped it in favor of piling on vegetable toppings.


When my pizza was ready, I liked how the box was labeled so I could clearly see my order and the gluten-free labeling for the crust.





When my pizza emerged from the oven, I had to check (and double check) that it was actually gluten-free. It looked so "normal," which is the highest compliment I can pay for a gluten-free pizza. I chose to top it with the marinara sauce, mushrooms, sundried tomatoes, zucchini, and spinach with a garnish of garlic, oregano, and basil.


The crust has a wonderful whole grain flavor that is hearty with a note of nuttiness. It's thicker than most "cardboard" crusts, which was greatly appreciated by this thick crust lover. The pizza does a pretty good job of holding up to the weight of toppings, and is a perfect 10″ wide. The sauce is tasty and vibrant, and the generous portioning of veggies distinctly fresh. The mushrooms, sundried tomato, and garlic provided most of the flavor, and the whole pizza was supremely satisfying.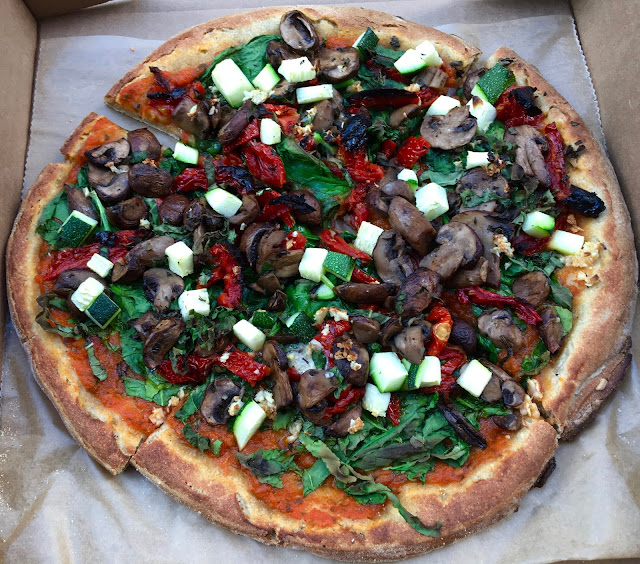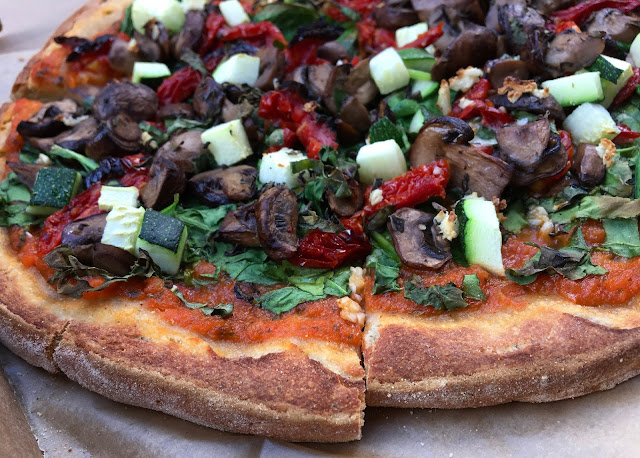 I have become quite the gluten-free pizza snob in my years since going gluten-free, yet was caught off guard by how good Veloce's pizza was. Rarely are fast casual pizzerias able to serve up an affordable, yet high quality gluten-free pizza, so I have to give Veloce top marks across every category.



The Basics
Address:

1828 L Street NW, Washington, D.C. 20036

Ideal For:

Breakfast (M-F), Lunch (M-F), Dinner (M-Sun.)
Disclaimer: This review is based upon the information I have at the time of the review and does not reflect changes in ingredients or availability of items. Please contact the restaurant directly for up-to-date information and feel free to contact me with any questions or comments. I was not compensated for this review and it is a reflection of my personal opinion.