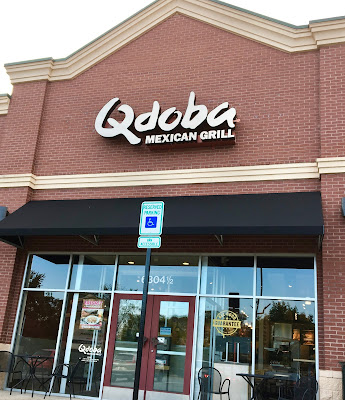 When it comes to "fast food" Mexican restaurants, I have always held the less-than-popular opinion that Qdoba is the best of the chain restaurants out there. With flavorful food and lots of gluten-free and dairy-free options to choose from, I've never had a bad meal from Qdoba… plus their guacamole never incurs an extra charge!


Since Qdoba is not 100% gluten-free, knowing how to navigate the menu is important, as there are gluten-filled items on the menu. As with any fast food restaurant, visiting on off hours or when the restaurant first opens can make explaining food restrictions and navigating the assembly-line style of the restaurant easier and safer.


With locations around the country, Qdoba can be a familiar and reliable restaurant when traveling or when you're in a rush.


For those of us with multiple allergies, Qdoba's allergen menu (click here) is super helpful as it outlines major allergens, and even indicates items that should be avoid to cross contamination (everything is fried in a shared fryer). Comparing gluten and dairy-free items, safe menu options for both restrictions include:
Base: Brown rice, cilantro lime rice (white), lettuce
Proteins: Smoked brisket, black beans, pulled pork, pinto beans, fire roasted shrimp
Sauces: Chimichurri sauce, cilantro lime dressing (seasonal), red chile sauce,
Salsas: Black bean corn salsa, fiery habanero, mango salsa (seasonal), pico de gallo, pineapple pico, roasted chile corn salsa, salsa roja, salsa verde,
Toppings: Fajita vegetables, guacamole, smoked bacon
Miscellaneous: Apple sauce
For gluten and dairy-free diners, the two menu items that are safe are a salad (without the tortilla bowl) or a burrito bowl (without tortilla). From there, there are an endless array of combinations to be had with proteins, sauces, salsas, and toppings. Be sure to let the staff know that you are celiac/gluten intolerant, and they are happy to change gloves and use fresh ingredients that have not been exposed to cross contamination on the main serving line.
I ordered a burrito bowl, with brown rice, pulled pork, fajita veggies, pico de gallo, salsa verde, guacamole, and lettuce. My bowl was piled high with ingredients, and the generous portioning definitely gave me bang for my buck on my collegiate budget.
The real star of the show is the deliciously tender and succulent pulled pork. It clearly has been allowed to marinate and slow cook, which unlocks so much flavor and achieves a simply divine texture. The salsas are bright and flavorful, while the fajita veggies have a nice grill taste and are not super soggy- they still have a firmness to them. The guacamole is creamy and has notes of lime- and actually tastes homemade, not like grocery store guac that is bland and flavorless. The brown rice on the bottom is unseasoned, but that actually works in its favor because it soaks up the juices and flavors from all of the ingredients above it. It's not dry or soggily undercooked, and rounds out the bowl satisfyingly.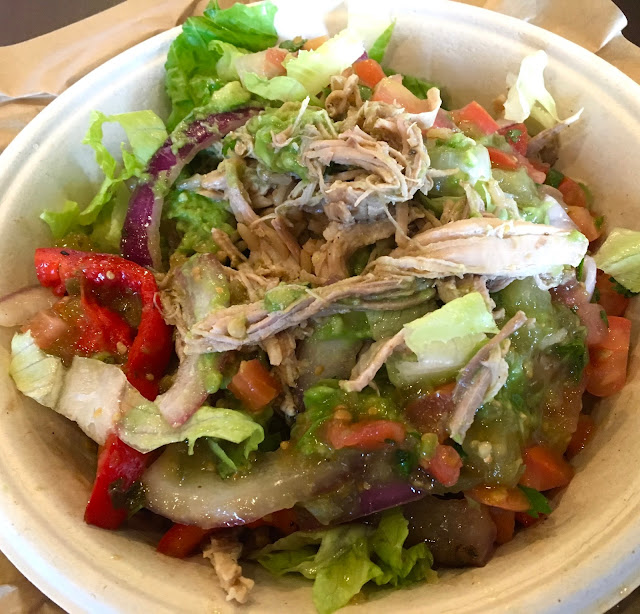 I haven't eaten at Qdoba in a long time, and as I was eating I wondered why I stayed away from this chain for so long. The food is darn good, the price affordable, and the portioning is quite generous, which is a trifecta that few fast food places can achieve. Strategic planning about when to visit (I chose a time before the dinner rush), and knowing what to order helps ensure the experience is stress-free and safe.


I stand firm in my assessment that Qdoba definitely ranks higher than their C-named competitor, and my only wish is that they would have celiac-safe tortilla chips for dipping in their downright delicious guacamole.


The Basics
Address: 6304 1/2 York Road, Baltimore, MD 21212 (Find your local Qdoba using this restaurant locator)
Price:
Salads and burrito bowls are in the $7-$9 range depending on protein
Accessibility:
Wheelchair accessible, seating/tables are limited on ground level
Special Feature: Sign up for Qdoba Rewards right here.

Disclaimer: This review is based upon the information I have at the time of the review and does not reflect changes in ingredients or availability of items. Please contact the restaurant directly for up-to-date information and feel free to contact me with any questions or comments. I was not compensated for this review and it is a reflection of my personal opinion.