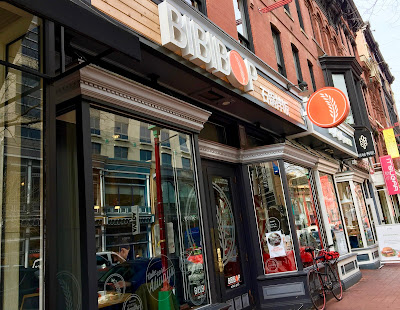 Update 4/18/2: Since my initial review, Bibibop Asian Grill has gone 100% gluten-free. Stay tuned for an updated review coming soon! More info about the menu changes can be found here.

Although I am by no means a big fan of sports, there's something about the Olympic Games that gets me really excited every two years. This year, the Winter Games are taking place in the South Korean city of PyeongChang. After waking up before the crack of dawn to watch the Opening Ceremony live this past Friday, I decided to forego my usual morning excessive of deciding what to pack and instead opted to find something to eat in the Penn Quarter neighborhood where I work.


Inspired by the Olympic Games, I decided to try out Bibibop, a Korean restaurant chain with lots of gluten-free options and multiple locations around the District (and in several states). Always intrigued when I can get safe Asian food, I was excited to see what my experience would hold.


Most of Bibibop's menu is gluten-free, and very few menu items contain dairy (click here to see Bibibop's allergen menu). When I ordered, I made sure to stop by before the lunch rush (right when they opened), and asked the staff to change their gloves. If tortillas on the allergen menu make you nervous, note this: the D.C. and Maryland area restaurants do not serve wraps, so all of the bowl bases are safe (purple rice, white rice, lettuce, rice noodles).


Because the chicken is not gluten-free, I decided to go for a vegetarian bowl, and take advantage of the plentiful array of vegetable toppings on the assembly line. I chose the gorgeous purple rice as my base with the black beans, potatoes, and bean sprouts as my hot toppings. For cold toppings, I chose egg, carrots, cucumbers, lettuce, and red cabbage. Topping it all off, I picked the sesame ginger sauce.


I was not expecting to be as blown away as I was with this humble bowl. Each bite was bursting with flavor, both from the tangy sauce and the freshness of the vegetables. Of these, the perfectly-seasoned potatoes (breakfast potato reminiscent) and hearty black beans deserved top marks. The rice was well cooked- sticky and nutty. The eggs, which are a shredded consistency, were a little intimidating due to the novelty of their texture and presentation. I shouldn't have let that deter me though, because they were absolutely delicious, and were cooked on the firm side (to my liking).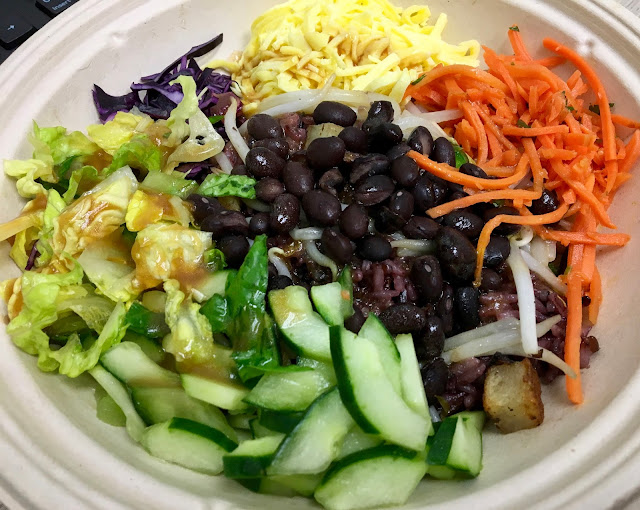 What this bowl did well was that every bite had a different array of flavors and textures so that eating it was an exciting experience. Plus, any time I can use chop sticks to eat lunch at my desk adds much-welcome adventure to my day! I applaud Bibibap for delivering a truly great meal, and proving their own in a town where build-your-bowl restaurants are on every block it seems. I will most definitely be back as a lunchtime regular. The only thing that would make me love them more is if they tweaked the recipe for there few gluten-containing menu items to make the whole restaurant 100% gluten-free!


The Basics
Address:

710 7th Street, Washington, D.C. 20001

Price:

$6.49 (vegetarian bowl), $6.99 (tofu bowl), $8.49 (steak bowl), chicken bowls are not gluten-free.

Accessibility:

Wheelch

air accessible.
Disclaimer: This review is based upon the information I have at the time of the review and does not reflect changes in ingredients or availability of items. Please contact the restaurant directly for up-to-date information and feel free to contact me with any questions or comments. I was not compensated for this review and it is a reflection of my personal opinion.