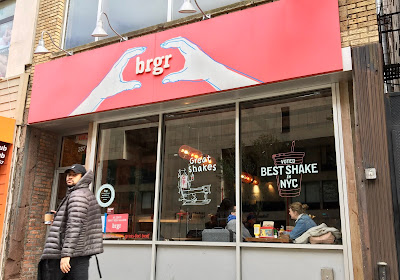 As a work trip brought me to New York City for a week, I had a chance to settle in and explore around the Chelsea neighborhood that was my temporary home. With the first feeling of fall in the air, the chilly weather sparked a craving for fast food, and luckily enough, brgr was a couple blocks from where I was staying.


While brgr might seem like a dime-a-dozen fast food restaurant from the outside, looks can be deceiving, because they hold themselves to a higher standard, crafting each burger, shake, and fry with quality ingredients to ensure they both taste great and are better for you. Of course any place with a dedicated gluten-free fryer is worth stopping my book, so I was eager to see what kind of experience brgr would serve up.


Looking over brgr's menu, you can either go the set toppings or choose-your-own adventure route. Everything on the menu (minus the regular buns and onion hay) is gluten-free so you the question at brgr is not of what is off limits but more a question of what do you want to eat. As an additional gluten-free gold star they do have a dedicated fryer on hand for sweet potato and regular fries. When I ordered, I let the person at the counter know I was a gluten allergy, and she communicated that with the kitchen to flag it as such.


I ordered the rolling hills turkey burger (minus cheese of course), which comes topped with lettuce, tomato, pickles, onion, and herb mayonnaise. When the burger came out, I did a double take and asked the person who brought it out to confirm it was actually gluten-free. It was! It just looked so "normal" that I couldn't believe my eyes at first. The juicy turkey has a nice grill taste and is seasoned well and the toppings were fresh. The bun held it's own through my final bite, and while it did suffer a tad bit of crumbliness (the downfall of any gluten-free bread), it could certainly best many of the buns I've eaten before, and delivered a taste and texture that rounded out the burger.


In a world where mega-burgers, stacked high and loaded with toppings, are trendy I really appreciated the size and proportion of this turkey burger. The burger wasn't obnoxiously thick, and sized perfectly so that it made for a filling lunch that didn't leave me feeling too weighed down upon leaving. Another score for this burger was brgr's ingenious sleeve that made eating it mess-free.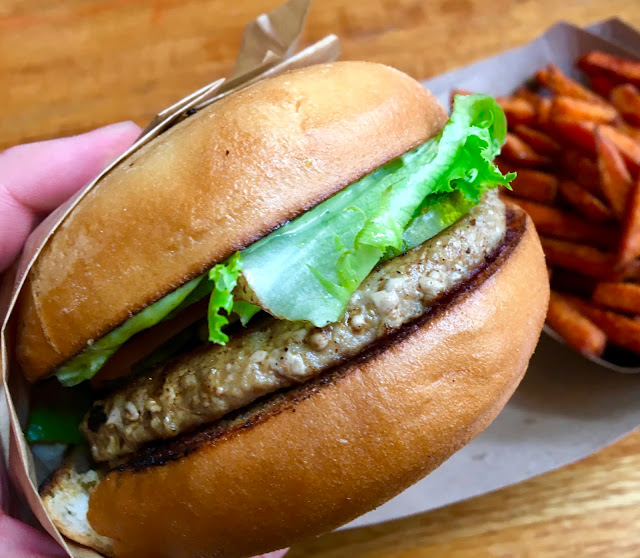 The sweet potato fries were prepared just how I like them: crunchy on the outside and soft on the inside. The cut and sturdiness of the fries would make them excellent for dipping (no soggy fries here), and the portioning was generous. While the fries and burger may seem like a simple order, it was truly a luxury to linger and enjoy a fast food meal, something I rarely get a chance to do.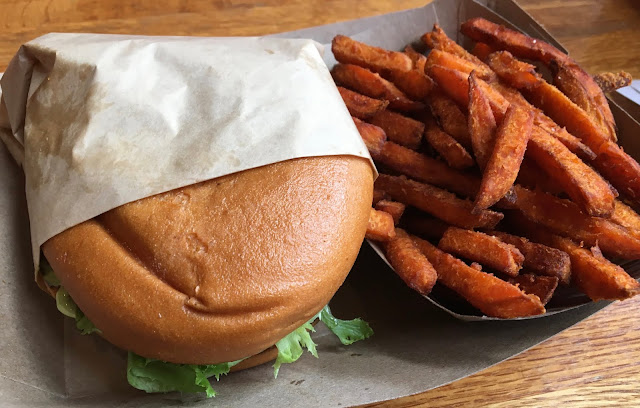 I'm not sure why brgr has not fallen on my radar before now, but am so glad I discovered this gem of a restaurant and will definitely make a point to stop by whenever I find myself in Chelsea next. It's the rare place in this city you can grab a safe burger (with a gluten-free bun) and fries (in a dedicated fryer) for under $20; the value and quality just can't be beat.


Now if brgr could only add dairy-free milkshakes to the menu, then they would achieve a gluten and dairy-free trifecta I have yet to be able to eat out in a restaurant: burger, fries, and a milkshake.



The Basics
Address:

287 7th Ave, New York, NY 10001 (7th Ave between 26th and 27th)

Accessibility:

Wheelch

air accessible




Disclaimer: This review is based upon the information I have at the time of the review and does not reflect changes in ingredients or availability of items. Please contact the restaurant directly for up-to-date information and feel free to contact me with any questions or comments. I was not compensated for this review and it is a reflection of my personal opinion.