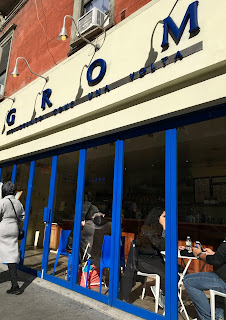 In reading (and bookmarking!) my friend Alexis's recap of her recent gluten-free odyssey through Rome (on her blog Alexis's Gluten Free Adventures), one eatery she mentioned popped out to me: a gelateria called Grom. I knew that name rung a bell for me, and I quickly put two and two together that I had walked right by one of Grom's New York City shops this past summer. I had no idea that the gelateria was 100% gluten-free, and knew that I had to pay them a proper visit when I was next in the area of one of their stores.


That's why when I found myself with 20 minutes of down time before catching an off-Broadway performance in the West Village, I knew I wanted to head over to Grom to investigate further. Lured by the promise of my first visit to a 100% gluten-free ice cream shop, I was thrilled that I would have an opportunity to have the "normal" experience of visiting an gelateria without fear.


From the outside and the interior decor, Grom's signage does not scream "gluten-free," so I definitely had a moment of doubt because it looks and smells like an ice cream shop where gluten hazards are lurking everywhere. However, a handy allergen chart posted near the door gave a item-by-item analysis of the ingredients present in the gelatos, sortbets, granitas, hot chocolate, and cones (that's right, cones).


Dairy-free folks should steer clear of the gelatos, toppings, hot chocolate, and unfortunately, the cones. However, several types of sorbet are available every day, in addition to granitas, which are like finely shaved ice sodas.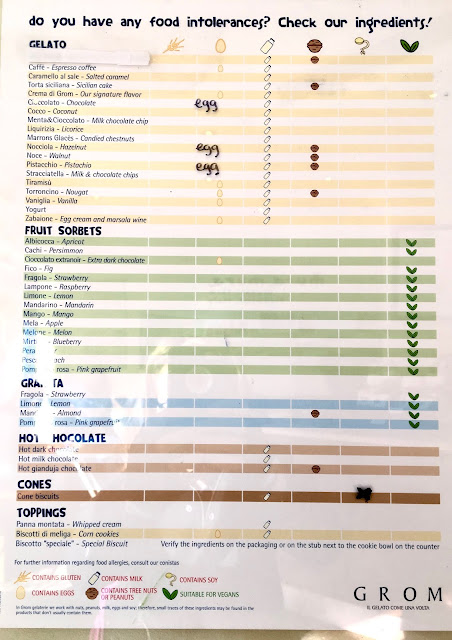 By the time I walked over from the theatre where I was headed to the bustling West Village storefront, I sadly determined there was not enough time for me to enjoy a sorbet before the show, so I left empty-handed, but I didn't want to wait to share this discovery with you. I will most definitely be stopping by for a proper review on my next New York City visit in December, and look forward to giving you the full scoop on their dairy-free offerings! Stay tuned, and leave your Grom reviews in the comments if you've had a chance to stop by.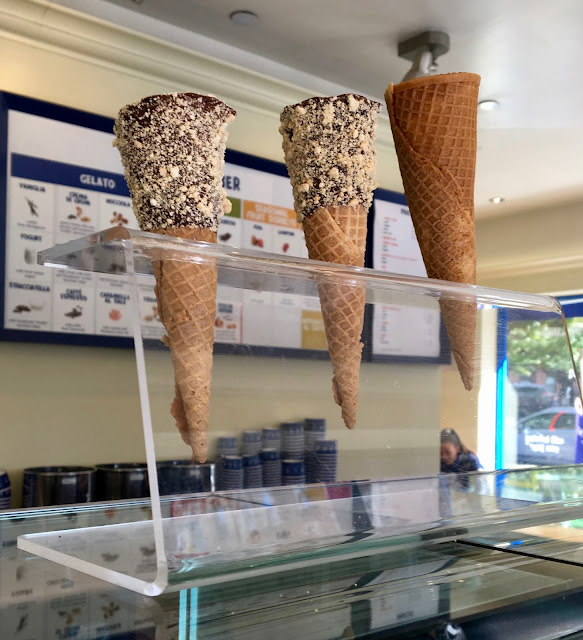 For more information about Grom's stores in the United States and around the world, click here.


Disclaimer: The information in this post is based upon the information I have as of its posting and does not reflect changes in ingredients or availability of items. Please contact the restaurant directly for up-to-date information and feel free to contact me with any questions or comments.