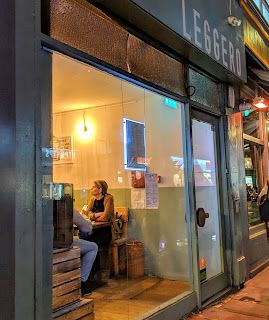 For gluten-free diners, dedicated gluten-free Italian restaurants are the closest thing we have to the iconic "candy room" scene in Willy Wonka and the Chocolate Factory. You mean everything on the menu is safe? Even the pasta and bread? Absolutely. Therefore, any opportunity to visit such a restaurant makes me want to burst out in spontaneous song.


In doing my pre-trip homework on eateries I wanted to dine at in London, Leggero topped the list not only because they were a 100% gluten-free establishment, but the pasta, bread, and other dishes on the menu are all crafted with care in-house. Promising attention to detail and an innovative take on Italian cuisine, I made sure to arrive at Leggero with a hearty appetite and culinary curiosity.


The dining space is cozy and the staff working the night I visited were warm, welcoming, and attentive to every detail of the experience from the start. The menu helpfully identifies allergens in each dish to make navigating it super simple, and stress-free. When I ordered, I was asked if I had any other dietary restrictions, and the waiter confirmed that my selections were both gluten and dairy-free.


As a starter, I decided to take a leap out of my comfort zone and ordered lamb meatballs, which are naturally dairy-free. I confess that I've never eaten lamb before, but being in a new city a continent away from home gave me an extra boost of confidence to try new things. The dish features two generously-sized meatballs, which are made with tender, juicy lamb, carrots, and herbs. Served atop a creamy butternut squash sauce and sprinkled with fragrant almonds, I loved the contrasting savory, sweet, and nutty flavors.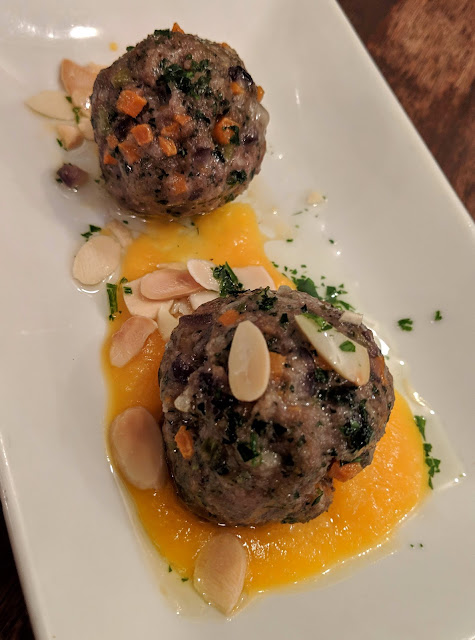 Of course for a main dish, I knew pasta would take center stage (though it was difficult to narrow down which one). Ultimately the vegan basil tagliatelle caserecce earned my vote, and soon was presented in all it's vibrant, colorful glory.


The pasta's base was a delightful tagliatelle, which was thick-cut and twirled lazily around my fork. Tossed in the most delicious, robust tomato sauce (which would put any other to shame), I loved the flavor and rich consistency of this humble, but absolutely perfect pairing. Olives and capers tucked in the sauce added pops of tanginess to the symphony of flavors while breadcrumbs sprinkled atop the dish added a fun contrasting texture to the mix. As I ate, I slowed down to really relish every ounce of the incredible dish.





While I support any dedicated gluten-free restaurant on principle (because they truly are safe havens in this gluten-filled world), it gives me the greatest joy to give Leggero top marks in both hospitality and quality of food.


Sitting in their dining room, enjoying the most marvelous pasta I've ever had, thinking back on my day exploring the astonishing sights and sounds of London made me want to cry tears of joy. Right then and there, I was filled with gratitude that my gluten intolerance allowed me to discover this little slice of paradise right in the middle of Soho. While there will always be frustration, miscommunications, or things that are off limits to me as a gluten-free diner, Leggero proved that there are moments when living with this dietary restriction can be joyous and transcendent. I wanted my dinner to last forever, to enjoy every moment and morsel of food. I regret that I did not order dessert, but I left unable to eat another bite, completely satiated and lulled into a most pleasant food coma.


I hope I have an opportunity to pay Leggero a visit soon, and eagerly anticipate another magical evening in my very own version of the Wonka chocolate factory.


Update 7/24/19:
On a return visit to London in July, a second visit to Leggero was a non-negotiable entry on my itinerary for the week. After a morning touring the State Rooms of Buckingham Palace and the Churchill War Rooms in Westminster, Leggero was a perfect place for a late lunch. Stopping in a little after 2pm, I was able to catch the tail end of their lunch service.


This time around, I ordered the chestnut pappardelle, which is vegan and contains no major allergens (although they can make a dairy-full version with double cream). The pasta stars wonderfully broad noodles that are just begging to be twirled with a fork. The dish puts meaty mushrooms and truffle oil in the spotlight and proves that a handful of simple, yet top-quality ingredients can make an ordinary dish quite extraordinary.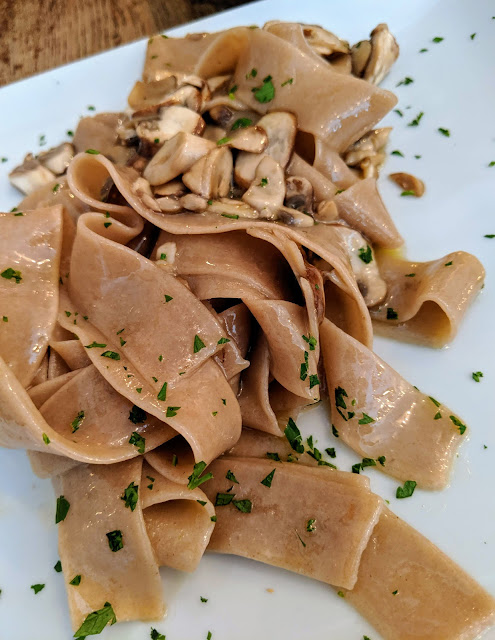 To accompany the pasta, I ordered their side salad, which also contains no major allergens. The salad featured lovely, flavorful greens topped with fresh summer tomatoes, and sliced avocado. The salad was dressed with a light coating of olive oil and sprinkled with salt. Again, this humble, yet so well done dish showcases Leggero's expertise with thoughtfully pairing quality ingredients to produce memorable and delicious results.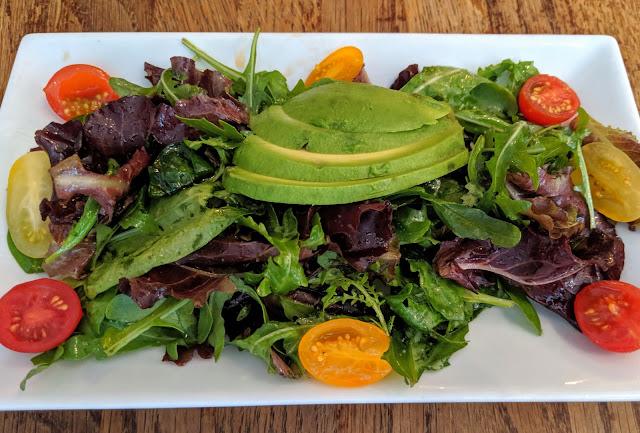 I left my second visit to Leggero with my highest regard for them not only intact, but further cemented. With a singular menu of the most amazing Italian food I have encountered while gluten-free to knowledgable and friendly wait staff, eating at Leggero is truly a haven for gluten-free diners and others with special diets. Their cozy restaurant in Soho is truly my happy place, and can't wait until I have an opportunity to dine there again.



The Basics
Address:

64 Old Compton Street,

W1D4UQ,

London, UK

Accessibility:

Wheelchair accessible
Disclaimer: This review is based upon the information I have at the time of the review and does not reflect changes in ingredients or availability of items. Please contact the restaurant directly for up-to-date information and feel free to contact me with any questions or comments. I was not compensated for this review and it is a reflection of my personal opinion.