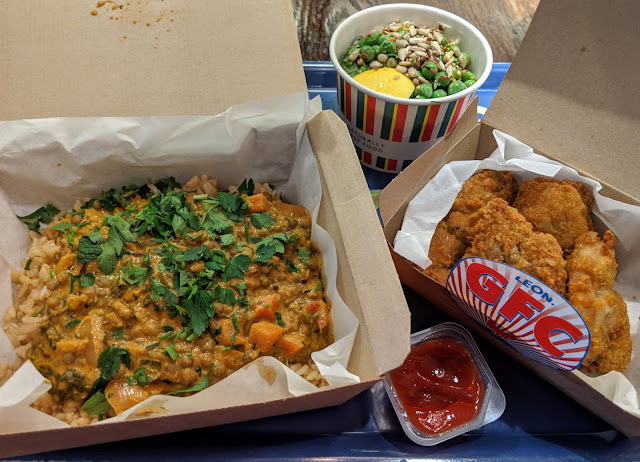 And now for the main event: Leon's gluten-free chicken nuggets! These definitely look and smell like the nuggets served by a certain chicken chain here in the States, but I'd argue these nuggets are a notch above because they're made with real, clean ingredients. The satisfyingly crunchy exteri
or (made with
rice, maize and gram flours) gives way to tender, deliciously juicy chicken thigh pieces. Seasoned perfectly with simply salt and pepper, I almost cried as I enjoyed every taste and texture. I can't remember the last time I had a proper, fast food style chicken nugget, and Leon's were well worth the wait.
The nuggets come with your choice of garlic aioli, chili, or Korean mayo as a side sauce, but I opted to go with a classic pairing of tomato ketchup. So simple, yet such a rare experience to be able to enjoy chicken nuggets when dining out! Hopefully someday they too will cross the pond; I for one will eagerly welcome that British invasion!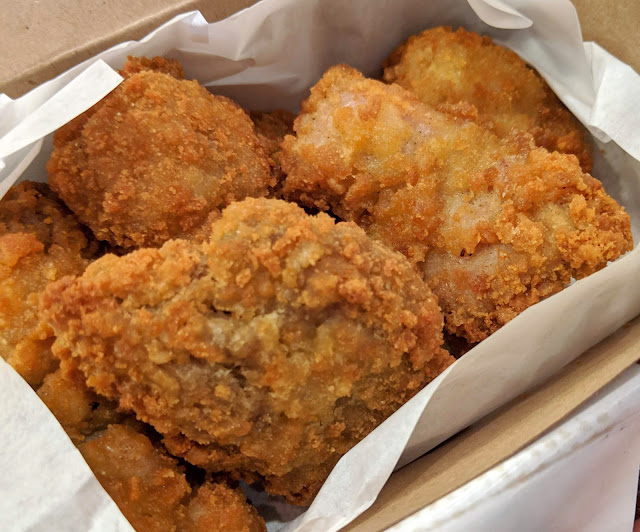 Breakfast at London Heathrow Airport
Arriving well before my flight time (but not wanting to chance it with traffic), I was relieved I could hang out at Leon's Terminal 2 location for a leisurely breakfast before spending the next seven and a half hours in a big metal bird. I ordered the naturally dairy-free full English breakfast box, which contains poached eggs, avocado, beans, bacon, sausage, and mushrooms. I enjoyed the perfectly cooked eggs and hearty avocado. The bacon was salty and delicious, though not crispy. Because I am not a huge sausage or mushroom person, I did not sample those components of the box.
The surprise hit of the box however was the beans. Other than a handful of breakfast burritos in my pre-gluten days, beans are not a staple to start my day. However, these were cooked with a rich, delicious tomato-based sauce, and I found myself eagerly polishing them off despite being skeptical moments before.
As a gluten-free diner, I'm used to skipping breakfast altogether when traveling, because safe options are hard to find at chain restaurants. I really appreciated that Leon had safe boxes and oat porridges available, which really ca
ter to this underserved group. I was glad I could get on my plane with a full stomach and not regret my last meal in the UK.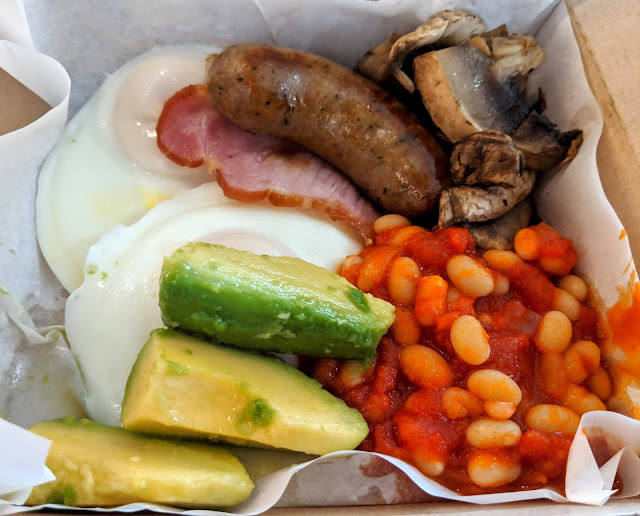 As they did in Washington DC, Leon proved once again that fast food and healthy food can and should coexist. Whether at home or abroad it's so amazing to be able to walk into any location of the chain and find safe options of the highest quality and an unbeatable price point. Leon really blows the competition away, and with lots of locations in and around London is a great option for travelers and locals alike.
The Basics
Oxford Address:

44-46 Cornmarket St, Oxford OX1 3HA, UK

LHR Address:

Heathrow Airport, Terminal 2, Airside,

Longford, Hounslow TW6 1EW, UK

Cuisine:

Fast food, rice bowls, salads, breakfast fare

Ideal For:

Breakfast, Lunch, Dinner

Price:

£3-10 per menu item

Accessibility:

Both locations were wheelchair accessible (wheelchair accessibility varies by location)
Disclaimer: This review is based upon the information I have at the time of the review and does not reflect changes in ingredients or availability of items. Please contact the restaurant directly for up-to-date information and feel free to contact me with any questions or comments. I was not compensated for this review and it is a reflection of my personal opinion.