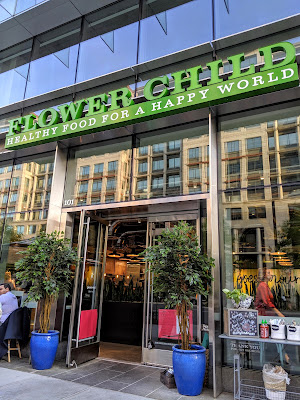 One thing I love about living in Washington, DC is that our fast casual dining scene is always expanding. With each new restaurant that comes to the city, the bar is set ever higher for culinary creativity at an accessible price point.


I was thrilled when I heard the health-conscious chain Flower Child would open in Foggy Bottom in February, but didn't have a chance to stop by until now, waiting for spring weather to well and truly arrive before making a trek over to the neighborhood.


This location is part of Flower Child's expansion into the area, and coincides with the arrival of sister locations in Bethesda and Rockville.


Sporting a menu featuring scratch-made dishes that lend themselves to be gluten, dairy, and sugar-free friendly as well as welcoming to vegetarians, vegans, and paleo foodies alike, I was impressed by their welcoming ethos and fun menu, with quirky and inspired takes on the usual lineup of bowls and salads that are the backbone of any fast casual restaurant. As my first introduction to this chain, I couldn't wait to see how this accommodating approach would translate to the real life experience.


Flower Child's menu is helpfully annotated to indicate vegetarian, vegan, and gluten-free options, though the cashiers are really friendly and helpful if you have questions about allergies or sensitive outside of these three factions. For me, it was nice to be able to quickly assess what my options were by looking at menu items marked as both vegan and gluten-free. When I stepped forward to order, I let the staff know I had a gluten and dairy-allergy, and they entered it on the order to flag it for the kitchen team to take special precautions.





I decided to order the Vietnamese crunch salad, which is both gluten-free and vegan. In addition to flagging the order as an allergy order, I also asked for the salad sans pineapple as a personal preference. When it was brought out to my table, I was impressed with the striking colors and beautiful arrangement of the salad, which definitely upended my expectations for a fast casual restaurant.


Every component of the salad was wonderfully fresh, with crispy, cool romaine and cabbage forming the foundation of the dish. Quinoa and assorted seeds provide a fun, crunchy contrast, and cashews and almonds provide additional textural contrast with notes of nuttiness. Tomato and peppadew peppers add sweetness, with creamy chunks of avocado providing heft and weight to the salad. Rounding out the perfect medley of flavors were fragrant thai basil and mint, and the spicy lemongrass dressing that provides a perfect coating for all the salad's elements.


This salad was definitely one of the best ones I've had in recent memory, and I can't stop thinking about it's perfection since I enjoyed it. Salads so easily can fall into the trap of being bland or uninspired, and this dish is anything but. It was refreshing, bold, and absolutely satisfying on a beautiful spring evening.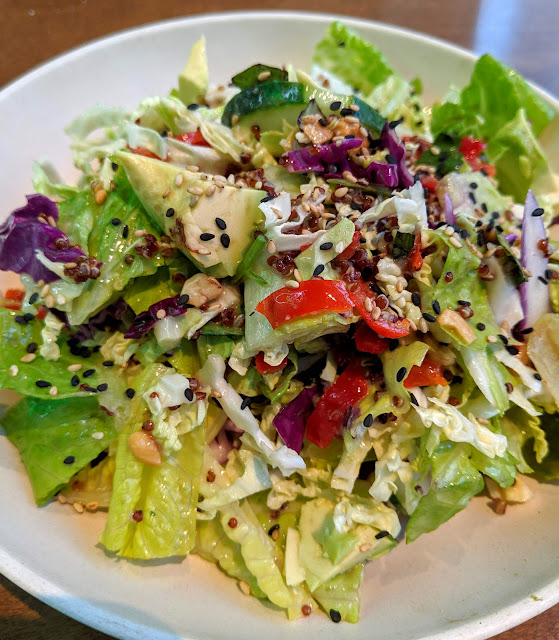 With an expansive menu, can-do attitude with accommodating dietary restrictions, and excellent execution of the dish I ordered, I not only look forward to future visits to Flower Child, but have already been concocting excuses to be in the neighborhood so I have a reason to stop by. In a city dense with fast casual restaurants, Flower Child serves up fare that evokes fine dining quality in a relaxed atmosphere that encourages slowing down to enjoy your meal, and ultimately the moment. Count me as it's newest fan, and I hope that this restaurant is successful in DC and our region at large!



The Basics
Address:

2112 Pennsylvania Avenue NW, Suite 101, Washington, DC 20037

Ideal For:

Breakfast, Lunch, Dinner

Accessibility:

Wheelchair accessible




Disclaimer: This review is based upon the information I have at the time of the review and does not reflect changes in ingredients or availability of items. Please contact the restaurant directly for up-to-date information and feel free to contact me with any questions or comments. I was not compensated for this review and it is a reflection of my personal opinion.