As soon as I knew I was making a return trip to London, I was excited for another opportunity to enjoy a gluten-free afternoon tea. On my first visit back in February, I had a swoon-worthy experience at Claridge's in Mayfair (see my review) that introduced me to the treasured tradition of afternoon tea and made for one of my most memorable experiences during the trip.


After researching several establishments offering gluten-free afternoon tea throughout the city, I decided to make a booking at Fortnum & Mason's Diamond Jubilee Tea Salon. Not only can they serve an entirely gluten and dairy-free tea fit for royalty, the location itself (not far from Piccadilly Circus) has a royal connection, as Queen Elizabeth II herself opened the space in 2012. Fortnum & Mason's menu has plenty to please diners following a wide range of special diets, as they have full menus for gluten-free, vegan, and dairy-free folks.


Donning a cute frock, catching an iconic red double decker bus to get there, and ready for a luxurious afternoon of tea, sandwiches, and cakes, I was excited to make this the star attraction of my first day in the city.

With gluten-free, dairy-free, and vegan-specific menus, the Fortnum & Mason staff can also accommodate other allergens and restrictions, just be sure to reach out to them with as much advance notice as possible so they can get it sorted. Be aware too that although the staff and kitchen are definitely allergy-aware, the kitchen itself is not dedicated gluten-free, so there is a risk of cross contact. I made sure to confirm with their reservations team that I was both gluten and dairy-free (but not vegan), so they could adapt from each menu to accommodate my dual restriction.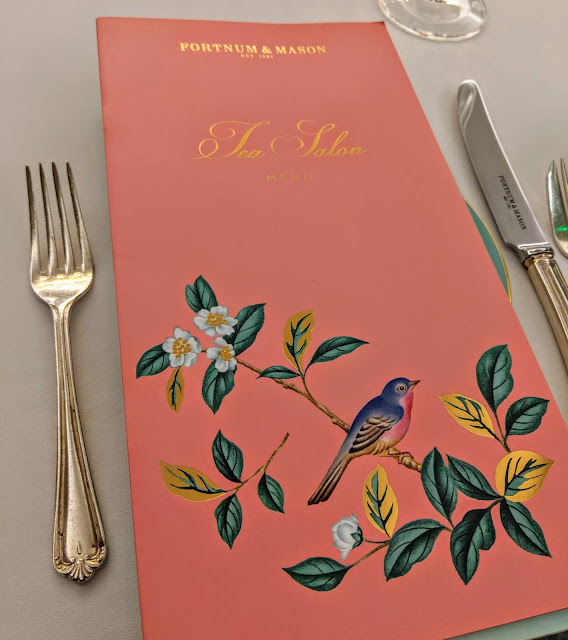 Be sure to ask for the pink menu, as it has the gluten-free, vegan, and dairy-free menus!


As the titular component of afternoon tea, Fortnum & Mason begins your experience by offering a dazzling array of teas and herbal infusions from around the world. I selected the Countess Grey black tea, which is made from Orange Pekoe tea with bergamot and a light orange flavoring. Knowing that I would soon be inundated with sweet and savory selections, the tea paired beautifully with both flavor profiles and had a lovely, rich flavor.





The tea was soon followed with a tri-tiered tower of sandwiches, scones, and sweet cakes with dairy-free margarine, strawberry preserves, and a marmalade (I can't remember what specific flavors it had, I ended up not even tasting it!). The best part? Any and all of the food items are endlessly "refillable" so you can eat as many as you'd like during your visit. It definitely gives you "Be Our Guest" vibes (from Beauty and the Beast) in the best possible way.





The fun of this tiered display is that your dining experience is a bit of a choose-your-own-adventure novel. Start with sweet and end savory, or vice versa? Alternate after every item? You decide, and there's really no right or wrong way to go.


I started with the scones, which were delightfully sweet and absolutely incredible with Fortnum & Mason's vibrant strawberry preserves. Unfortunately the high points for flavor are offset slightly by their texture. Crumbly and bit dry, they were a tad disappointing, but that didn't stop me at all from polishing off both.





Next up, I decided to switch over to the savory offerings on order, which were an array of five sandwiches. The real standouts were the cured ham and smoked salmon because they had bold flavors owing from the combination of the meat and dressing (mustard and tartare dressing respectively. The curry-flavored coronation chicken salad sandwich earned a respectable third place nod. My least favorite of the sandwiches were the egg salad and cucumber, which were both rather bland flavor-wise and faded into the background a bit.


The bread used for the sandwiches was soft and supple, not at all crumbly. The slices of white and a darker, grainer breads aptly let the flavor of the ingredients take the lead, and supported each combination well.





I saved the dessert cakes as the grand finale but in doing so was fast approaching my satiation point where I knew I was getting full. Nevertheless, I couldn't imagine leaving without giving each a go, and was delighted by the flavor and texture variance among the brightly-colored specimens.


The real knockout of the group was the cake on the back of the plate to the left, which featured a creamy vanilla cheesecake-like filling with lovely layer of rhubarb jelly on top. The flavor and texture combination was incredible, and definitely earned top marks above the rest. However, the citrus meringue and decadent chocolate cake solidly tied for my second favorite offering, both impressing me with their fun flavor combinations and textural contrasts. My least favorite of the five were the two jelly-based creations, which just didn't win me over.





Despite the unlimited number of "refills" of everything on offer, by this point in the meal I couldn't bear to eat another bite (as much as I wanted to!). Though nearing the end of my experience, the staff made sure that I didn't leave empty-handed and boxed up a slice of banana cake to enjoy later along with the small jar of the strawberry preserves I enjoyed with my scones. The bread (I didn't snap a picture of it) was moist and flavorful, and I liked enjoyed eating it for dessert that night.


Once you are finished eating, definitely make time to explore Fortnum & Mason's flagship store on the levels below the Tea Salon to shop for teas, food items, and a wide range of dining and kitchen accessories. As a building over 300 years old, it's amazing to think what stories these walls could tell!


This afternoon tea experience is £55 a person (£58 if you choose rare teas), with additional add-ons such as champagne or a tea tasting experience available. The recommended dress code is smart casual. I appreciated the unhurried, relaxing atmosphere after navigating through the summertime crowds on Piccadilly to make my way there.


If you find yourself in search of gluten-free and/or dairy-free afternoon tea, the Diamond Jubilee Tea Salon is a solid choice for their dedicated special diets menus, convenient location, and delightful food and drink offerings (though not everything I ate won me over). While not able to match the luxuriousness and once-in-a-lifetime experience I had at Claridge's, Fortnum & Mason's unique afternoon tea was still special and an excellent choice for gluten-free diners that's less formal (and more budget-friendly).





Disclaimer: This review is based upon the information I have at the time of the review and does not reflect changes in ingredients or availability of items. Please contact Fortnum & Mason directly for up-to-date information and feel free to contact me with any questions or comments. I was not compensated for this review and it is a reflection of my personal opinion.