In exploring around London, I marvel at the sheer variety and abundance of gluten-free options on offer. I don't think I could ever run out of restaurants and cafes to try, and it's truly the most gluten-free friendly city I've visited in all my travels.


On my last night on holiday, I made reservations at Indigo at One Aldwych, a completely gluten and dairy-free restaurant that serves up fare inspired by the cuisines of the British Isles. As my last night in the city, I decided to dine at Indigo because it meant I wouldn't have to worry about getting on a plane the next day with an upset stomach due to potential cross contact. In reviewing their menu, I was excited to see many classic British dishes, which cemented this as a perfect pick for the last night of my holiday.


Indigo quietly went gluten and dairy-free back in 2015, proving once and for all that good food doesn't have to be dependent on these two major allergens. The kitchen is certified by Coeliac UK, so rest assured that the staff are well-versed in gluten-free best practices. If you have other allergens, be sure to let the wait staff know so they can accommodate your additional dietary restrictions.


My dinner began with a lovely pumpkin seed bread, which was absolutely showstopping in it's taste and texture. The warm bread had a lovely, soft interior and was hearty crust. Paired with dairy-free seaweed "butter," the spread melted beautifully and had a lovely flavor that augmented the whole grain flavor of the bread. Although I could have easily polished off the whole boule, I regretfully did not as to save room for my main course.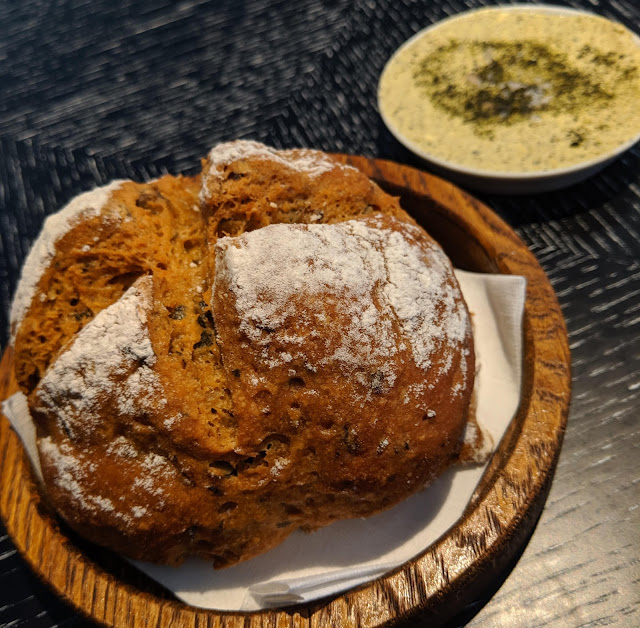 As the main course, I ordered fish and chips, unable to pass up the opportunity to enjoy this iconic pairing. I loved the thick filet of fish with an oh, so crunchy golden batter coating. Big flakes of salt also added a lovely saltiness to the fish. As the other half of the fish and chips duo, the accompanying triple cooked chips were thick cut and fried to a golden perfection, though a tad beyond my preferred level of "doneness" for fries. The fish sat atop a bed of sweet mushy peas, which I enjoyed. The meal also featured a fresh tartare sauce, which I tried, but did not apply liberally because I am not a huge fan of this sauce.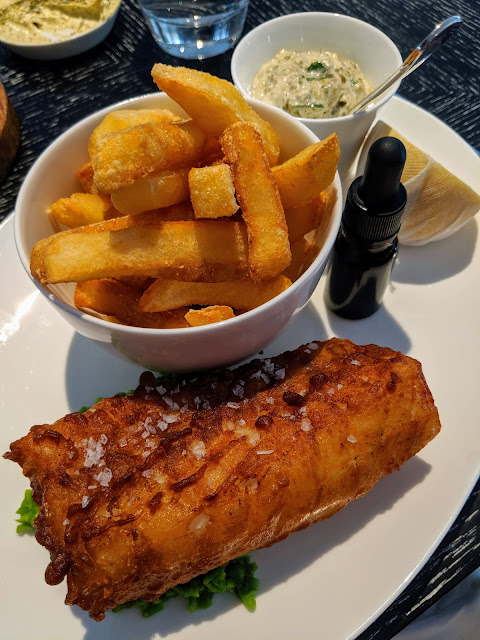 Overall, I really enjoyed my meal. Both the bread and fish and chips were exquisite, and far exceeded my expectations going into the meal. Combined with the sheer peace of mind knowing that the whole kitchen was gluten and dairy-free, words can hardly express how special it was to simply feel normal and focus solely on my meal without being on hyper-alert. The staff were welcoming, and the atmosphere casual. I could absolutely have stayed all evening watching the hustle and bustle around the hotel.


I look forward to future visits to Indigo, and definitely plan to check out their tasting menus to get a wider exploration of their menu. While not the cheapest eats in town, a meal here is truly a treat and offers a memorable dining experience you won't soon forget.



The Basics
Price:

See menu prices on their website

Accessibility:

Wheelchair accessible




Disclaimer: This review is based upon the information I have at the time of the review and does not reflect changes in ingredients or availability of items. Please contact the restaurant directly for up-to-date information and feel free to contact me with any questions or comments. I was not compensated for this review and it is a reflection of my personal opinion.