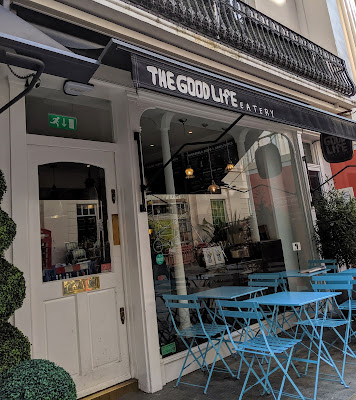 When I decided to book a second holiday to London this year and locked in my end-of-July timeframe, one of the top points on my itinerary was a tour of the State Rooms at Buckingham Palace. Only open during the summer and select dates throughout the year, I was excited to get a glimpse behind the elaborate gates to see a palace steeped in history, but is also a modern, working palace.


With an early entry time, I decided to seek out a good breakfast beforehand to fuel up for a long day of sightseeing. The Good Life Eatery popped up on several "best-of" lists and local blogs as a top gluten-free breakfast spot, and with a location in the nearby Belgravia neighborhood, I didn't need much persuasion to start my day there.


The Good Life Eatery was built on the ethos that leading a healthier life doesn't have to mean settling for flavorless food, and they welcome everyone through their doors, regardless of dietary restriction, or special diet.With an all day menu, they've got plenty of sweet and savory options on hand for to satisfy whatever cravings you have going in.


Since I stopped by shortly after they opened, I focused squarely on their breakfast offerings, which include avocado toast, waffles, and array of bowls (oat, acai, and granola). With a warm day of sightseeing ahead, I gravitated to their granola bowl, which is naturally gluten-free. I made it dairy-free and vegan by selecting coconut yogurt, but take note that the dish does contain nuts and sulphates.


Though simple in it's construction, the bowl was sheer perfection and constructed using the freshest of ingredients. Tart blueberries and sweet raspberries paired beautifully with coconut flakes, hemp seeds and crunchy granola. The star of the bowl however was the vegan coconut yogurt, which was creamy and oh, so decadent. Slightly sweet and with a delicious coconut flavor, the yogurt was indulgent, yet light. It sustained me throughout the morning without weighing me down or making me regret my choice as I battled the heat of the day.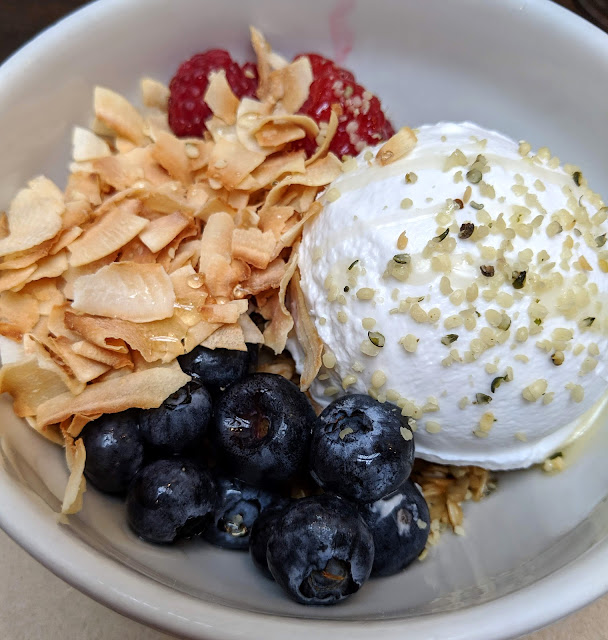 Though I only stopped by for a brief moment, I was impressed by the humble, yet mighty granola bowl. The Good Life Eatery definitely peaked my curiosity, and I wouldn't hesitate to stop by again to explore around their menu. I appreciated that they had many gluten-free options, several of which featured healthy, plant-based ingredients.



The Basics
Cuisine:

Bowls, Salads, Small Plates

Ideal For:

Breakfast, Brunch, Lunch, Dinner

Accessibility:

Wheelch

air accessible




Disclaimer: This review is based upon the information I have at the time of the review and does not reflect changes in ingredients or availability of items. Please contact the restaurant directly for up-to-date information and feel free to contact me with any questions or comments. I was not compensated for this review and it is a reflection of my personal opinion.