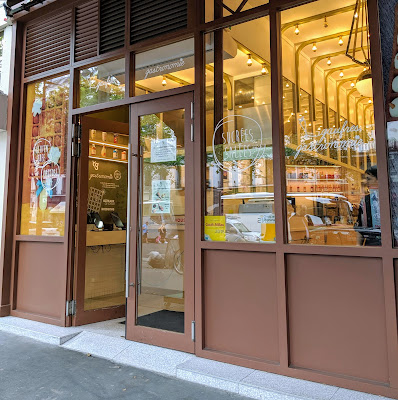 In planning my holiday to London last month, I knew I wanted to plan a day trip out of the city to get a change of scenery and take advantage of the city's many transport options that can easily connect you to points of interest throughout the UK and Europe. After considering my options, I decided on a day trip to Paris, which would be my first trip to continental Europe and would put my two years of high school French to the test.


Excited about all the sightseeing options in the city of light, I worried initially about food options, as gluten and dairy are predominately featured as a cornerstone of French cuisine. Luckily, in sifting through many gluten-free blogs and websites devoted to dining out sans gluten, my confidence that I could get a good meal or two grew exponentially.


Yummy & Guiltfree was listed on several of the websites I consulted because they not only are gluten-free friendly, but also mark dairy-free items on their menu (sans lactose). With sweet and savory options waffle creations on their menu, I didn't need much persuasion to make this my first stop in Paris for lunch once arriving via Eurostar midmorning.

Stepping foot inside the cozy shop, I was greeted by the friendly staff, who immediately switched to speaking English when they realized I couldn't get past a precursory hello in French. They gave me an overview of the menu, pointing out lactose-free options, and I definitely needed a moment to mull them all over. There were so many tantalizing and tempting options! Arriving with a big appetite, I decided to pick one savory and one sweet waffle to taste Yummy & Guiltfree's full flavor range.


The first waffle to come out was the thai chicken waffle, which comes topped with a colorful array of vegetables, crunchy peanuts, and a thai coconut curry sauce. The waffle was wonderfully light and airy with the a crispy, golden brown exterior from the waffle iron. They totally reminded me of the Belgian waffles that I used to eat in hotel buffets growing up before I went gluten-free. Because of the weight and messiness of the toppings, I ate the waffle using a knife and fork.


The flavorful and rich curry sauce combined with the chicken and vegetables made this waffle protein-rich and filling. I loved the variance in textures of the waffle and its toppings, and the portioning was perfect for a light lunch (or paired with a second waffle for an extra-filling lunch).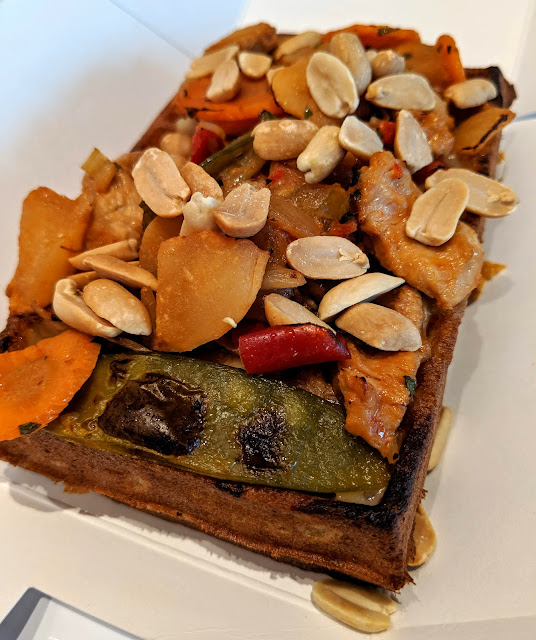 The real showstopper though was my dessert waffle, their crème de citron waffle. This waffle was served with a supporting stick so it could be consumed popsicle-style. With the same style waffle as a base (crispy exterior and fluffy interior), this sweet take on Yummy & Guiltfree's waffles starred the most delicious lemon curd. Sweet, yet refreshing with a strong, tangy lemon flavor, the curd reminded me of key lime pie.


I absolutely savored each and every bite, and was sad when all too soon I was polishing it off. It definitely is one of the best things I've eaten this year, and ranks among the best things I've eaten since being gluten-free. I will dream of this waffle for a long time coming, and couldn't have imagined a better way to start my morning on my first visit to Paris.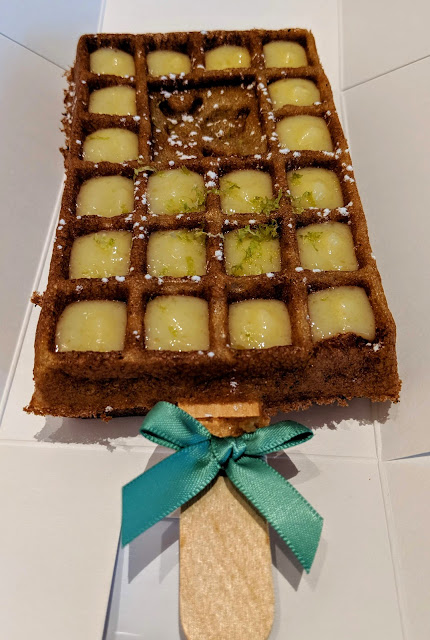 With three locations around the city, Yummy & Guiltfree should be a priority stop for any gluten-free foodie, whether tourist or local. Not only is the shop a dream to begin with, serving an 100% gluten-free menu starring waffles, but it has plenty of dairy-free options to choose from as well. It's hard to imagine anyone walking away without a smile on their face after dining here, and I applaud the culinary geniuses behind Yummy & Guiltfree (as well as the friendly employees at the Montmartre location) for making magic in the form of waffles each and every day.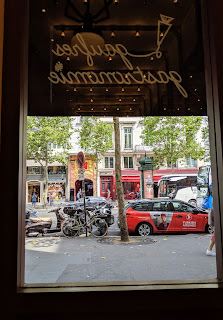 I really enjoyed this view of Montmartre
from my table!
The Basics
Cuisine:

Sweet and savory waffles, ice cream

Price:

Waffles are i

n the

5-7 €

range

Accessibility:

One step to enter the shop




Disclaimer: This review is based upon the information I have at the time of the review and does not reflect changes in ingredients or availability of items. Please contact the restaurant directly for up-to-date information and feel free to contact me with any questions or comments. I was not compensated for this review and it is a reflection of my personal opinion.