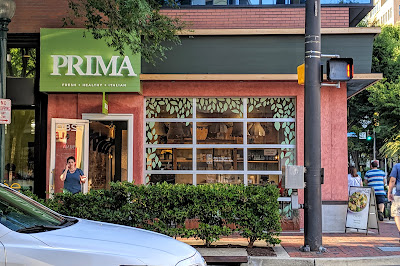 This summer, most of my blogging bandwidth has been taken up by playing catch up to recap all the wonderful eats I found in London and Paris this summer. With that adventure in the books and September already upon us (already?), I'm looking forward to getting back to my mission to find the best gluten-free eats in and around Washington, DC.


Topping the list of places I wanted to check out was Prima, a Bethesda-based restaurant that builds on the area's strong fast casual bowl game and adds an Italian twist to concept. What makes Prima stand out from the pack is that their whole menu is entirely gluten-free. Excited to check out Italian fare that was both safe and easy on the wallet, I finally found an opportunity to venture outside DC city limits to check Prima out.


While Prima's whole menu is entirely gluten-free, it's also rather friendly to those following other special diets or have dietary restrictions. Their menu has symbols to indicate what is vegetarian, vegan, dairy-free, and soy-free, and beyond that, they provide a full ingredient listing on their website to indicate egg and nut-containing items. The good news for dairy-free folks is that all of the bases, vegetables, and proteins (minus the meatballs and mozzarella) are sans dairy, which gives you a wide range of options to mix and match into a custom bowl.


I decided to order one of Prima's pre-set bowls: the shrimp and super green salad. In addition to its titular ingredients, the salad features marinated tomatoes, english cucumbers, fava bean hummus, balsamic vinaigrette, and pickled red onions. Because I'm not a huge fan of corn, I did ask them to swap it for the roasted brussels sprouts. I also added chickpeas for extra protein.


The bowl was certainly beautiful, with each ingredient looking more tempting than the last as it went down the line. I really wish I could I could say it was as delicious as it looks, but am disappointed to report that the salad underwhelmed me.


The ingredients that really stood out were the flavorful hummus, marinated tomatoes (starring fragrant fresh basil), and the cucumbers (owing to their paring with fresh mint). The shrimp did not pack as much of a chili flavor as I expected, and the pickled onions broke my pickled onion-loving heart because they were more vinegary that sweet and tart as I like them.


What Prima does well is that it menu showcases real foods, and although it's a quick-service restaurant, you do leave feeling good about your meal and the abundance of veggies on hand. In the inevitable comparison with some of it's competitors, it holds it's own, if not tops the charts.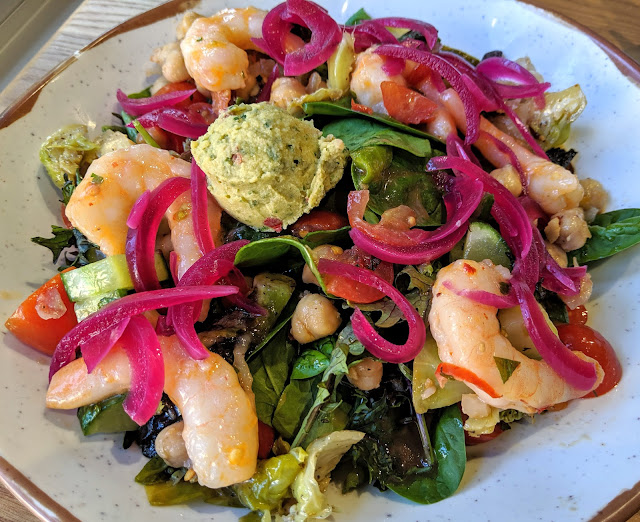 I really hope that I just caught them on an off day and on a return visit Prima knocks it out of the park. Although the food didn't really produce fireworks in my mouth, I do appreciate that they really do care about celiacs and anyone looking for gluten-free fare. Fast casual restaurants can be such a tricky space to navigate with dietary restrictions, so their completely gluten-free menu and clear labeling of ingredients makes the menu much more accessible and fear-free for any diner.



The Basics
Ideal For:

Lunch, and Dinner

Price:

Pre-set bowls are $12, DIY bowls start at $10

Accessibility:

Wheelchair accessible




Disclaimer: This review is based upon the information I have at the time of the review and does not reflect changes in ingredients or availability of items. Please contact the restaurant directly for up-to-date information and feel free to contact me with any questions or comments. I was not compensated for this review and it is a reflection of my personal opinion.