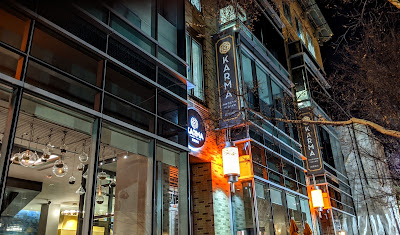 Cementing January as a food-lover's wonderland in this area, Metropolitan Washington Restaurant Week was conveniently timed right on the heels of the Bethesda's iteration. With so many great restaurants and tempting menus to choose from, I look forward to a perfect excuse to try restaurants that have been on my radar awhile but I just haven't stopped by yet.


Karma Modern Indian certainly falls into this category. Located in the Chinatown area downtown, conveniently located near Gallery Place, Karma caught my eye for their creative takes on Indian cuisine. As a huge fan of Indian fare, the prospect of a three course restaurant week feast cemented Karma as my choice for this year's winter Restaurant Week choice.


As with all Metropolitan Washington Restaurant Week menus, Karma's features a three course dinner for the fixed price of $35 ($22 if you're visiting for lunch). Upon informing the waiter serving me that I was gluten-free, he confirmed that the whole menu was gluten-free except for the Mumbai sliders. When it came to dairy-free options however, things were a lot more limited, and I was relegated to the vegan options on the menu, which were noted by a VG symbol. So many of the meat options are marinated with dairy, or in some cases ghee, which means they cannot be made dairy-free.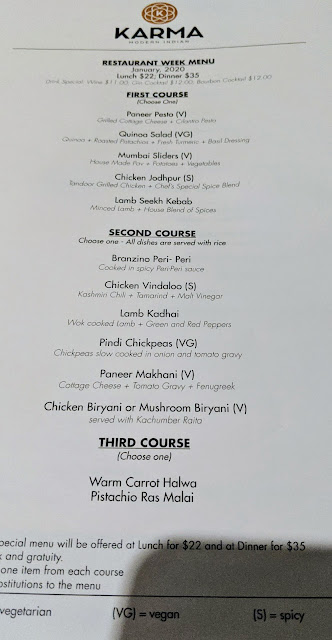 After I ordered, they brought a pretty aperitif to the table, consisting of quinoa and a lovely fruit jam. As a opening bite to kick of the dinner, I loved the delicious clash of textures and flavors, with savory and sweet working in beautiful contrast.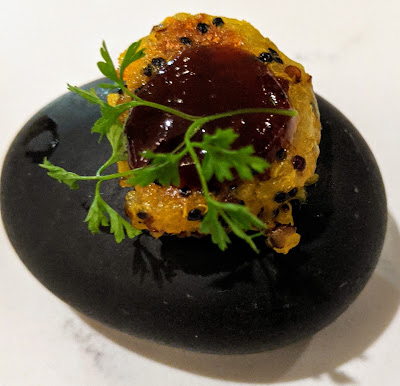 Following the aperitif, the appetizer course arrived: the quinoa salad. Channeling some of the same flavors as the aperitif, the salad featured turmeric-infused quinoa as the star of the dish as well as roasted pistachio, dried fruit (tasted like craisins), and basil. I enjoyed the medley of flavors and interesting texture of the quinoa and the mix-ins.


As I was eating it, I made a mental note to record all the flavors and experiment recreating the dish at home. It would be a lovely addition to my weekday rotation of lunchbox fare!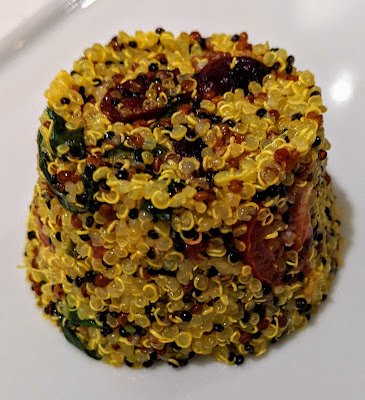 Following the quinoa salad, I was brought another palate cleanser, a delicious bite-sized fruity sorbet that was refreshing and tangy (although briefly giving me a bit of brain freeze when I first put it in my mouth!).
For the main course, the vegan option was the pindi chickpeas, which are slow cooked in a tomato-onion gravy. At first bite, I relished the complexity of flavors of the gravy and spices, which when long-simmered really melded them beautifully. While flavorful, the dish did not register on the heat scale, which while perfect for those preferring milder fare, was a tad disappointing to me, as I love the spicier side of Indian cooking.
Paired with fragrant, perfectly-cooked rice, the dish was definitely comforting on a chilly winter evening. It certainly was a substantial meal, and as I finished the last spoonful of rice and chickpeas, I was glad that the totally plant based meal was a filling and hearty entree.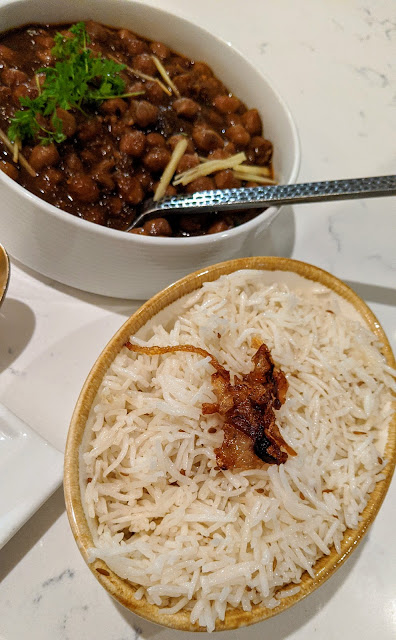 Since the two dessert options for Restaurant Week are not dairy-free, the staff kindly subbed in a vanilla sorbet for me. Unlike non-dairy ice creams, the sorbet's texture was icy and sharp, which was a novel and delicious take on this traditional frozen dessert. I loved the intensity of the vanilla flavoring and that the sorbet was refreshing and light after eating such a heavy meal.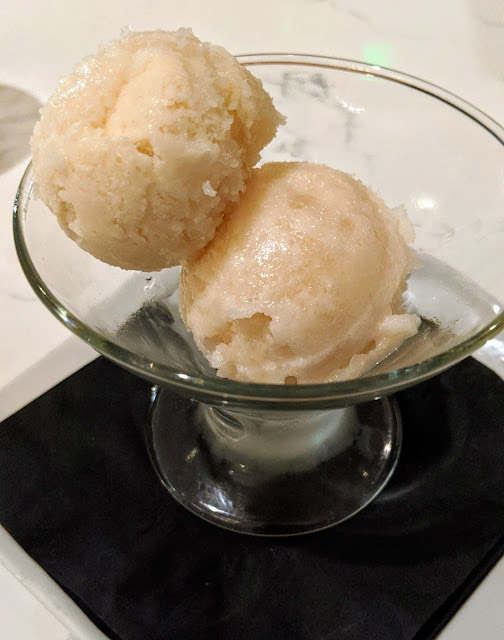 Although I've walked by their Chinatown location several times, I'm glad this year's winter Metropolitan Washington Restaurant Week finally prompted me to stop in and see what Karma Modern Indian was all about. It certainly has plenty to please gluten-free diners, but my dual dairy restriction certainly made the menu and options more limited. While that slight disappointment is on me for not doing more thorough research, what I was able to eat was good, if not what I was expecting. I'm not sure I would race back with such limited options, but I'm glad to have added to the list of gluten-aware restaurants in the DC area.



The Basics
Price:

See menu prices on their website

Accessibility:

Wheelchair accessible




Disclaimer: This review is based upon the information I have at the time of the review and does not reflect changes in ingredients or availability of items. Please contact the restaurant directly for up-to-date information and feel free to contact me with any questions or comments. I was not compensated for this review and it is a reflection of my personal opinion.