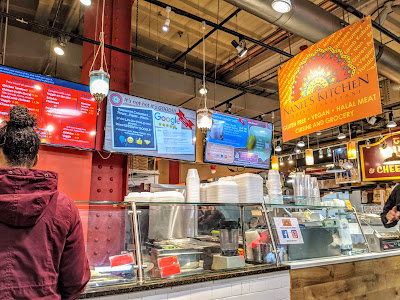 As I mentioned in my last post, the dawning of a new year (and a new decade!) has prompted me to catch up with blog posts and reviews that have fallen to the wayside amidst the many December festivities I was juggling.


As such, I'm happy to have finished this review so I can share one of the gluten-free gems I discovered in Philly last November. Though I've mentioned it in an earlier post, Nanee's Kitchen gets the full top-line billing it deserves in this review as a fantastic find in the bustling Reading Terminal Market.


As a huge fan of Indian cuisine (because it's so gluten-free friendly), paying a second visit to the food stand was a great opportunity to score some of my favorite food as well as see if it was as good as I remembered it to be on my first visit many years ago.


The wonderful thing about Nanee's Kitchen is that nearly everything they serve is gluten-free. In fact, every side and entree they have along their aisle-facing serving line is gluten-free (noted by the yellow symbol seen below) with lots of dairy-free (the white symbol) and vegan options (green symbol) on hand as well. The gluten-containing items at the stand include the naan (ask for staff to change gloves before starting your order) and samosas, which are held in their own case.


The day I visited, the following things were on offer were gluten-free:
Basmati Rice (vegan)

Salad (vegan)

Alaskan salmon (dairy-free)

Chicken korma (contains nuts, almonds, cashews, and dairy)

Chicken tikka masala (contains dairy)

Coconut curry chicken (dairy-free)

Tandoori chicken (contains dairy)

Collards (vegan)

Chickpeas (vegan)

Spinach (vegan)

Curry cabbage (vegan)

Okra (vegan)
When you order, you get to choose which combination of mains, sides, and bases you'd prefer. Because I had loaded up on gluten-free corndogs earlier that day at Fox & Son, I decided to go for an all-vegan to balance out with some healthier plant-based fare. I ordered the channa masala chickpeas with a side of spinach (sag) and basmati rice.
The portion of each item was generously doled out, and the meal could have easily served two people with one more side. The standout of the selections I chose was the flavorful, rich spinach, with the spicy (but not hot) chickpeas and fluffy, fragrant basmati rice ranking not far behind. Overall the meal did exactly want I needed it to: warm me up on a chilly day and fortify me for a late night of activities ahead.
Nanee's Kitchen is not the flashiest or fanciest restaurant in Philadelphia, but if you're looking for solid and gluten-free safe Indian cuisine, it's top notch. Whether you enjoy it while exploring the market or grab it as take-out, it's hearty and filling, and has plenty of options for those looking for vegan and dairy-free options. I would give anything to have a place like this near me in DC, until then, I look forward to revisiting the food stand on future trips to Philadelphia.
The Basics
Address: 51 N 12th St #2954, Philadelphia, PA 19107 (inside Reading Terminal Market)

Ideal For:

Lunch and Dinner

Price:

Less than $15 for a meal, varies based on number of sides chosen

Accessibility:

Wheelchair accessible




Disclaimer: This review is based upon the information I have at the time of the review and does not reflect changes in ingredients or availability of items. Please contact the restaurant directly for up-to-date information and feel free to contact me with any questions or comments. I was not compensated for this review and it is a reflection of my personal opinion.