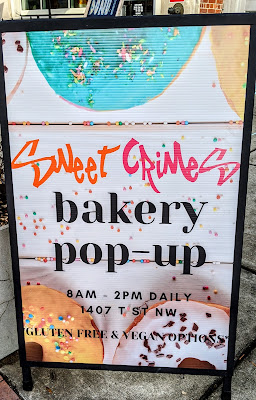 While I wait in eager anticipation for Sweet Crimes' 100% gluten-free bakery to open in the Capitol Hill neighborhood this year, the next best thing is their ongoing popup at Ice Cream Jubilee's storefront on bustling 14th Street in Washington, DC.


I fell in love with their irresistible, fresh-fried donut holes at the Navy Yard foodie-emporium Smorgasburg last year (read my review). In this popup iteration, they've expanded the amount of items on offer to include a wider array of donuts, sweet treats, and savory sandwiches.


What I love about Sweet Crimes is that they are committed to making gluten-free baked goods that aren't just "good for gluten-free" they actually hold their own and would pass any taste test, GF or not.


The master baker behind the company, CK, is passionate about her baked goods, and that passion is born from a shared experience with many of her customers. After learning of her gluten intolerance, she founded Sweet Crimes in 2016, and has been perfecting her recipes at DC's own Mess Hall food incubator ever since.


This popup at Ice Cream Jubilee is open daily from 8am-2pm and serves as a full service bakery during these hours and a pick-up distribution spot during off times.


While everything on offer at Sweet Crimes' popup is gluten-free, not everything is dairy-free, so do ask about any co-existing allergies or dietary restrictions before ordering. Baked goods in the non-dairy-free category include the sandwich bread, bagels, and cupcakes.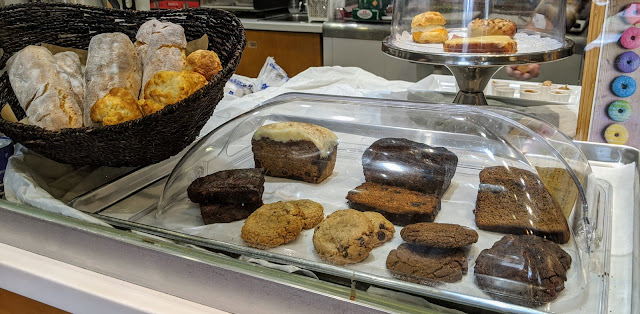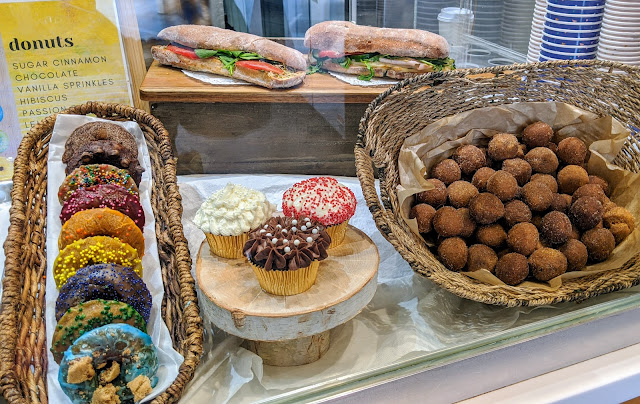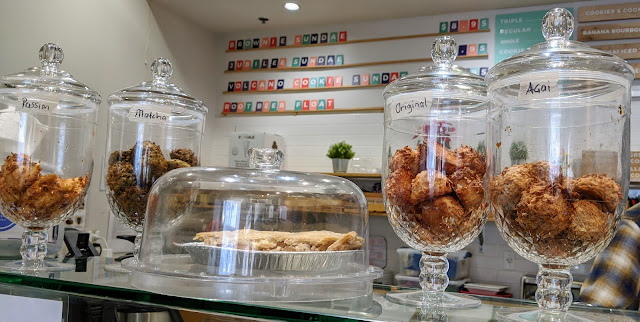 In addition to baked goods, the popup is also has a modest drink menu. I was also pleased to see that prices for baked goods were on par or lower than competing bakeries.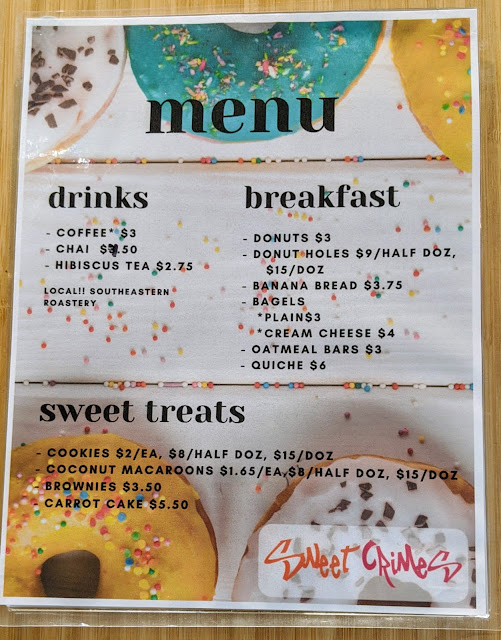 Since my only encounter with Sweet Crimes to date is their delicious donut holes, I was immediately drawn to their full-size versions, which come in a fun kaleidoscope of colors and flavors. I decided to order four flavors to taste around the menu, and was pleased to here the donuts would be freshly fried in store to take home.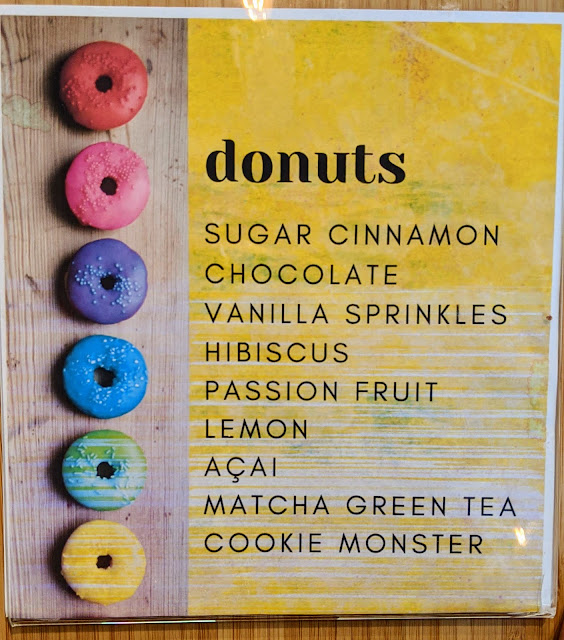 Before even leaving the premises, I couldn't help but break open my bag and try one of the flavors. Craving a classic donut flavor profile, I went for the chocolate flavor. The donut features a lovely base cake, which reminded me of the donut holes I've eaten before. It's dense (in a good way), and has a lovely flavor from the frying. Coated in a thick, creamy chocolate (which was slightly melted), the donut is absolutely perfection, and made me feel like a kid again. This donut is no joke, and definitely put a huge smile on my face.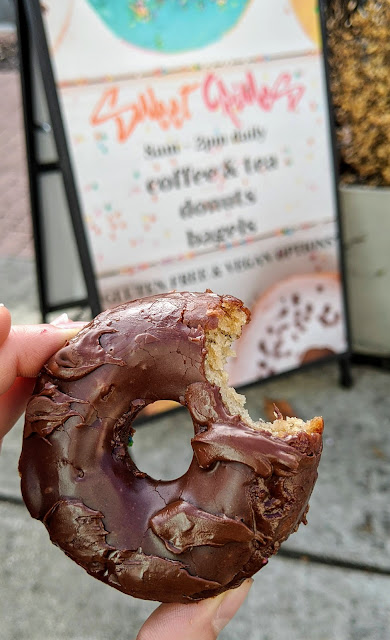 The next donut I tried was the vanilla sprinkles, which also score points for channeling classic donut flavors and colors. Here's the slightly cinnamon-y, apple-cider-donut-like donut shine with the simple glaze and sweet, crunchy sprinkles. I'd have to rank this as my second favorite of the bunch!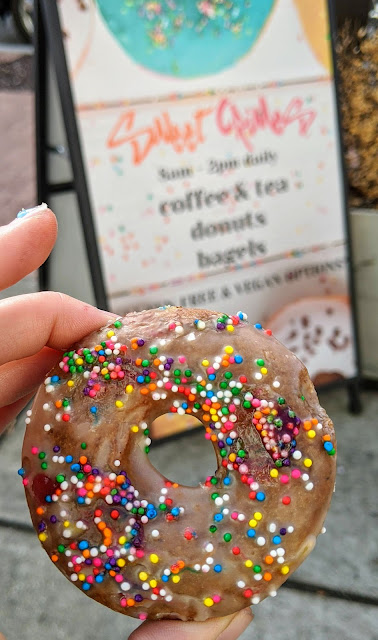 With a variation on the theme of the vanilla, the hibiscus donut features the fun sprinkles and a sticky, sweet hibiscus glaze. This one was the most messy to eat given the unseasonably warm winter day, and liberally transferred it's glaze on the other donuts. Though the donut was good, I wanted a more tangy, fruity flavor of hibiscus to shine though. Nevertheless, the donut easily passed the taste test and satisfied my donut cravings.




Earning top marks for most fun and creative is the cookie monster donut, which bears the coloring and hallmark cookie crumbs of the beloved Sesame Street muppet. I loved the contrast of the donut cake, icing, and chocolate chip cooke crumbs, though this donut would definitely earn the vote for "most likely to induce a sugar coma". I didn't mind the least though, because the concept and execution were just so much fun!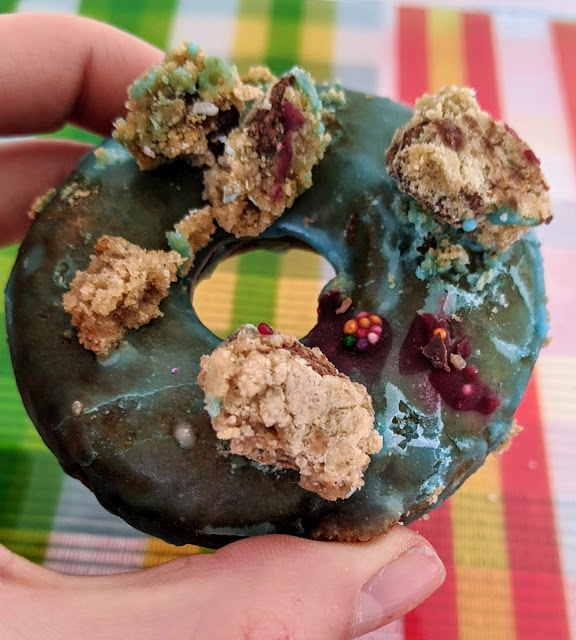 As a non-donut taste test, I also purchased two ginger cookies, which were soft baked and featured a wonderful blend of sweetness and sharp ginger. I love the generous portioning of the cookies and their thickness, which rendered a texture that was chewy and oh, so satisfying. I have a high standard for what passes muster for a ginger cookie, and am pleased to report that these effortlessly met and exceeded it.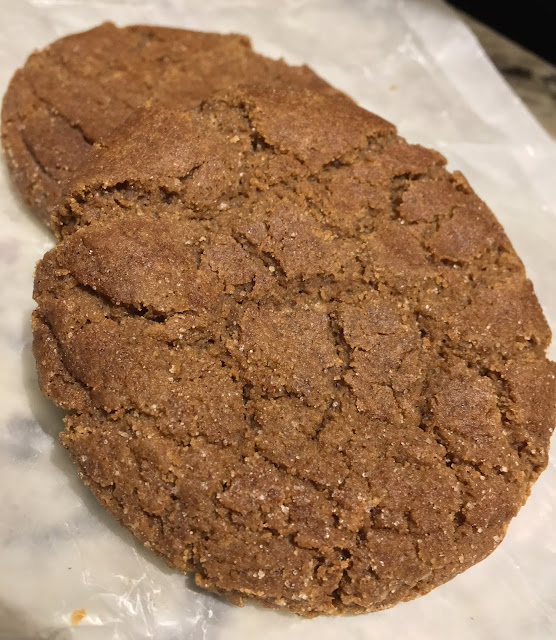 Sweet Crimes does it again, and totally impressed me with their full menu of offerings and array of five delicious treats I brought home with me. If this is any indication, their Capital Hill bakery opening is going to be a highlight of the year for the gluten-free DC food scene. I know I wouldn't miss it for the world, and in the meantime am glad that I can have more regular access to this delicious lineup at their 14th & T St popup.


The bakery is a break from the stereotypical DC bakery mold because they deliver delicious products at reasonable prices with everything safely prepared gluten-free. What more could gluten-free foodies ask for?


For more information and to see Sweet Crimes' other retail locations, visit their website.




Disclaimer: This review is based upon the information I have at the time of the review and does not reflect changes in ingredients or availability of items. Please contact the bakery directly for up-to-date information and feel free to contact me with any questions or comments. I was not compensated for this review and it is a reflection of my personal opinion.