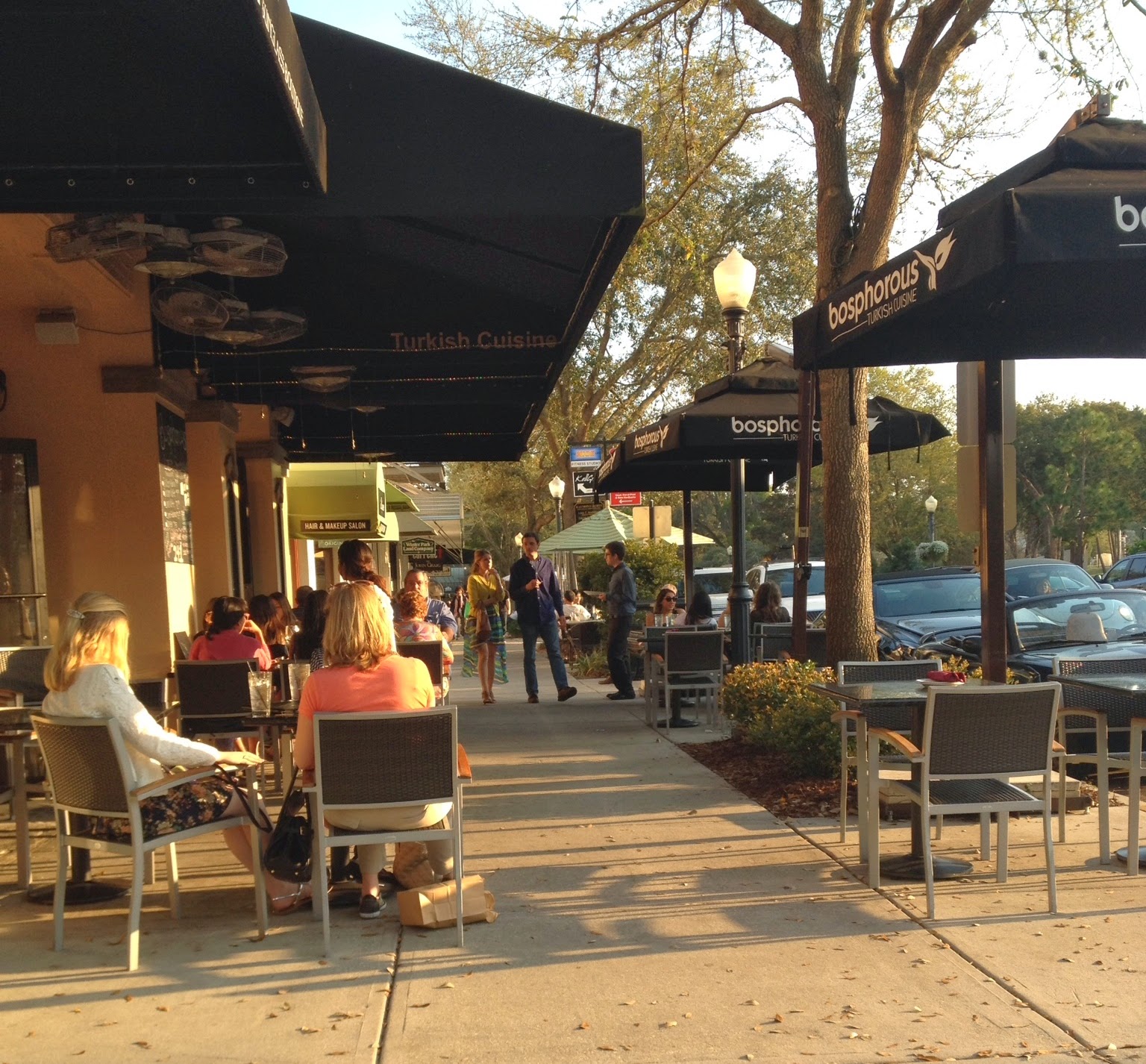 Far from the hustle and bustle of the more "tourist-y" areas of Orlando, Winter Park is a not-so-hidden gem that is not to be missed. Restaurants, artisans, and shops populate this community with the epicenter being Park Avenue. Along the pedestrian-friendly main street and adjacent side streets, new experiences are waiting at every turn- from doggie boutiques to restaurants serving every type and style of cuisine. There's always something new to try with over 140 shops, restaurants and museums.


In the mood to venture out and try something completely new for my recent birthday, I explored the expansive roster of restaurants who call Winter Park home. In delving in, each one sounded better than the next, but on first glance, it became more and more challenging to determine what was and was not gluten and dairy free.

Bosphorous Turkish Cuisine jumped out at me right from the start. In checking out their website, I was hooked by the beautiful dishes pictured and their emphasis on serving "fresh, home-made food" with an emphasis on hospitality. Although the website did not mention gluten or dairy free options, a quick email to the restaurant's contact email, the owner quickly responded with a complete list of all of the allergens in each dish. I was duly impressed and now convinced that Bosphorous was the way to go for my celebration with friends.


I made the reservation for an early dinner, which proved to be a great decision because the evening was one of Florida's perfect days- not too hot, cool, rainy or buggy, with not a cloud in the sky. Like many of Park Ave's restaurants, Bosphorous is open to the sidewalk which provides a fun view of the happenings going on outside while also providing a oasis within the decor and atmosphere of the restaurant.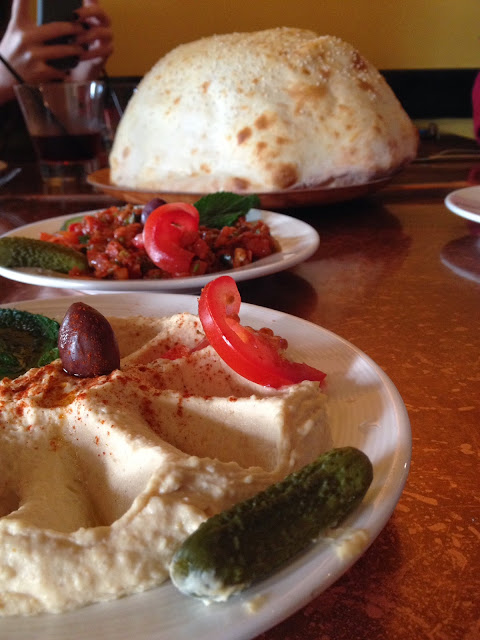 Lavas Bread- definitely not gluten free
We started off the evening with an appetizer that is most definitely not gluten-free: Lavas. A hollow, balloon-like bread, at first glance, it's eye-poppingly large and comes with an array of assorted sauces, dips and other toppings. Our server, who also was gluten-free, offered to bring me some fresh vegetables on the side to try the dips, but I opted out knowing that the entree portions were rather large. My friends decided to take a risk and try some Turkish sour cherry fruit juice, and we laughed as each tried the sour, tart drink. I stuck with my go-to San Pellegrino.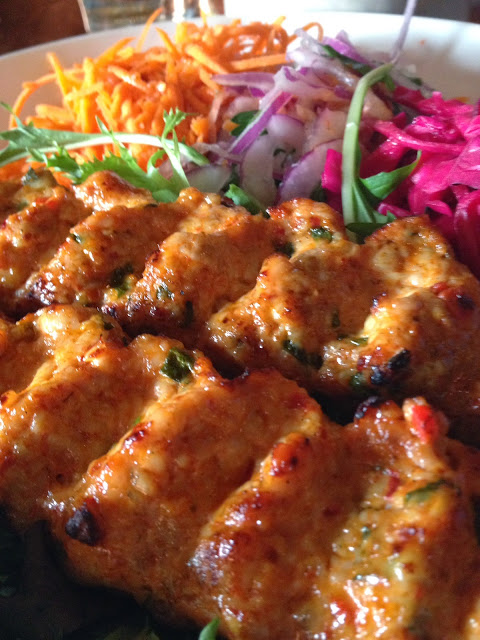 Our entrees arrived shortly after and each was more colorful than the next. I chose the Chicken Adana Kebop, a dish that's naturally gluten and dairy free as long as it is served without the rice, which contains small pasta pieces. From the menu description, the chicken is ground and mixed with garlic, light hot peppers, bell peppers, and parsley then grilled on a skewer for the authentic kebop taste. The chicken was easy to cut into smaller pieces with just a fork and was juicy and flavorful. Accompanying that were shredded carrots, red onion, and red cabbage complemented by their house dressing. I loved the unusual texture of the "salad" which gave the what could have been plain veggies and fun twist. The dressing was delicious and perfectly blended the flavors of each individual vegetable. At first glance, I thought I couldn't finish it off, but before I knew it, I had cleaned my plate. The wonderful thing about the food, which really was fresh, simple, and flavorful, was that it didn't weigh me down or make
me regret eating the whole portion. (Although next time, I am probably going to go for lunch for their slightly smaller portions.)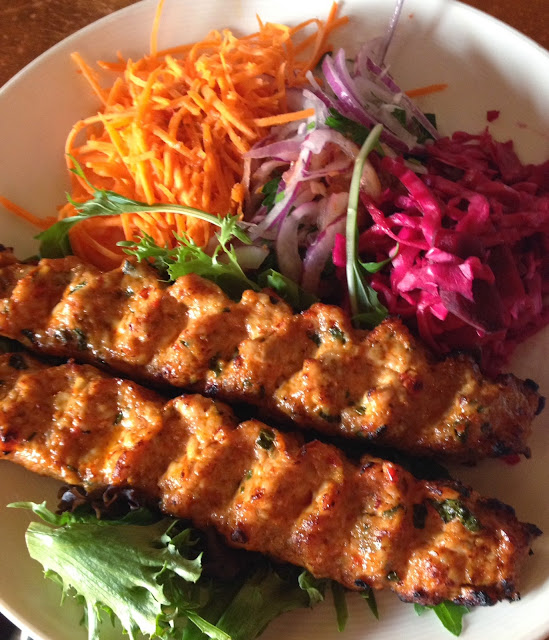 The hospitality of the staff and exotic, but open space really made the experience. The meal was everything I was seeking for a birthday celebration: a good atmosphere, great food, even better company.
Looking for more Winter Park restaurant reviews? Click here.
Update 8/8/2015: After returning to Bosphorous multiple times and ordering the adana kebab (which is consistently good), I decided to order another entree off the menu to break my habit before heading up to Maryland for the fall semester. Our waiter was very knowledgeable about what menu items would be safe for me, and suggested the chicken saute in tomato sauce. To make this entree gluten and dairy-free, again the veggies were substituted for the rice, and he requested that my sauce be made with olive oil instead of butter. The dish is absolutely delicious, reinforcing my belief that Bosphorous is one of the best restaurants in Orlando. The chicken, grilled with a nice black pepper seasoning, is sauteed with peppers, onions, mushrooms, and tomatoes and stewed in a broth of a deliciously spiced tomato sauce. The entree really corners the comfort food market, and would definitely be a dish I would order again.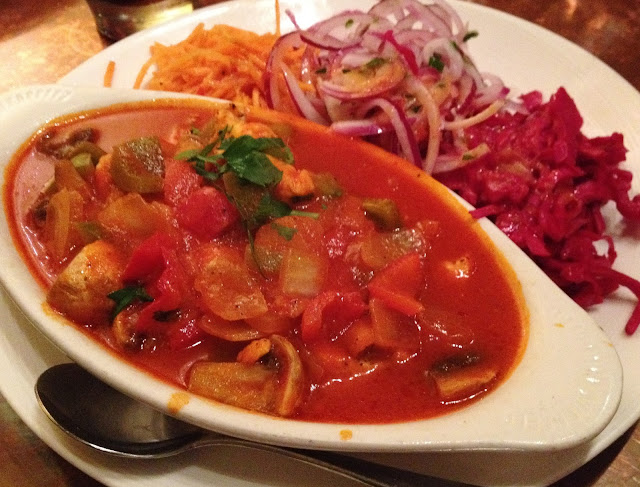 The Basics
Address: 108 S. Park Avenue, Winter Park, FL 32789 (there is a second location in the Dr. Phillips Area on Restaurant Row- W. Sand Lake Road)
Cuisine: Turkish
Ideal For: Lunch, Dinner
Price: Less than $30 per person
Accessibility: Tables located inside and outside all at standard level. Restaurant was wheelchair accessible.


Disclaimer: Restaurant reviews are based upon the information I have at the time of the review and do not reflect changes in supplier or availability of items. Please contact the restaurant directly for up-to-date information and feel free to to contact me with any questions or comments. I was not compensated for this review and it is a reflection of my personal opinion.