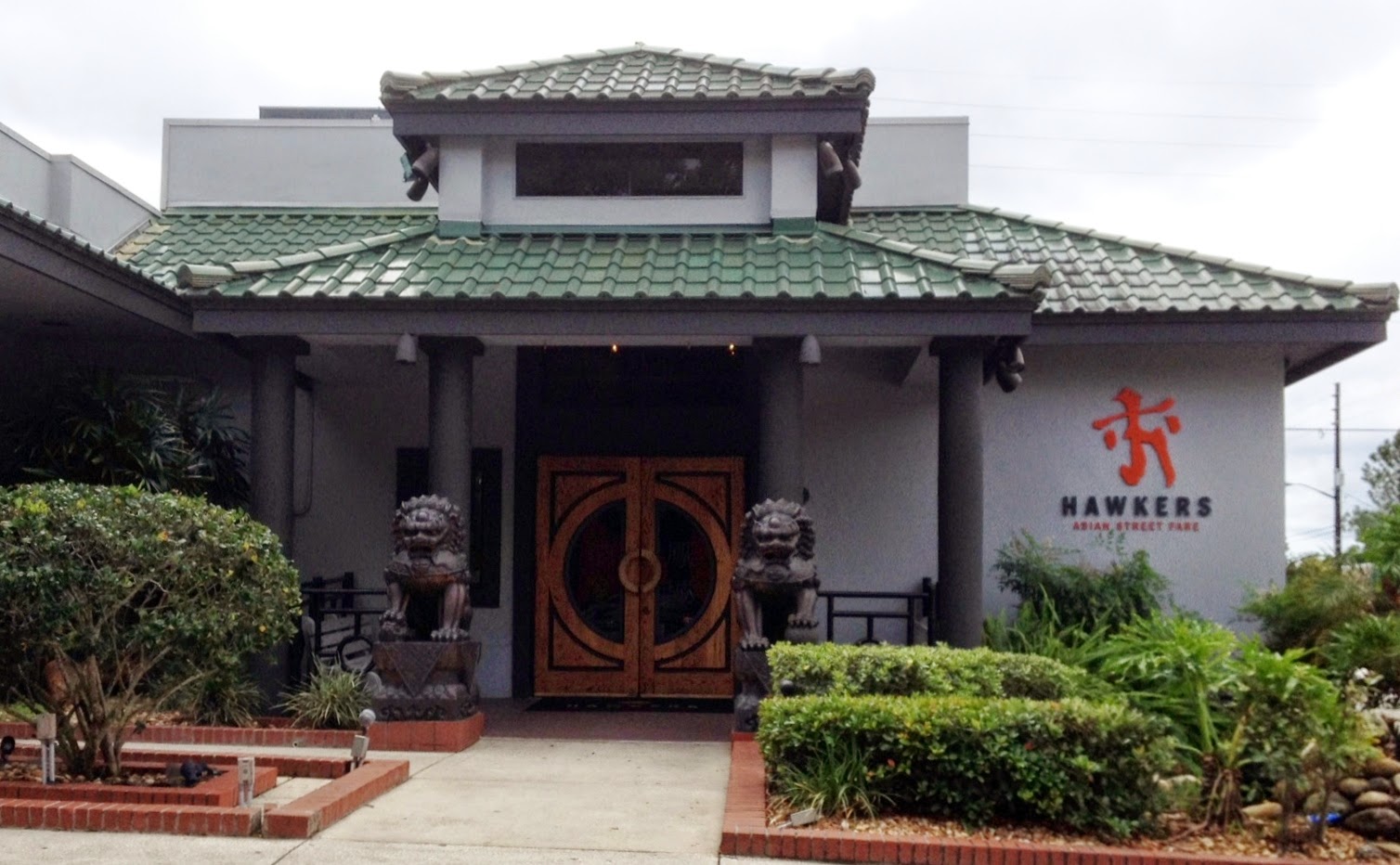 To kick of the blog on a high note, I figured I'd write my first restaurant review for a local eatery that definitely knows how to deliver gluten and dairy free food that doesn't hold back on flavor or variety.


Located in the Mills 50 district of downtown Orlando, Hawkers is a funky fusion eatery offering a wide variety of pan-Asian fare. In advance of my visit, I reached out to the service manager, Vince, to see what options were available sans gluten and dairy. With well over 50 items on the menu ranging from stir-fries and noodles to wings and soups, I knew I wanted a running head start pondering what I would order. He responded with an comprehensive listing of what was naturally gluten-free and what could be modified to accommodate my needs. It really makes a difference when I can confirm ahead of time that a restaurant will be able to cater to my special dietary requests because it only adds to my confidence and puts me at ease that I won't have to stand vigil to ensure a safe meal.


Hawkers is a tapas-style restaurant, meaning that the dishes on the menu are smaller and priced so that multiple dishes can be ordered and shared among the dining party (Although ordering entirely for oneself can be fun too!). Some highlights of gluten-free dishes include: Singapore Mei Fun noodles, Yangzhou Chow faan, Curry Laska (swap egg noodles for rice noodles), Malaysian Prawn Mee (swap egg noodles for rice noodles), all salads (w/o dressing), edamame, bok choy (w/o sauce) and Yow Choy (w/o sauce). Since I visited the restaurant for lunch, I went lighter and only ordered one bowl of Tom Yum noodle soup, but it was plenty big enough to satisfy me.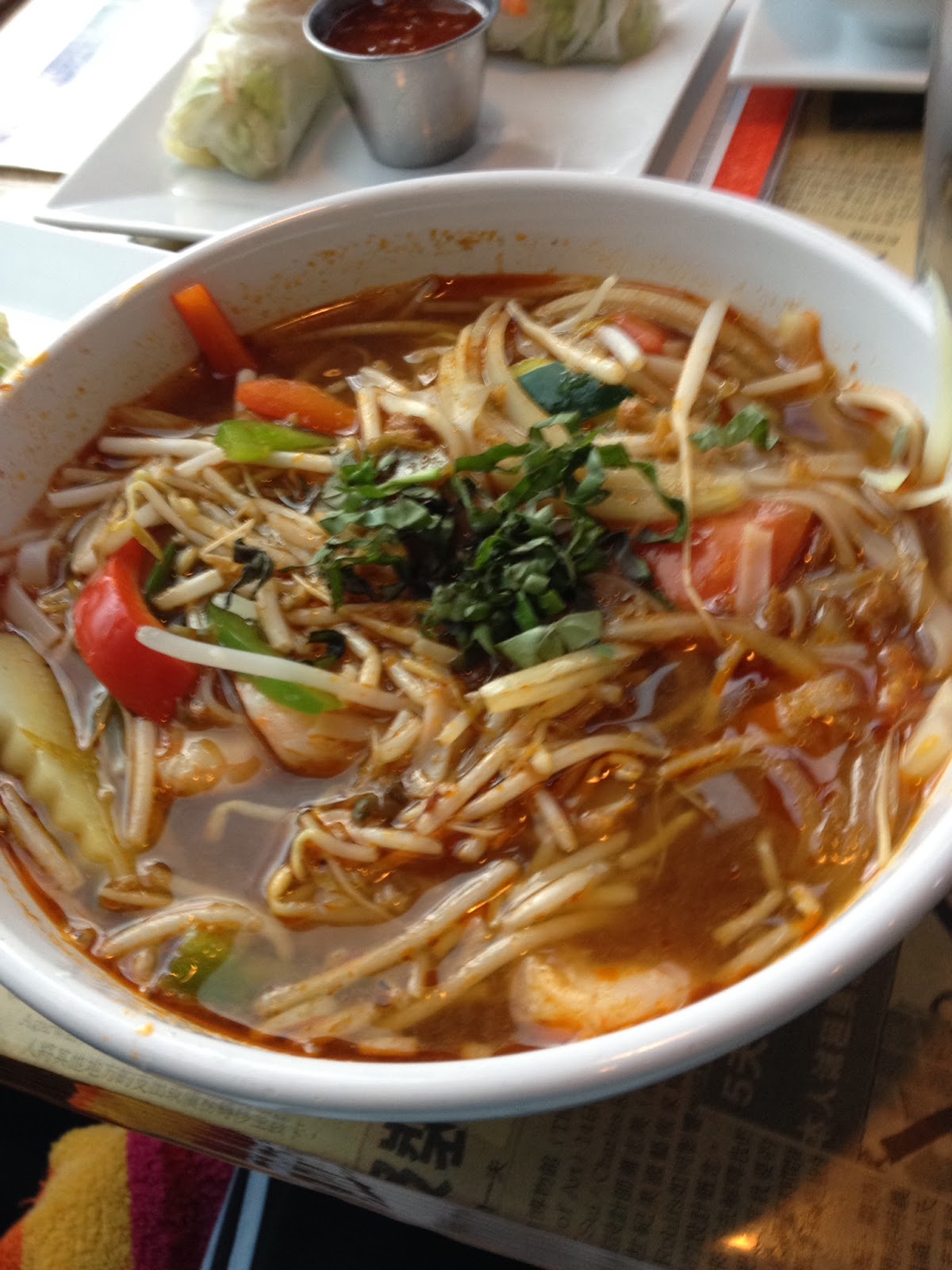 It's hard to fully capture the myriad of flavors of the soup. It was sweet, spicy, and flavorful which definitely made it unique and memorable. The soup consisted of a lemongrass broth with rice noodles, shrimp, bean sprouts, carrots, cucumber, bell peppers, tomatoes, all topped off with fresh basil and lime juice. The flavor kick really warmed me up on a cool, rainy day and was a perfect antidote to the dismal weather. For those sensitive to spicy items, I would recommend caution because Tom Yum packs a punch in the spice department.


Excited by the soup, I decided to order for take out their Vietnamese summer rolls to try later. Filled with bean sprouts, lettuce, basil, mint leaves, cilantro, thin rice noodles (vermicelli), and carrots, the texture of the rolls were nice, but the flavor was bland and unremarkable. They were good, but not great. Next time I'll opt to venture off and try something new.


The restaurant itself has a great vibe that perfectly accents the eclectic variety of food offerings. Accents such as enlarged pictures of Asian street hawkers and tables with Asian newspapers underneath a clear coating definitely brought an Asian flair. Our server was both knowledgeable and accommodating about ordering gluten and dairy free and ensured that our experience was seamless. All of the staff were friendly and helpful.


All in all, I had a great experience at Hawker's and am definitely looking forward to returning to take another culinary trip around the world.



The Basics: Hawkers Street Fare
Address: 1103 North Mills Ave. Orlando, FL 32803 (reviewed restaurant, additional location in Jacksonville, FL).
Cuisine: A fusion of Asian flavors including Chinese, Malaysian, Korean, Taiwanese, et. cetera.
Ideal for: Lunch, Dinner, Late Night (closes 10pm-11pm)
Price: $3.00-$8.50 per dish
Accessibility: Wheelchair accessible dining, parking and restroom facilities. Outdoor patio available. Tables were a mix of raised tables and standard level tables.
Special Features: Will deliver to local addresses through Eat 24.
Disclaimer: Restaurant reviews are based upon the information I have at the time of the review and do not reflect changes in supplier or availability of items. Please contact the restaurant directly for up-to-date information and feel free to to contact me with any questions or comments. I was not compensated for this review and it is a reflection of my personal opinion.