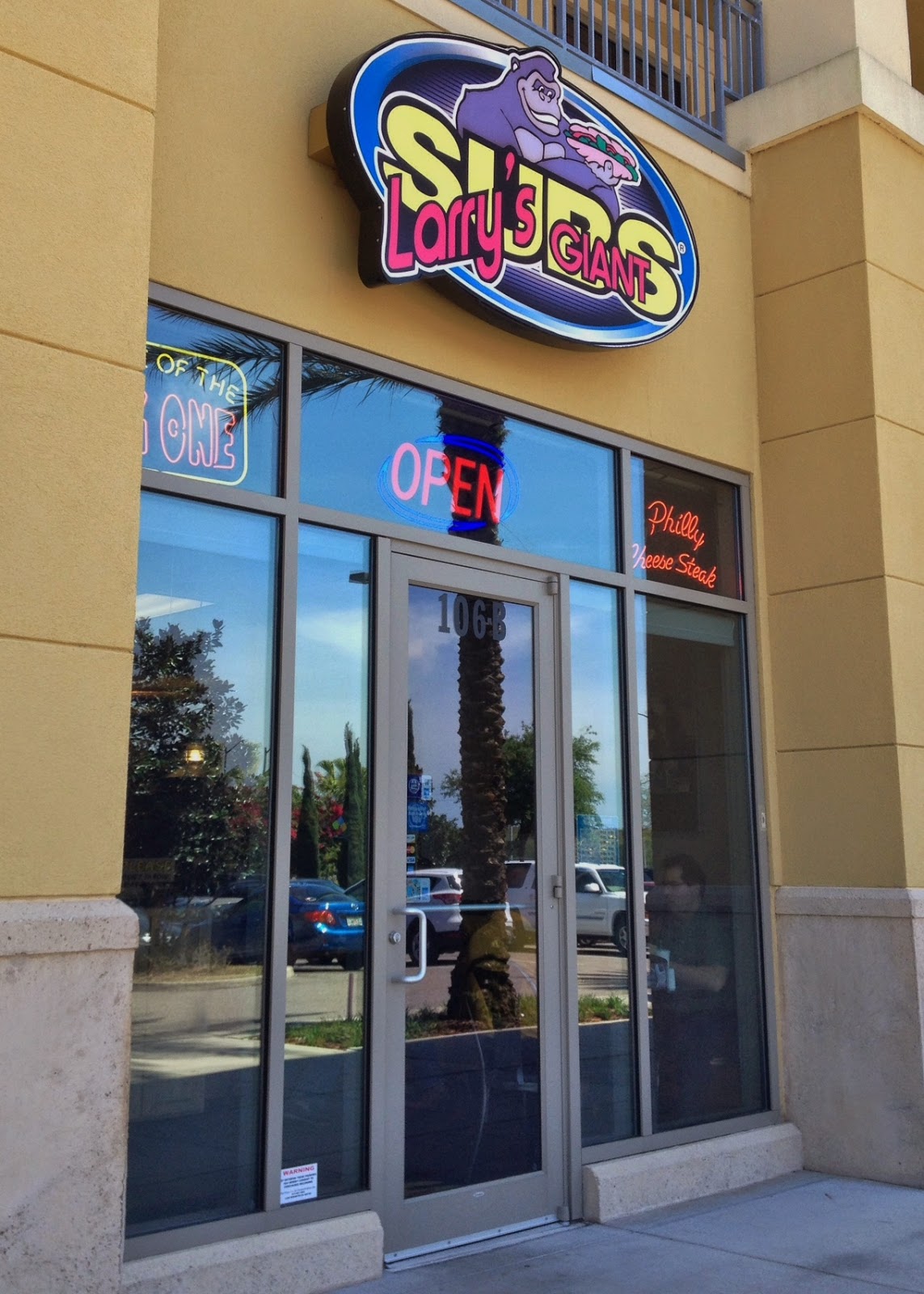 I've been familiar with Larry's Giant Subs long before gluten intolerance entered my life. Half of my extended family lives up in North Carolina, and no childhood road trip to the "tar heel state" was ever complete without a stop at the Larry's Giant Subs in Brunswick, GA. As goofy as it sounds, our whole family eagerly awaited and relished every bite. Little did I know that the restaurant would play a big role in my post-gluten free days- it would be one of the first restaurants where I could get a real sub sandwich.


For those who cannot eat gluten or dairy, opportunities to order sub sandwiches are few and far between. Unfortunately, the Subways, Quiznos, and Publix Delis of the world do not provide opportunities for us to partake in this staple of the American diet. Now, thanks to Larry's subs are (literally) back on the table.

The Larry's in Orlando is located on Narcoosee Road in the Lake Nona area which is southeast of Downtown. Although it would be reasonable to say that it's a little off the beaten path, the trip is definitely worth the added mileage.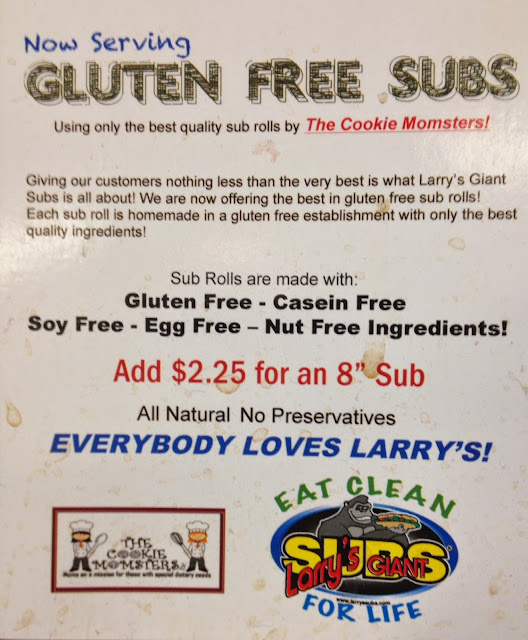 I went there on a weekday during lunch hour, and the shop was hopping and packed with people. As I worked my way up the register to order, I noticed multiple signs that announced that they had gluten free sub rolls and wraps. The 8″ rolls are a local product out of Jacksonville's own Cookie Momsters gluten free bakery. The bakery is a dedicated allergen free establishment. Besides gluten, they're free from milk, soy, eggs, and nuts. I didn't catch where the wraps are from because of my excitement over the rolls.


As I ordered, the cashier said that gluten free rolls had to be ordered an hour in advance so they could defrost. They freeze the bread to ensure its freshness. I was super bummed because I had visited Larry's once before in Jacksonville and had not encountered this policy. Stepping aside to let others place their orders, I debated if I wanted to wait or get the wrap (the cashier said they tend to fall apart). However, I went out on a limb and asked if they had a microwave on site. They did, and then offered to microwave the sub to quickly defrost it. I made sure to let them know to avoid cross contamination, but I was one happy camper.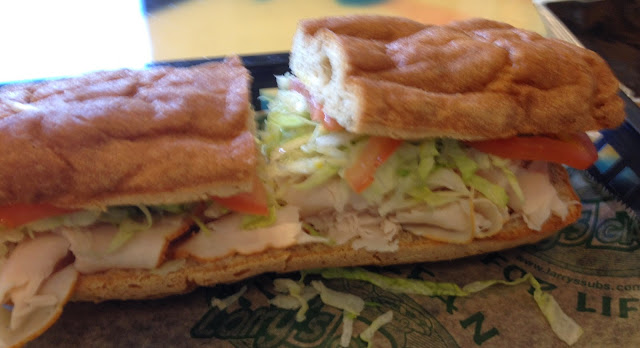 As a New York style deli, they offer a variety of subs ranging from the classics (Reuben and Pastrami) to more unique options (Gyros and Chicken Parmesan). They can pretty much make any sub with a variety of meats (most are gluten free) and with a set base of toppings (lettuce, onion, tomato), sauces (oil/vinegar, spicy mustard, yellow mustard, mayo) and a thick kosher pickle spear. I ordered a turkey sub with all the toppings and mustard. The turkey comes from Coleman Natural and is antibiotic-free, gluten free, casein free, and sustainable farmed.



When it came out, the sandwich was pretty impressive. At first glance, it looks no different from the gluten-containing subs the chain serves up. I had to double-check to make sure I could believe my eyes. It turned out that they put provolone cheese on it. The mistake was on both of our parts because I did not specifically ask for no cheese and just ordered a "turkey sub". The restaurant automatically adds provolone on every sub (unless other cheese is noted). Because I do not have a dairy allergy, I just took the cheese off because unlike gluten, it doesn't "transfer" like flour or breadcrumbs do (and in the hours afterwords, I did not experience adverse effects.)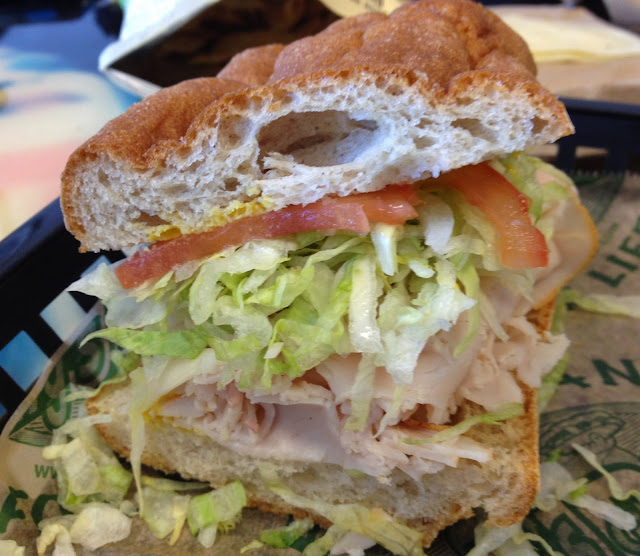 The sub definitely hit all its marks in the sub category. The turkey was thinly shaved and had a freshly-roasted flavor. The veggies were fresh and I really enjoyed the shredded texture of the lettuce and the unique flavor of the slightly sweet Spanish onions. The bread was not crumbly and held up the the hearty toppings. It was a little denser than its gluten filled counterparts, but definitely held up as a sub roll. It had a whole grain flavor that had a twinge of sweetness. I would say its reminiscent of Udi's whole grain bread products in its flavor.



A flyer from the restaurant
Larry's definitely delivers for its gluten free patrons. But what really impressed me is their down to earth feel and genuine interest in serving up quality food and giving back to their community. When the cashier first told me that the sub needed to be defrosted, I felt that he genuinely felt bad that he couldn't deliver the sub. When it came out after being microwaved, both he and another worker came to follow up with me. They were excited to discover that microwaving the bread went really well, and I hope that future gluten free customers will not have to experience the disappointment of forgetting to order ahead for a gluten free sub. Their commitment to the community was clear in their support of a local Relay for Life and their monthly give-back day to nearby Nemours Childrens Hospital (visit on the 2nd Tuesday of the month and 10% of all proceeds will be donated to the hospital).


All in all, I really enjoyed Larry's Giant Subs and can't wait to find an excuse to go back for more. I hope that they someday will expand to more Central Florida locations because the region definitely needs some more gluten friendly authentic sub shops.


Update 5/17/15: While road tripping from Maryland to Florida, I stopped by the Larry's Giant Subs right off I-95 in Brunswick, GA. I can confirm that this location does have the gluten-free subs, and that the staff were abundantly helpful to make my sandwich with a clean knife and on a clean surface. I got a repeat order of a cold turkey sub with lettuce, tomato, onion, and mustard, and it was as good- if not better- than I remembered my initial visit. The bread stole the show- both crunchy and soft and 8″ of pure sandwich pleasure. The family road trip tradition I recall from several years ago is alive and well, as I am already looking forward to my return to Maryland!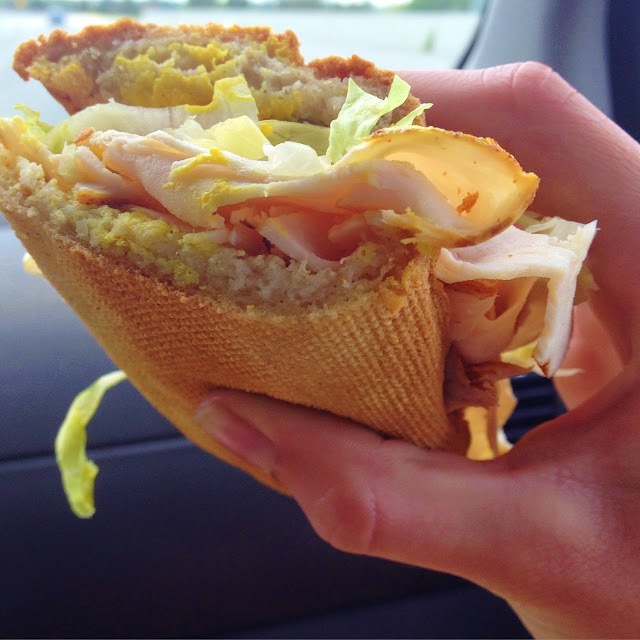 The Basics:
Address: 9161 Narcoosee Rd, Orlando, FL 32827
Cuisine: Subs, Salads, Soups
Ideal For: Lunch, Dinner
Price: Less that $10 per person
Accessibility: The restaurant, when crowded, can be a tight squeeze, but is fairly accessible. All tables are at a standard level.


Updated Review Address: 5295 New Jesup Highway, Brunswick, GA 31523
Disclaimer: Restaurant reviews are based upon the information I have at the time of the review and do not reflect changes in supplier or availability of items. Please contact the restaurant directly for up-to-date information and feel free to to contact me with any questions or comments. I was not compensated for this review and it is a reflection of my personal opinion.