Although I was in Philadelphia all of about 48 hours, I made a point of maximizing my time in the "city of brotherly love." Which, as became quite evident though my adventures, really should be called the "city of gluten free love."


The sheer abundance and availability of gluten free options was overwhelming at first. Although there are a plethora of gluten free friendly restaurants in Orlando, its a little more intimidating when entering a new city and unaware of what's reliably safe, yet still good. Luckily enough, I was able to ask Michael from Gluten Free Philly about his recommendations at the Gluten-Free Living Conference a couple last weekend here in Orlando. Armed with a list of must-do experiences, I entered the city exhilarated and ready to explore wherever it took me.

Because I was able to see and experience so many restaurants and cafes, I have to split my coverage of the city into multiple posts. To cram it all into one post would be excessively long to read and write. This post covers the quick-dining options I found in the city.

Sweet Freedom Bakery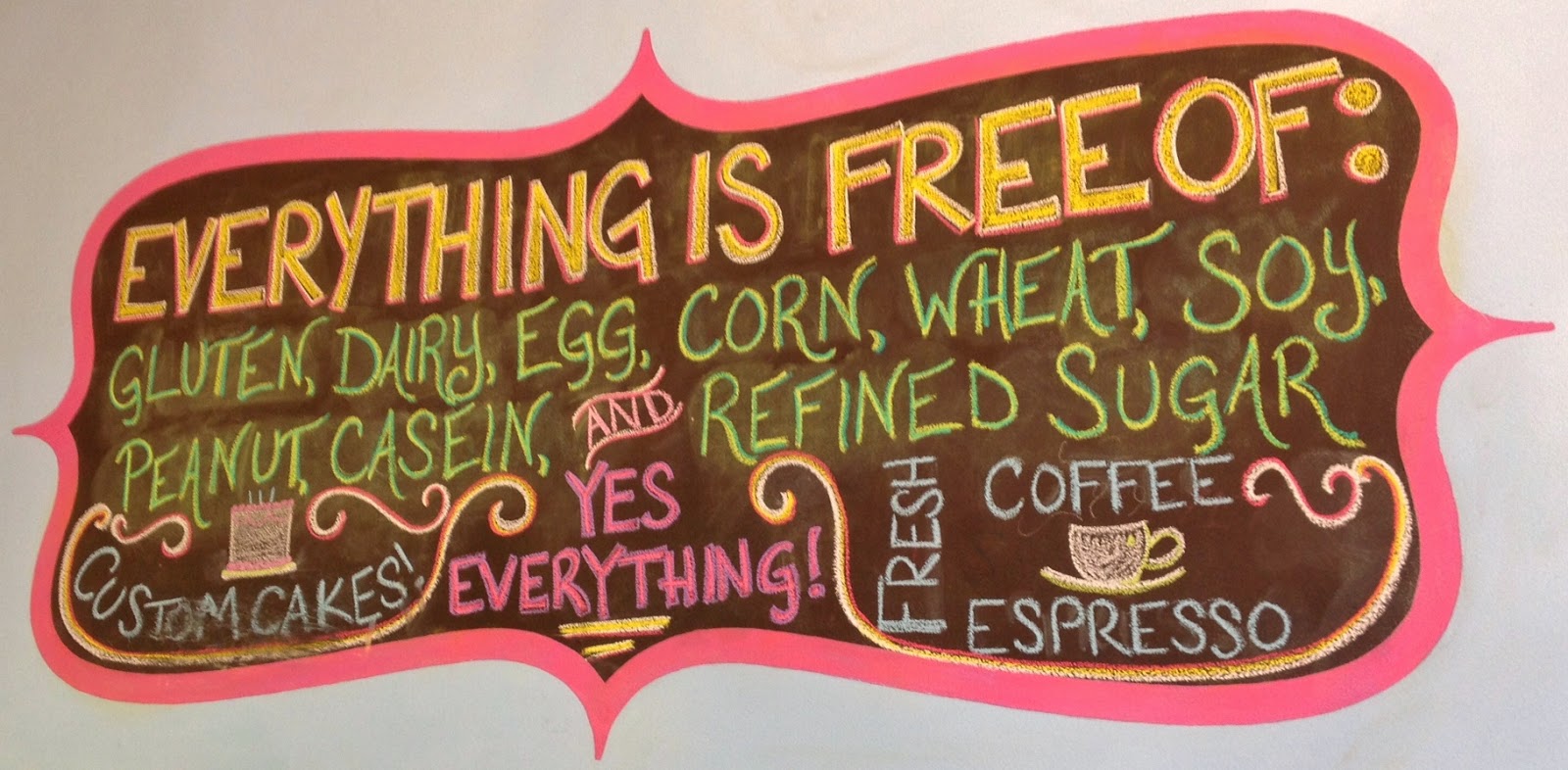 After a spending lovely evening my first night in the city at Giorgio on Pine (as reviewed here), I was directed by the friendly wait staff to Sweet Freedom Bakery for an after dinner treat. Not wanting to return to the hotel on such a beautiful evening, I decided to seek out the bakery. The distance between the two is a very doable 5 minutes walking (in theory). After some quick back-tracking from a couple wrong turns with the help of Google maps, I found the little bakery which was tucked off on a side street off of Broad Street, one of the city's main roads.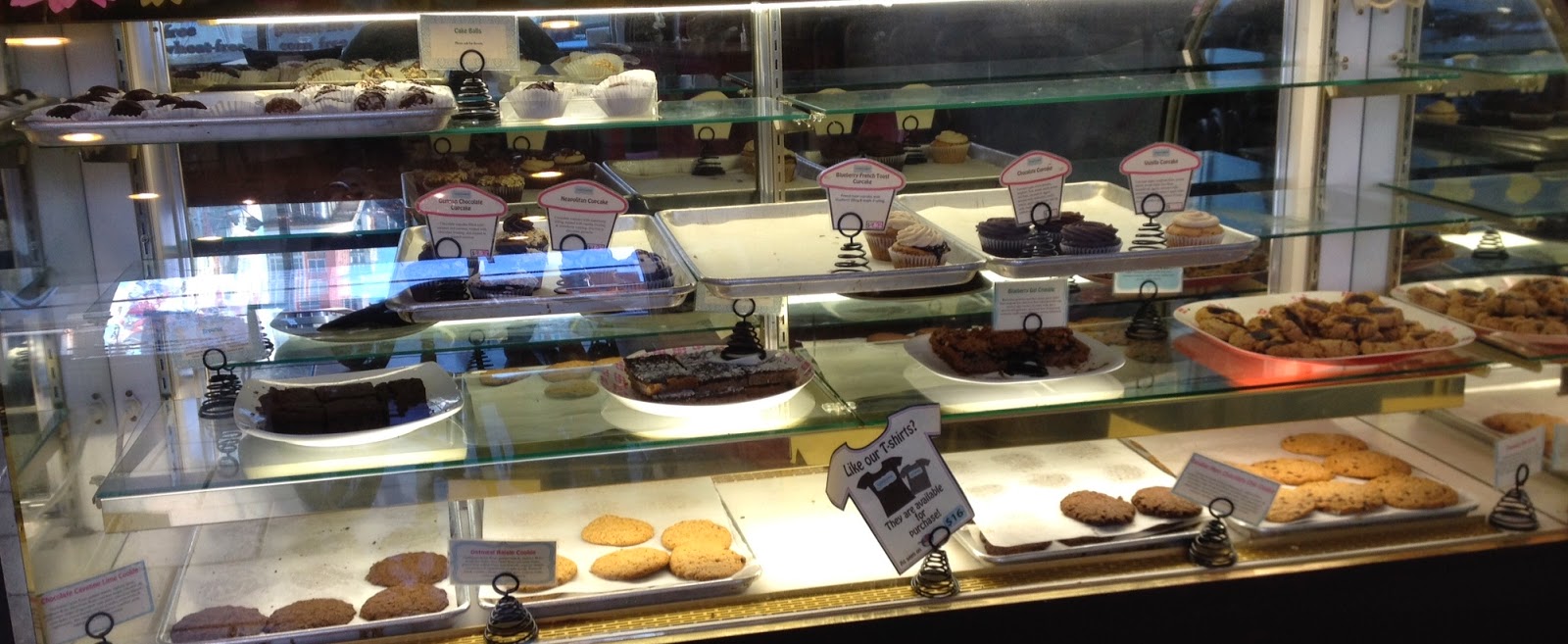 Once inside, Sweet Freedom reminded me of the old Babycakes NYC location in Downtown Disney but was more quaint and intimate which was nice. Even though I arrived in their final hour of business for the day, their offerings were still pretty diverse. I was torn between a chocolate cayenne cookie, a raspberry thumbprint (a cookie with jam in its center), and a classic chocolate chip cookie. The woman behind the counter was welcoming and friendly, and after much waffling on my part, suggested that I go for the chocolate chip cookie. As it turned out, I am so glad she pointed me to this dessert.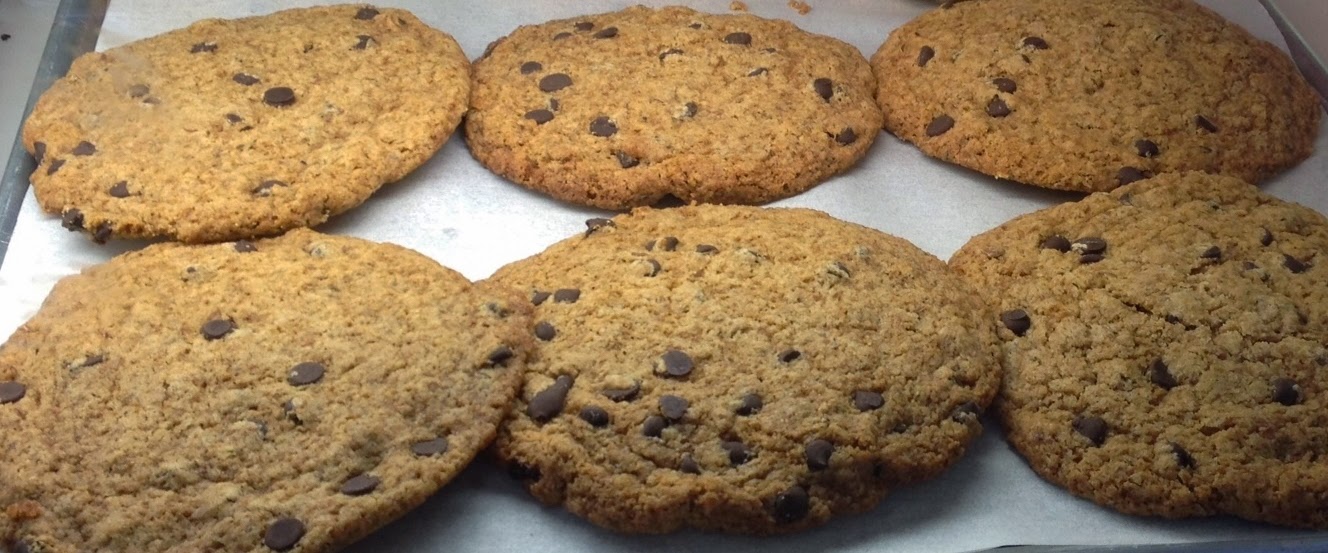 Just coming off of my first gluten free cupcake (at the Gluten-Free Living Conference), eating my first gluten and dairy free chocolate chip cookie was a revelation. From the first bite, the cookies rekindled memories of the gluten and dairy free cookies I loved as a child. I liked that they were not too sweet and the chocolate chips were evenly disbursed. It was amazing how "normal" they tasted and although I knew they were 100% safe, I had to remind myself that these were gluten and dairy free. What was great, too, was that they held up after a few days and didn't disintegrate after one day. I have heard of other G-free and vegan items turning bad after mere hours, but these held their own in room temperature for four days. All in all, Sweet Freedom scored highly in my book for bringing the chocolate chip cookie back into my life in such a positive way.


Schmear It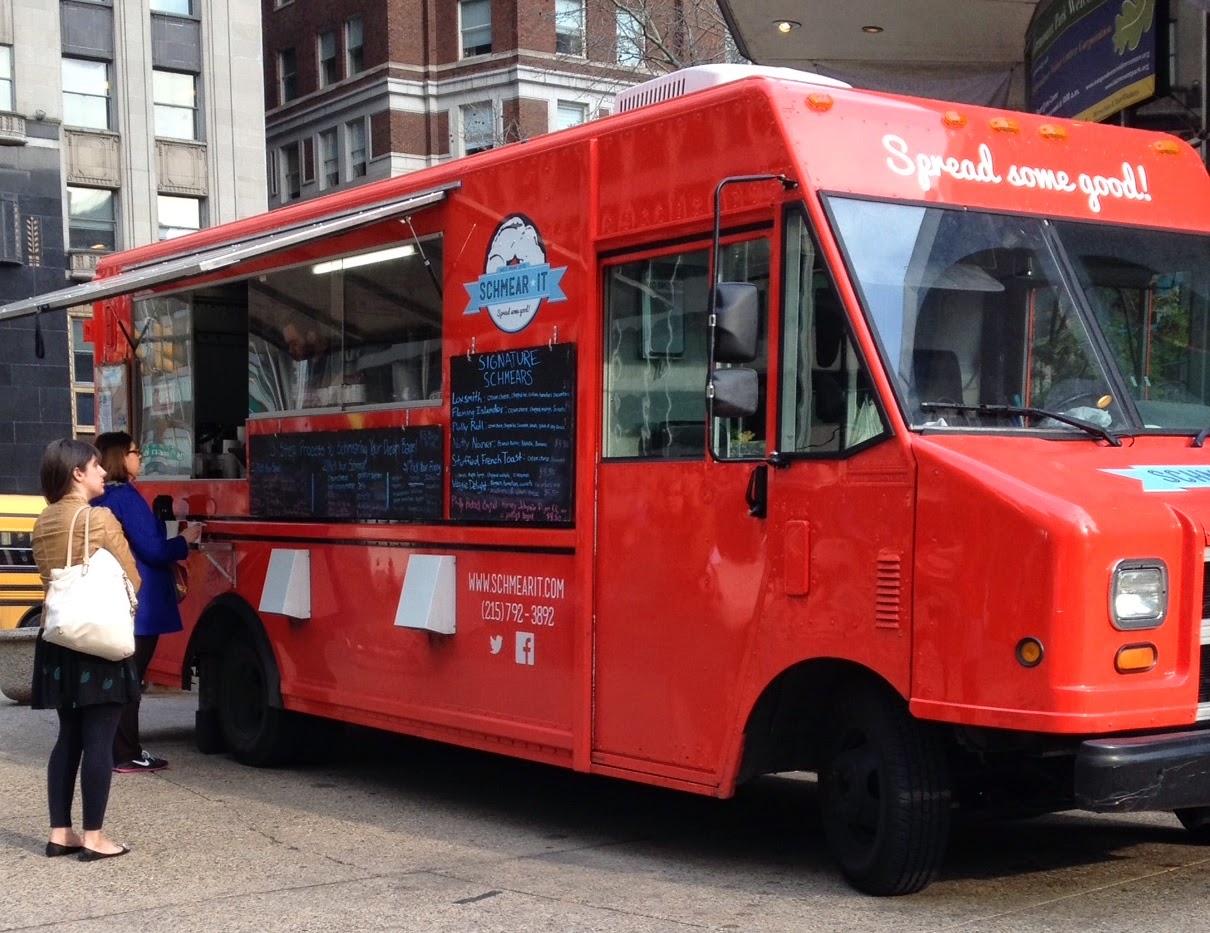 Schmear It, a Philly food truck that serves up fun and fresh takes on traditional bagels, came onto my radar in the days before I departed for Philly. All it took was one little mention on twitter for me to uncover this breakfast gem. As a food truck on the go, their location changes on a daily basis, but luckily enough, they are at Love Park (home to the famous Love statue at the top of my post) on Fridays, which was mere blocks from my hotel.
The Thursday before, I was doing more research as to their gluten free protocols. After all, with gluten-y bagels their main fare, I wanted to know if I really could get a safe breakfast from them. I sent an email, and then subsequently called up Dave, the truck's founder and Chief Schmear Officer. He informed me that due to cross contamination, that getting a bagel toasted, sliced, and "schmeared" would not be considered safe for those highly susceptible to gluten contamination. However, the good news was that I could buy bagels in bulk straight from them right in their original packaging. Then, I could control their exposure and ensure they were gluten free. The bagels are available in any variety (there's no minimum), and are $2 each.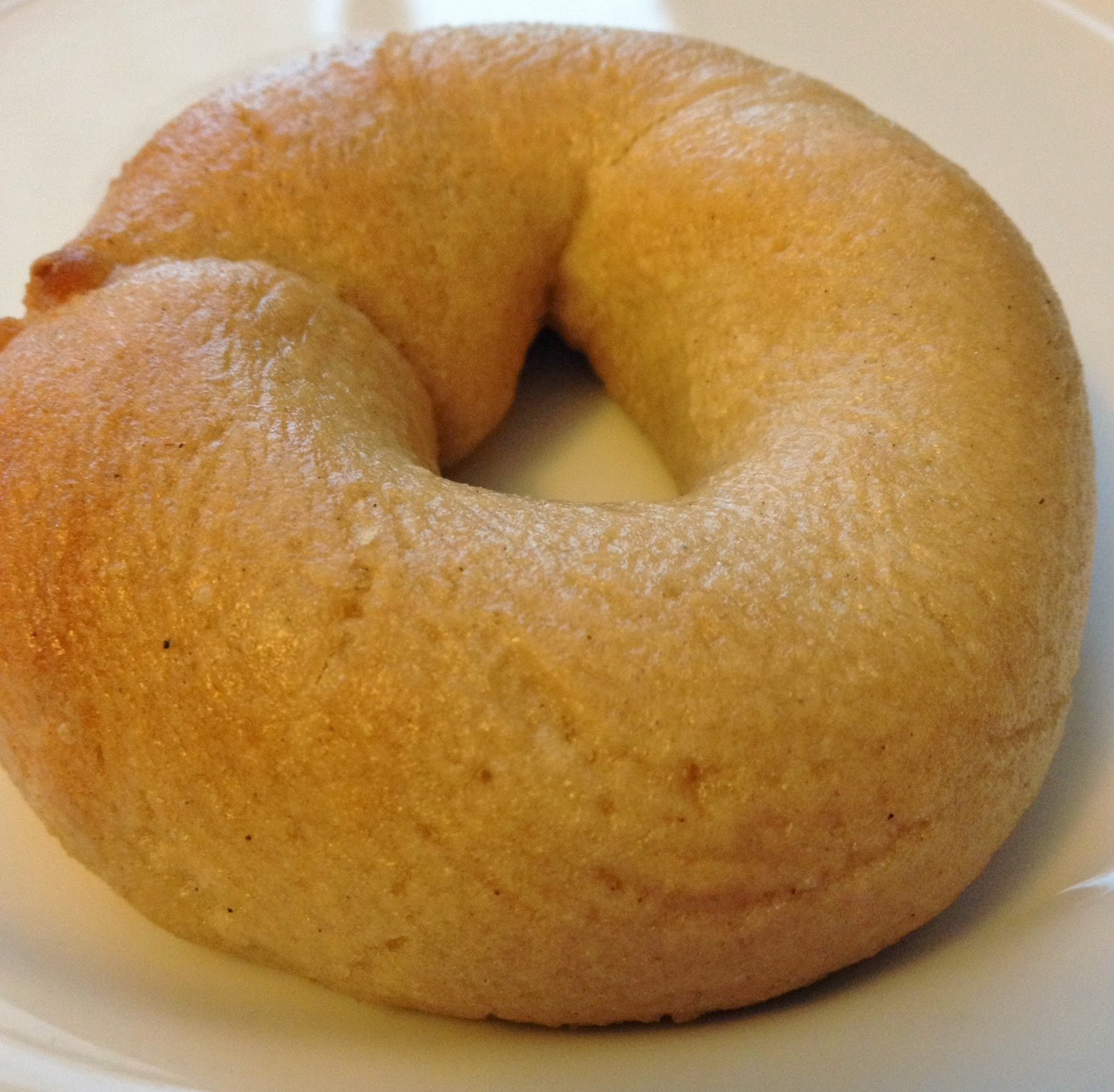 The bagels come directly from Sweet Note Bakery, a local gluten free, vegan bakery located outside Philadelphia. The truck's gluten free variety includes plain, cinnamon raisin, and everything. They do have the option to order in advance (minimum 2 bagels), and I would highly suggest one doing so because by the end of the morning, the truck had run out of everything and plain bagels when I went back to try to pick some more up. A full review of the bagels can be found here.
The combination of a great gluten free bagel, a morning walk through the city, and my first food truck experience made the whole experience unforgettable and a highlight of the entire trip. I love the cheery red truck's emphasis on giving back to the community too. Every two weeks, they select a nonprofit to donate a portion of the proceeds to so that they can "spread some good." Bagels with a cause is a pretty cool way to make breakfast (or any bagel-eating occasion) mean something more.



Reading Terminal Market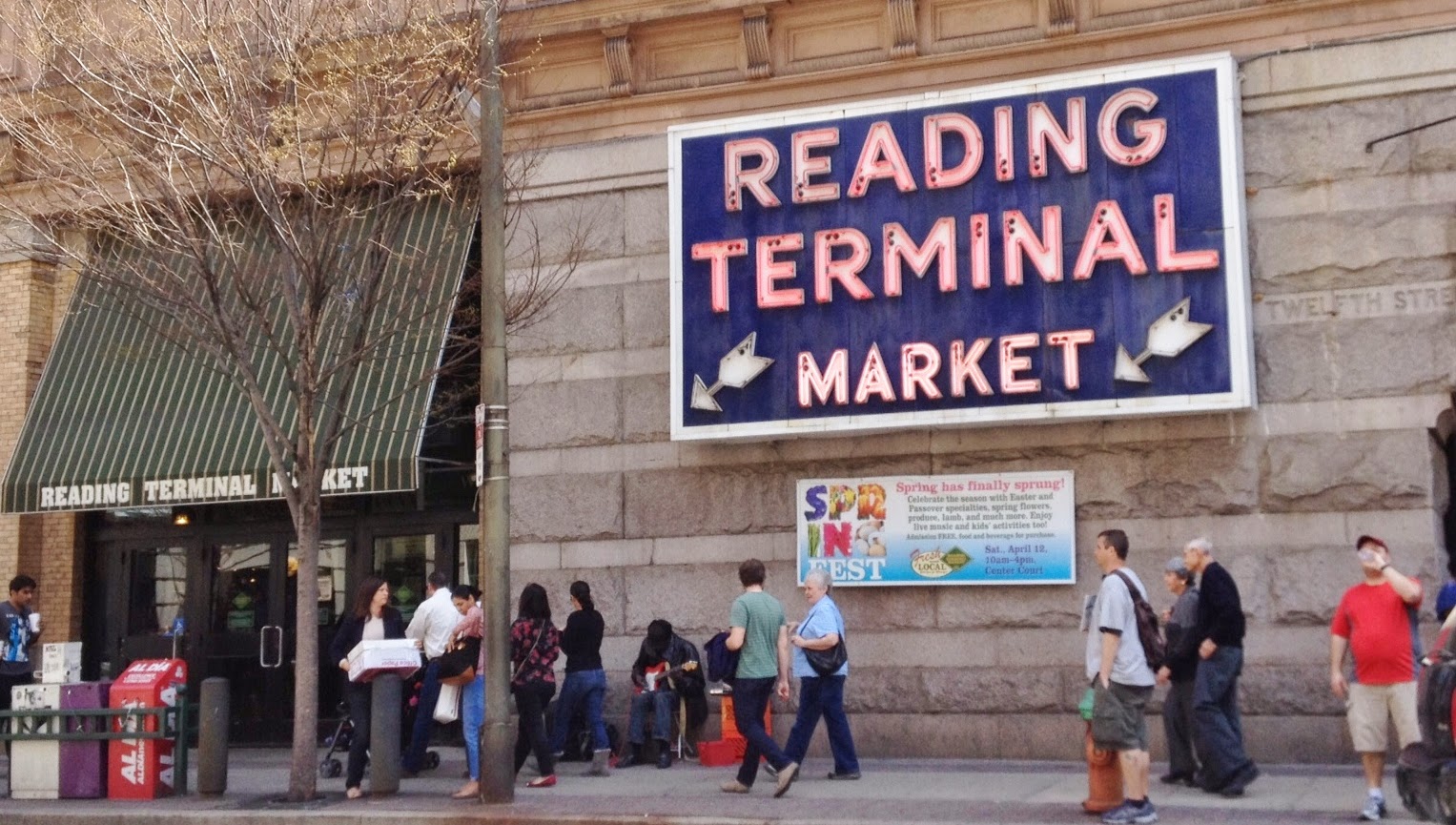 Located in the heart of the convention center of Philadelphia's center city, Reading Terminal Market is something that has to be seen to be believed. Home to more than 80 vendors selling a wide variety of food, groceries, and other local products, the market itself is overwhelming at first glance. For the uninitiated, I would definitely recommend allotting at least an hour to properly take in the hustle and bustle and authenticity of the market. For those looking to maximize their time, I'd definitely recommend avoiding peak weekend hours. Putting on the proverbial detective hat, I eagerly sought gluten free and dairy finds, and was a little disappointed to find that they are not as readily available in this food lover's paradise.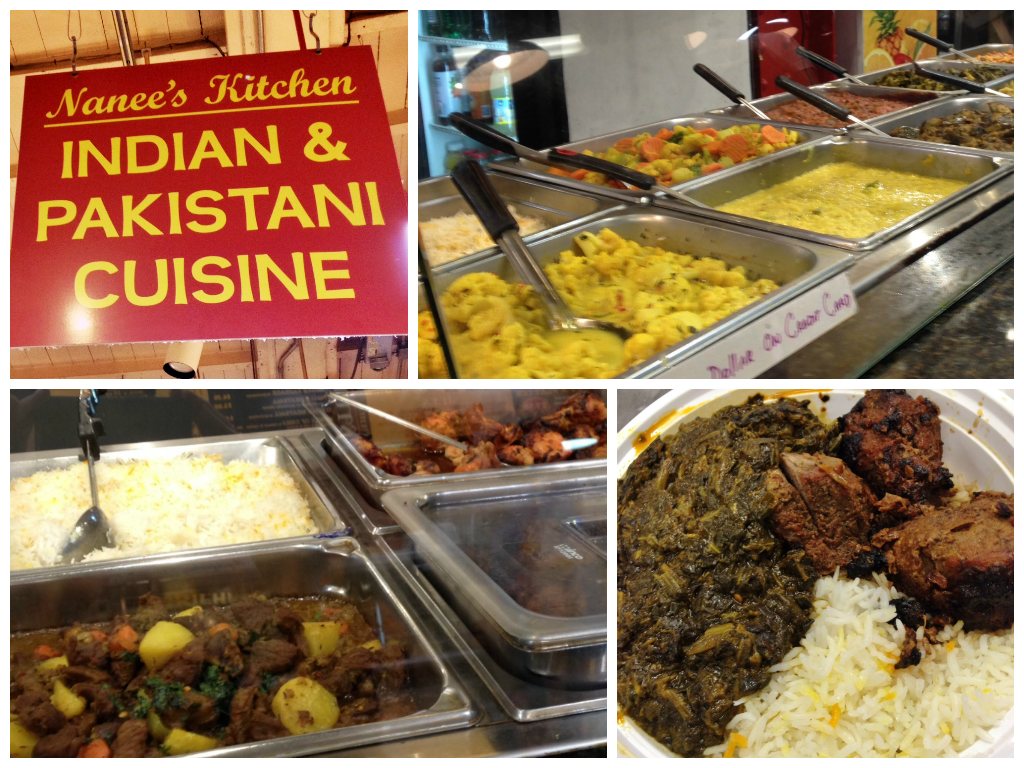 The stand out here, in my opinion, was a little restaurant called Nanee's Kitchen. Specializing in Indian and Pakistani cuisine, all of their offerings are gluten free (except for the samosas and the pita naan which were separate). Incredulously enough, many of their items were dairy free as well, with most veggies being vegan in nature. I went to order a chicken kabob, a dish I had my mind set on, but was informed it had dairy in it. Quickly weighing my options and chance of finding another safe meal in the Market, I make a snap decision to go for the lamb kabob with a side of rice and spinach which were all gluten and dairy free. After dodging the crowds and claiming a table in the busy seating area, I sampled each. The spinach was wonderfully flavored and perfectly steamed, as was the rice, which soaked up the seasonings from the lamb and the spinach while boosting it's own unique basmati flavor. I could have eaten a whole bowl of the spinach by itself. As a newbie to lamb, I have nothing to compare it to, but I liked it. The meat was richly spiced and tender (although at times hard to cut with a plastic knife). My meal was not spicy as in hot, but was spicy in terms of having a complex interaction of multiple spices which brought out the flavors of the dishes. All in all, it was a satisfying, authentic meal that definitely allowed me to join in on the Reading Market experience.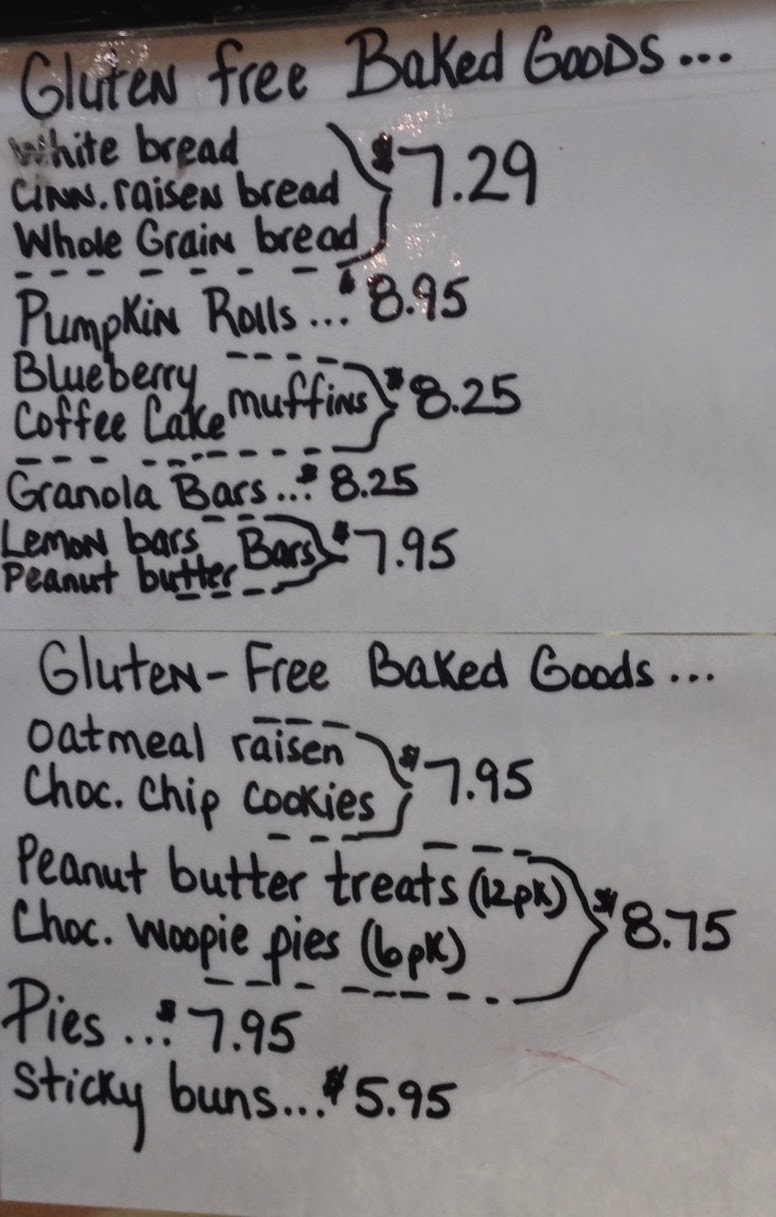 Other finds for those willing to brave the market:
At Beiler's Bakery, a local bakery that serves up traditional and Pennsylvania Dutch style creations, I found a listing for gluten free offerings (to the left). Although I had every intention to ask, the business of the market on Saturday prevented me from asking about gluten free procedures or if there were dairy in the offerings.

The Pennsylvania General Store had a selection of cookies from PhilaDing, a local bakery that offers a variety of gluten free, vegan, and other allergen friendly treats, as well as from the Grain Exchange, another PA-based bakery that serves up gluten free goodies certified by the Celiac Sprue Association. Though the store was low in stock of their items, I did find dairy free treats as well as those containing dairy.

Jonathan Best Gourmet Grocers caught my eye for its extensive gluten free grocery collection. With an impressive selection of Bob's Red Mill, Amy's and other familiar gluten free brands, it's always good to know where to pick up staple items if need be.

There are an array of produce vendors selling beautiful fruits and veggies which are naturally gluten and dairy free.

Last, but not least came the Flying Money Bakery. Excited to come across "flourless" options such as a monster cookie, macaroons, and chocolate cake, red flags quickly flew up in my mind as they shared the display case alongside the bakery's glutenous offerings. They are indeed made without flour and the bakery takes precautions when making them, but cross contamination is a huge issue. I never got to ask about dairy here as well because of the crowds.
The Basics (Sweet Freedom Bakery)
Address: 1424 South Street, Philadelphia, PA 19146
Website:
sweetfreedombakery.com
Cuisine: Vegan and gluten free bakery goods including loaves, cookies, cupcakes, muffins, etc.
Ideal For: Snacks, Dessert, Breakfast
Price: Individual treats no more than $4
Accessibility: The front door was a tight squeeze, but the shop is wheelchair accessible
Special Features: They can ship most items via their online store
The Basics (Schmear It)
Address: Rotates daily- their schedule can be viewed here
Cuisine: Bagels- with a variety of toppings and schmears
Ideal For: Any time of day really- breakfast, lunch, snack, or dinner (depending on one's appetite)
Price: $3 base price for a bagel from the truck but $2 each for gluten free bagel sold in packaging
Accessibility: Since locations vary, I cannot verify accessibility, but the Love Park location was very accessible. The window on the truck was a little high, but with help I could reach it.
Special Features: They will cater events with advance notice. A portion of all profits is donated to a local cause which changes every two weeks.
The Basics (Reading Terminal Market)
Address: 12th & Arch Streets, Philadelphia, PA 19107
Cuisine: A little bit of everything- restaurant listings are here
Ideal For: There are vendors for any time of day from coffee roasters to pastry bakers
Price: Varies with vendor
Accessibility: The market is fairly accessible, but vendor's stalls could be a bit crowded. Weekends tend to draw crowds which could make navigating the market difficult.
Special Features: If parking at the market, be sure to get a parking pass validated by a vendor (when one spends over $10) to get $4 parking.

Disclaimer: Restaurant and vendor reviews are based upon the information I have at the time of the review and do not reflect changes in supplier or availability of items. Please contact the restaurant or vendor directly for up-to-date information and feel free to to contact me with any questions or comments. I was not compensated for this review and it is a reflection of my personal opinion.