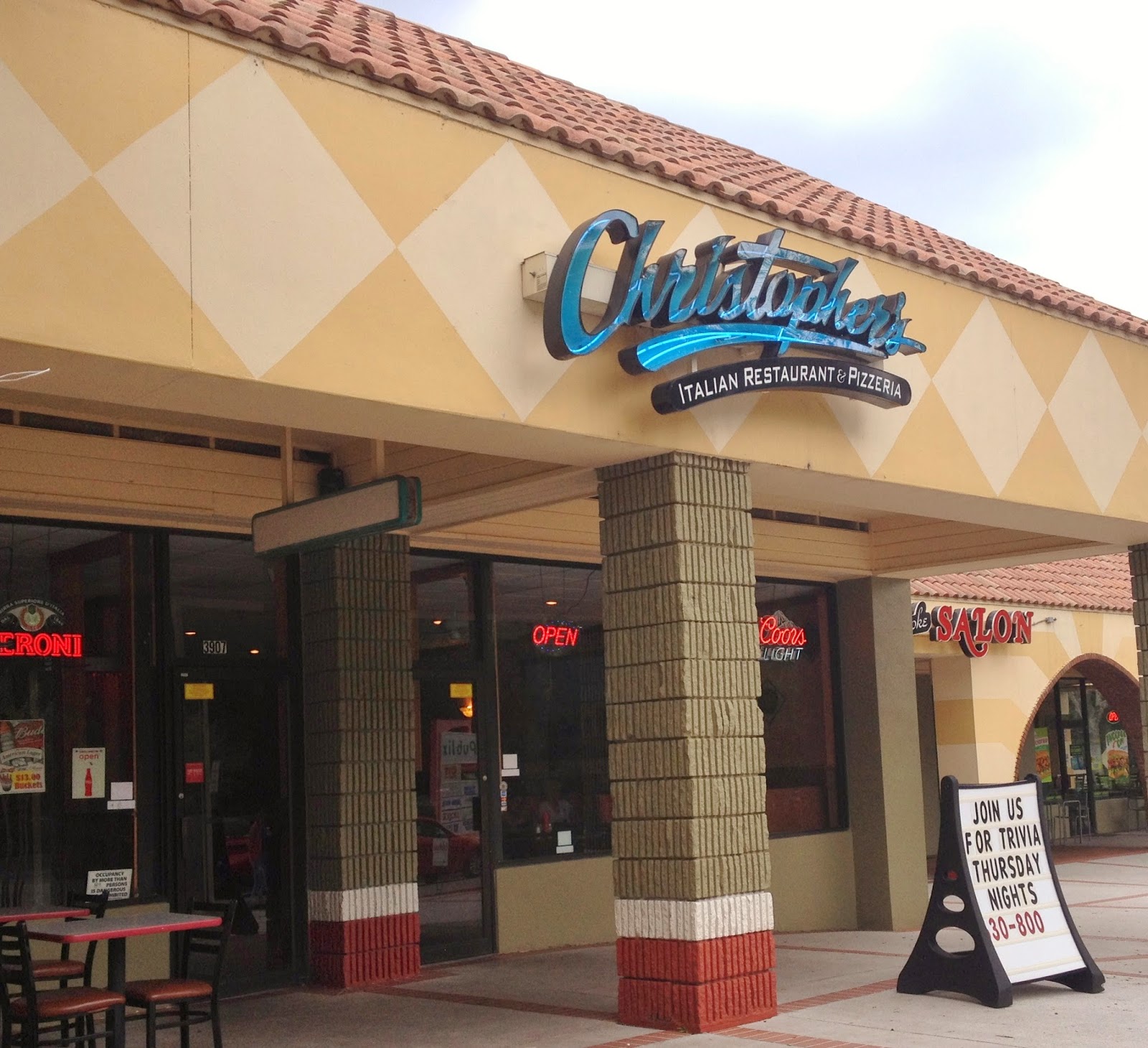 If I have one weakness as a restaurant reviewer, it's that I cannot pass up gluten-free pizza if it's on the menu. In frequenting countless restaurants that serve gluten-free pizza as well as pasta, I have yet to go for the noodle option. Oddly enough, pizza was not my favorite food at all before going gluten-free so I'm not quite sure where my devotion comes from. All I know is that good gluten-free pizza places are completely worth the sometimes lengthy drive and upcharge, but always worth it if they turn out a delectable pie.
Funnily enough, Christopher's Italian Restaurant and Pizzeria is one such pizza place that has come out of nowhere on my Central Florida pizza radar. In fact, the I first knew of their offerings sans gluten after my next-door neighbors ordered gluten-free pizza from them for a birthday party. What was so astonishing is that Christopher's has been around awhile and is located in my neck of the woods and yet I was not aware they were gluten-free friendly. Could it be too good to be true that I wouldn't have to trek out across town to get good pizza?
Putting on my detective cap, I knew that I'd have to check them out myself to confirm that my meal was safe. Not wanting to risk possible miscommunications from ordering over the phone, my mom, sister, and I decided to stop there on a whim on the way home to investigate. When I asked for a dedicated gluten-free menu, I was told that they do not have a separate menu. In looking over the main menu, I couldn't really get a feel for what was and wasn't safe, so instead I decided to scout out my options verbally with the staff. I was assured that my pizza would be prepared separately and precautions would be taken to prevent cross contamination.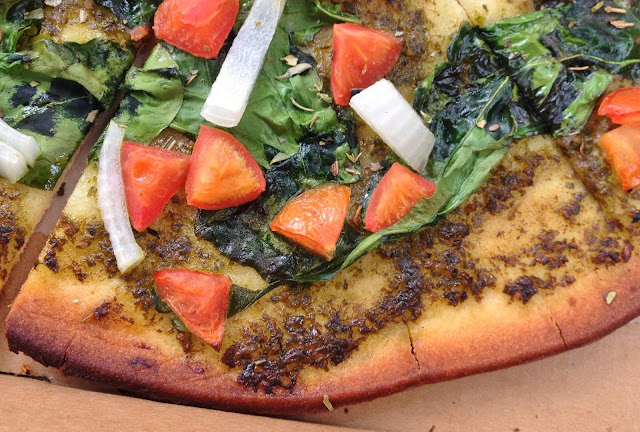 As the menu goes, here's what I learned. Sorry for the sketchy details- next time I'll write down my findings in the moment:
The pizza crusts are 12″ and are gluten-free and vegan (no dairy, egg, animal products). I neglected to ask the crust's manufacturer, but know they do not make them in-house.

Gluten and dairy free sauces include: pesto (yes! It's dairy free), buffalo, barbecue, and garlic and olive oil. The red sauce has cheese in it and is made beforehand so it cannot be adapted.

The veggie toppings were safe. I did not confirm if they are kept separate from gluten containing pizzas. Update 6/13/14: The pesto is not dairy free. I did not have a reaction from this pizza but it does contain cheese.

The two pastas offered are spaghetti noodles and rice. My memory has failed me somewhat because I recall one was a corn pasta and one was a rice pasta, but cannot remember which was which. Pasta dishes can be made custom to accommodate dietary needs, but I recall that the linguine with clam sauce could be modified from the set menu using the spaghetti noodles.

Entrees, too, can be adapted of the set menu. I believe the chicken/veal marsala as well as the chicken/veal piccata could be adapted.
I ended up ordering (as always) the pizza option. Going with the make-your-own option to pick and choose what I did want instead of taking off everything I didn't. The pesto option for a base threw me off because I was not expecting it to be safe for me because pesto typically is off limits. Especially in light of the marinara sauce being unsafe, this new possibility perked me up from the disappointment. Not wanting to distract from the pesto, I chose simple toppings- tomatoes, onion, and spinach.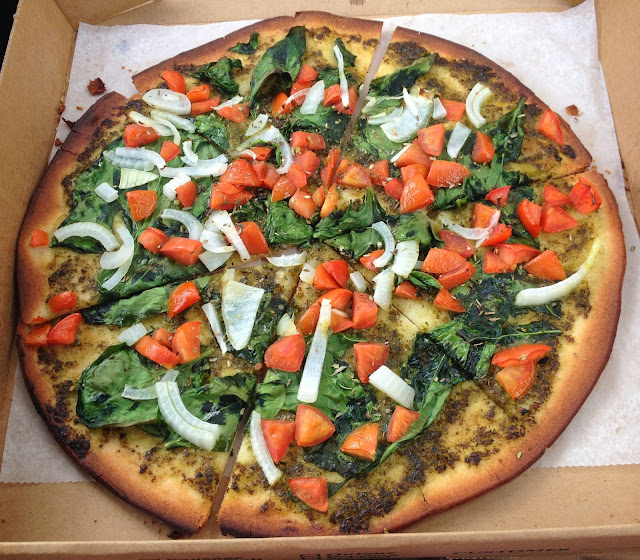 When it came out, the smell wafting from the pizza to-go box was tantalizing. Even before turning on the car to go home, I sneaked a peak at my pizza and was dazzled by its bright, colorful appearance. Though it was hard not to dig in right then and there, I waited until arriving home to sample it. The wait was totally worth it because the pizza was truly remarkable. The crust was actually crisp and crunchy, a rarity it seems with most crusts turning into a soggy mess moments after being served. The pesto was wonderfully fragrant and basil-y which really made it a little luxury to have as a topping. It was only complimented by the vegetables on top which brought a note of freshness to the creation. After finishing it all in one sitting, I mournfully wished for just one more taste despite my stomach's realization that it was full and happy.
Christopher's deserves recognition for serving up gluten-free pies to our small, but growing gluten-free community. Although it's nice to see national chains serving up safe pizzas, it's neighborhood spots like theirs that make eating gluten-free feel more "normal" and be more convenient to locals. It would be safe to say that I would rank their pizza as one of the best pizzas I've had in Central Florida, despite their relatively unknown status on gluten-free dining websites. The staff I met were knowledgeable and flexible which is a great combination when working with customers with multiple food intolerances.
The Basics
Address: 3907 Wekiva Springs Rd, Longwood, FL 32779
Website:
www.christophersitalian.com
Cuisine: Pizza, Pasta, Salads, Entrees (Chicken/Veal)
Ideal For: Lunch and/or Dinner
Price: Less than $20 per person
Accessibility: The restaurant is very accessible for a wheelchair user.
Special Features: They offer delivery to local addresses (call 407-389-1555) and coupons on their website.
Disclaimer: Restaurant reviews are based upon the information I have at the time of the review and do not reflect changes in ingredients or availability of items. Please contact the restaurant directly for up-to-date information and feel free to to contact me with any questions or comments. I was not compensated for this review and it is a reflection of my personal opinion.