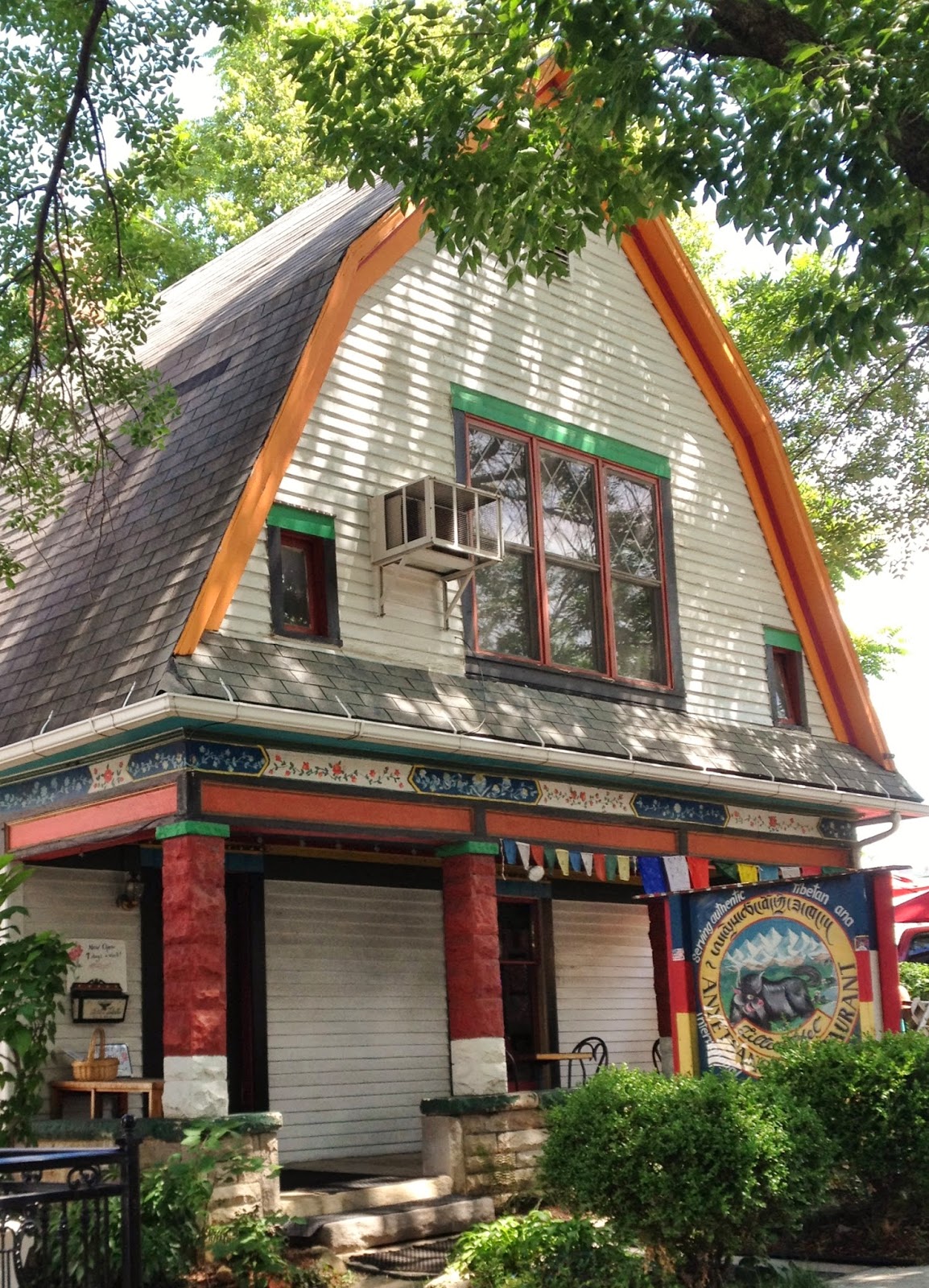 I firmly believe that colleges and good restaurants are like lightning and thunder; where one goes, the other is sure to follow. That is definitely true of Bloomington, IN, home of Indiana University and a plethora of restaurants and cafes serving up quality fare for hungry college students and locals alike. While the town is populated with restaurants of all stripes- family run establishments to national chains- I knew I wanted to eat locally-owned restaurants during my short time here. After doing some preliminary research, I decided to check out 4th Street which was a short walk from the hotel. This street is home to many authentic multicultural food offerings. Each cute house on the street was home to a different cuisine and each was more enticing than the next. I wish I had a full month to explore each individual house on the street, because Bloomington packs a lot of gluten-free goodness into such a small town. After careful consideration, I selected two restaurants on the street to try on this visit: Anyetsang's Little Tibet and Anatolia.



Anyetsang's Little Tibet
After a monotonous two and a half hour drive through the Kentucky/Ohio/Indiana farmland, I was more than ready for a change of scenery upon arriving in Bloomington. As we pulled up to Anyetsang's I immediately fell in love with the colorful house that greeted me. After unloadeding my wheelchair, Locke, and myself and finding an open table in the serene outdoor seating area, I was greeted by a smiling server. Already familiar with the online menu since I knew I was on a tight schedule with lunch, I went ahead and ordered one of their Thai specialties- green curry with shrimp- which came with their homemade lentil soup and white rice as my waitress took my drink order. Stopping to catch my breath and wait for the lentil soup to come out, I took in the beautiful summer afternoon which was a pleasant 72 degrees with no humidity. Although I dearly love Central Florida, it could learn a lesson or two about perfect summertime weather from Bloomington!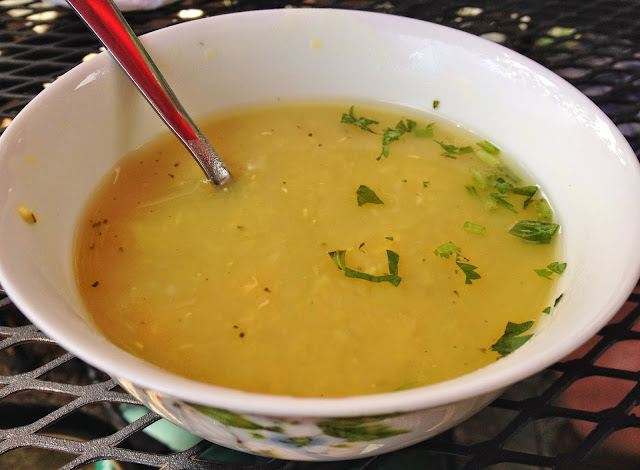 The lentil soup was warm and comforting since sitting in the shade made the temperature outside almost seem cool (I know- 72 degrees being cool is a Florida thing). The soup was pureed and had a nice consistency and was the perfect balance between light and hearty and was a perfect appetizer because it did not fill me up in advance of my main dish. I loved the freshly chopped cilantro on top which provided a nice accent to the soup.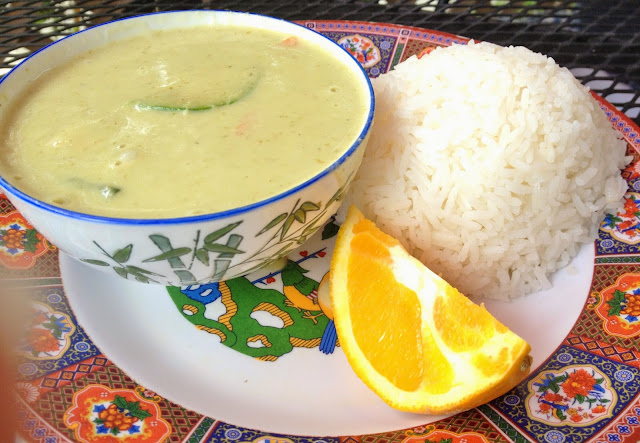 Shortly after finishing my soup, the curry emerged and I was impressed by the generous serving size of the lunch portion. Anyetsang's curry was more soup-like than other preparations I've seen of green curry, but this wasn't necessarily a bad thing because the coconut milk broth coating the shrimp, green beans, carrots, and bamboo shoots was rich and creamy and oh so indulgent. I chose a spice level of 2 from a 1-5 scale and a subtle kick was detectable, but not overwhelmingly hot. With this kind of curry, I personally don't recommend going to hot as to overwhelm the rich, complex curry broth. The shrimp were cooked well as were the vegetables which were a little softer than al dente and retained their fresh flavor. The accompanying rice was cooked well and was a good base for the rich curry. As I polished off both portions, I was satisfied and sorry I couldn't have lingered longer in the tranquil garden to slowly devour my meal. I hope that my travels will take me back to Bloomington someday so that I can stop back by and enjoy another fine meal here.



Anatolia
After leaving Anyetsang's for an afternoon full of meetings, I knew I wanted to find my dinner back on 4th Street after realizing that my dietary needs would not be met by the conference's food services providers. I settled on Anatolia, a Turkish restaurant just two doors down from Anyetsang's, wanting to sample Turkish cuisine outside of Winter Park's Bosphorous which I really enjoyed. Also housed in a cute house with an outdoor seating area, I decided to sit inside this time given the annoying presence of biting insects and a couple drops of rain. As I was handed a menu, I immediately felt at ease upon seeing this across the front panel (see below).
After conversing with the friendly waitresses about my dietary needs, I learned about what was on- and off- the menu. Items containing wheat are marked on the menu which helps to quickly identify items to steer clear of. After quick consideration, I decided upon the chicken shish kebab which was also traditionally served with a white bean soup (gluten/dairy free), bread and rice.
The big thing for gluten-free diners is to avoid the bread and their rice which contains orzo. A simple substitute would be getting a double portion of the salad with any meat entree which was okay with me.
Having also emailed with the restaurant beforehand, I can report that the veggie imam bayildi, veggie guvec, artichoke hearts and Mediterranean mushroom are vegan as well as gluten free (if the cheese is withheld when applicable). Other gluten/dairy free menu options are the humus, babaganush, eggplant salad, and pepper delight. Since, again, that the bread is gluten containing, you can request veggies to dip into the sauces and dips.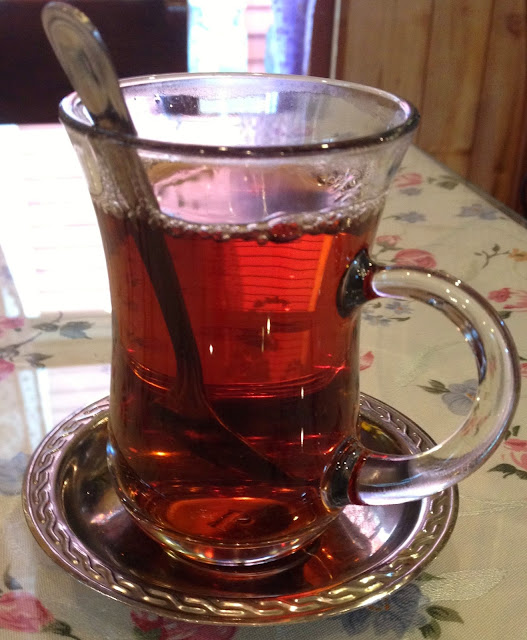 After getting my order in, I was offered a cup of complimentary cup of Turkish tea. Not one for caffeine-containing drinks, I almost turned it down, but my waitress said the tea did not contain a large amount of caffeine which enticed me enough to accept the cup. Although it wasn't my cup of tea in the end (pun intended!), I enjoyed the experience of trying something totally new.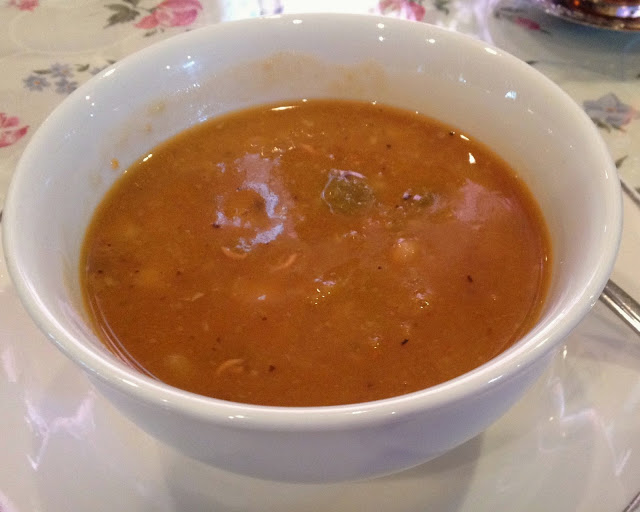 The white bean soup was rich and almost creamy. Not quite pureed, the soup had a smooth consistency that I really enjoyed similar to that of Anyetsang's lentil soup. Simple as it was, it was definitely comforting and a downright delicious starter.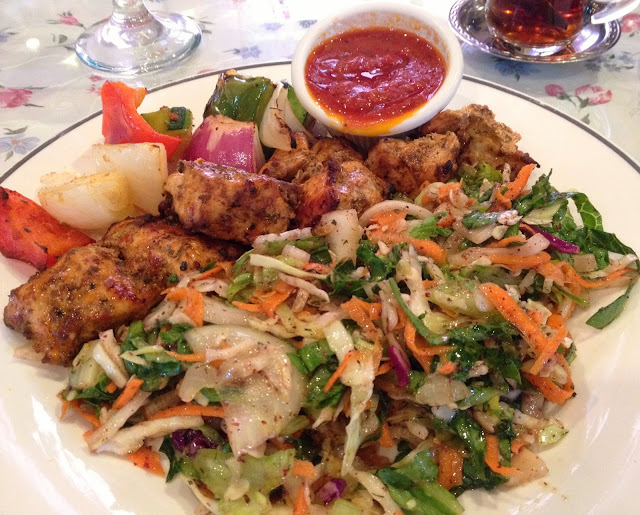 Now on to my main course, I was impressed by the colorful arrangement of meat and veggies on the plate. The salad consisted of shredded lettuce and carrots which were seasoned with a nice salad dressing consisting of olive oil and herbs that showed off the vegetable's freshness in a light way. The chicken and kebab vegetables were cooked over a charcoal grill which was evident by the distinct taste the cooking method rendered. The meat was tender and juicy and had a nice seasoning to it. I ordered a side of their tomato sauce (I forgot the name) to compliment the chicken and it paired nicely with the meat. This amazing line-up of food left me stuffed and satisfied, but never satiated and bloated. It's a testament to both Anatolia and Anyetsang's that they could provide so much bang for their buck by offering generous portions of fresh fare for a fair price. I certainly hope that I can find food like this in Baltimore in a few short weeks- it's a culinary-minded college kid's dream!
To see more Bloomington restaurant reviews, click here.
The Basics: Anyetsang's Little Tibet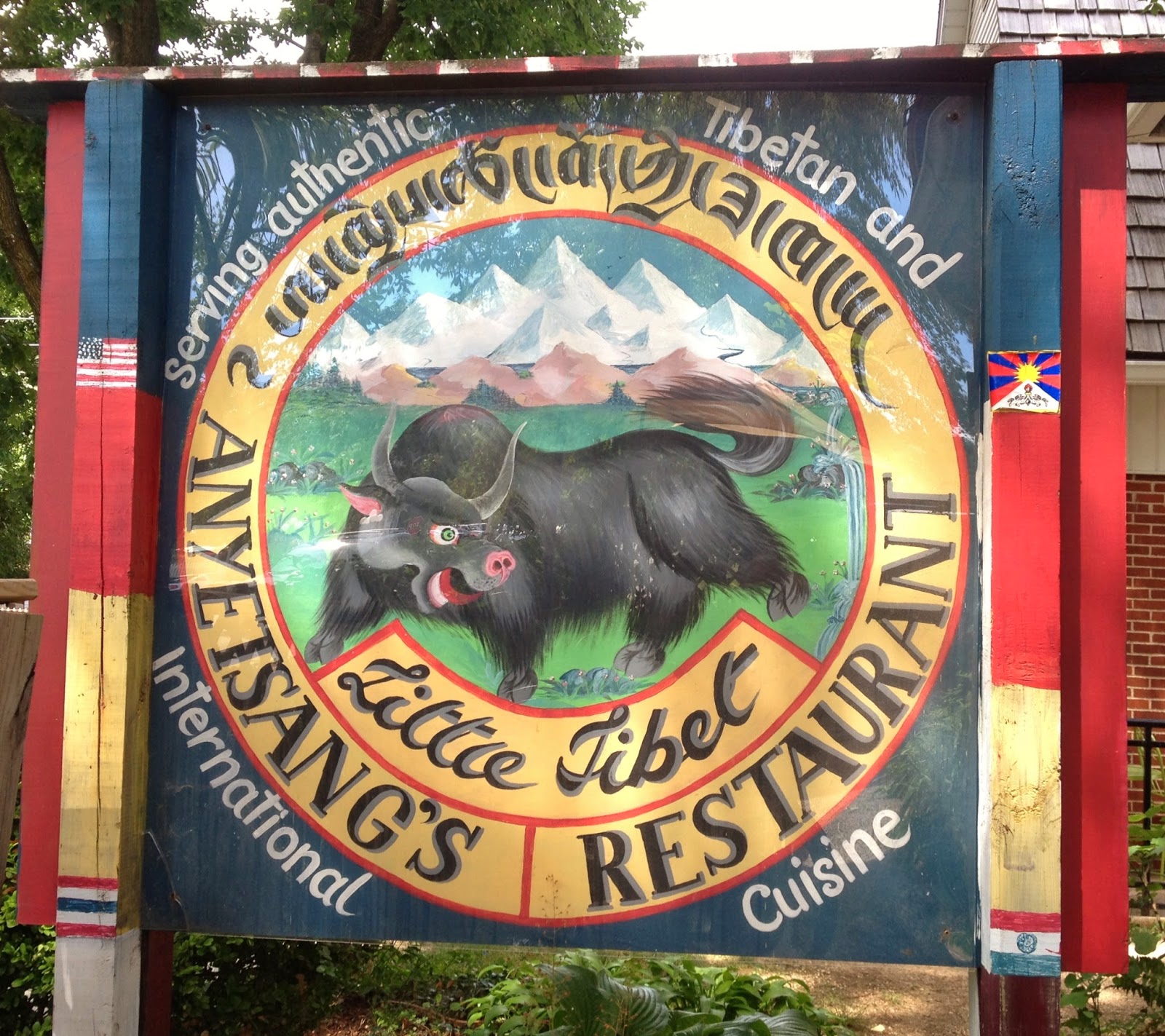 Address: 415 E. 4th Street, Bloomington, IN 47408
Website: www.larosas.com/
Cuisine: Tibetan, Thai, Indian
Ideal For: Lunch, dinner
Price: Gluten free cheese pizzas are $8.99. Additional toppings are $1.25 each.
Accessibility: The outdoor seating area was wheelchair accessible, but a little hard to navigate. The indoor dining area is elevated up a couple of steps.
Special Features: Carry out and delivery available. They open for lunch between 11am and 3pm and open for dinner from 5pm to 9pm and are closed on Tuesdays.







The Basics: Anatolia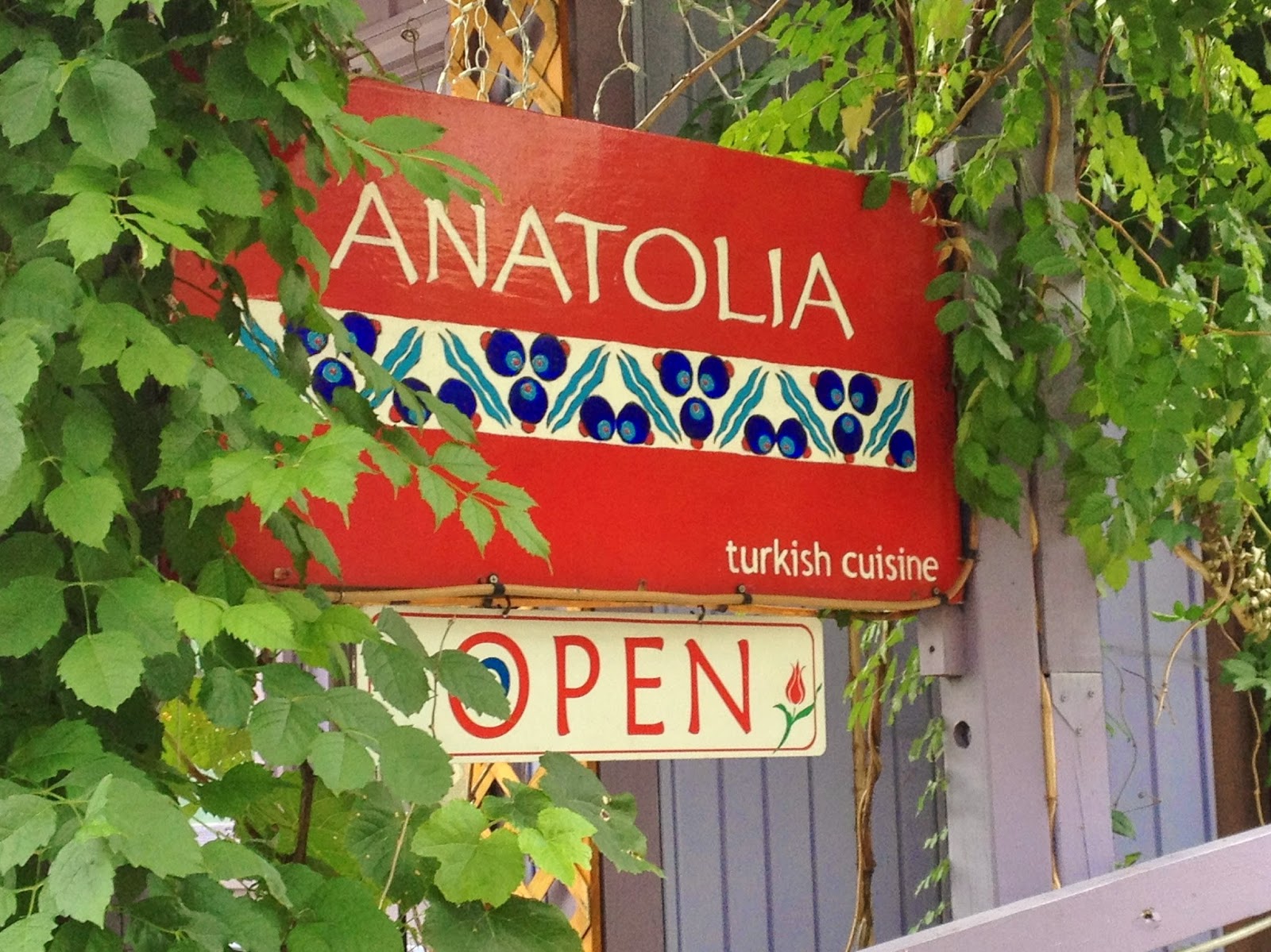 Address: 405 E. 4th Street, Bloomington, IN 47408
Website: www.restaurantanatolia.com
Cuisine: Turkish
Ideal For: Lunch, dinner
Price: Lunch entrees under $13. Dinner entrees under $15.
Accessibility: The restaurant was wheelchair accessible.
Special Features: Takeout available. To make reservations, call (812) 334-2991.
Disclaimer: This review is based upon the information I have at the time of the review and does not reflect changes in ingredients or availability of items. Please contact the restaurant(s) directly for up-to-date information and feel free to to contact me with any questions or comments. I was not compensated for this review and it is a reflection of my personal opinion.